Leonard Fournette's Departure From Jacksonville Has Paved the Way for a $2.29 Million Breakout Star
When Leonard Fournette was waived by the Jacksonville Jaguars, many people had no idea what the Jags would do at running back. This was so much so that everyone just began assuming that they would tank this year, (which still might be the case even though they won their Week 1 game). However, it appears that Fournette's departure has paved the way for a low-cost star in the backfield. That star is the undrafted rookie James Robinson.
The Jacksonville Jaguars waived Leonard Fournette
The Jaguars drafted Fournette with the fourth overall pick in the 2017 NFL draft out of LSU, and they had high hopes for him. He ultimately had a nice rookie season too as he ran for 1,040 yards and nine touchdowns in 13 games. He also caught 36 passes for 302 yards and a touchdown. Fournette helped the Jaguars become a really good team that year too. They ended up going 10-6, and they reached the AFC Championship Game.
However, the 2018 season did not go well. Fournette only played in eight games due to injuries and a suspension for getting into a fight during a game, according to Bleacher Report. He ultimately ran for 439 yards and five touchdowns in those games, and the Jaguars went 5-11.
During the 2019 season, Fournette then had a nice bounce-back year. He ran for 1,152 yards and three touchdowns in 15 games. He also caught 76 passes for 522 yards.
In the offseason, though, the Jaguars didn't pick up Fournette's fifth-year option. The team also pursued a potential trade but didn't get any serious offers, according to ESPN. Jacksonville then waived him on Aug. 31. He later signed with the Tampa Bay Buccaneers.
They chose to roll with James Robinson
After getting rid of Fournette, the Jaguars chose to go with James Robinson as their starting running back.
In college, Robinson was an excellent back for an FCS school, Illinois State. According to his bio on the Illinois State site, Robinson ran for 933 yards and 12 touchdowns in 2017 and then became unstoppable in 2018 and 2019. During the 2018 season, Robinson ran for 1,290 yards and 12 touchdowns, and then in 2019, he ran for a remarkable 1,899 yards and 18 touchdowns.
Robinson finished his college career second in school history in rushing yards with 4,444, and in rushing touchdowns with 44. He then had an excellent performance in the East-West Shrine Bowl, as he gained 136 total yards, 80 rushing yards, and 56 passing yards.
He ultimately went undrafted in the 2020 NFL draft, though, and the Jaguars signed him as an undrafted free agent. According to Spotrac, Robinson's contract is for three years, and it's worth $2.29 million. He is set to make less than $900,000 each of the next three seasons.
Fournette's departure has led to Robinson becoming a star for the Jaguars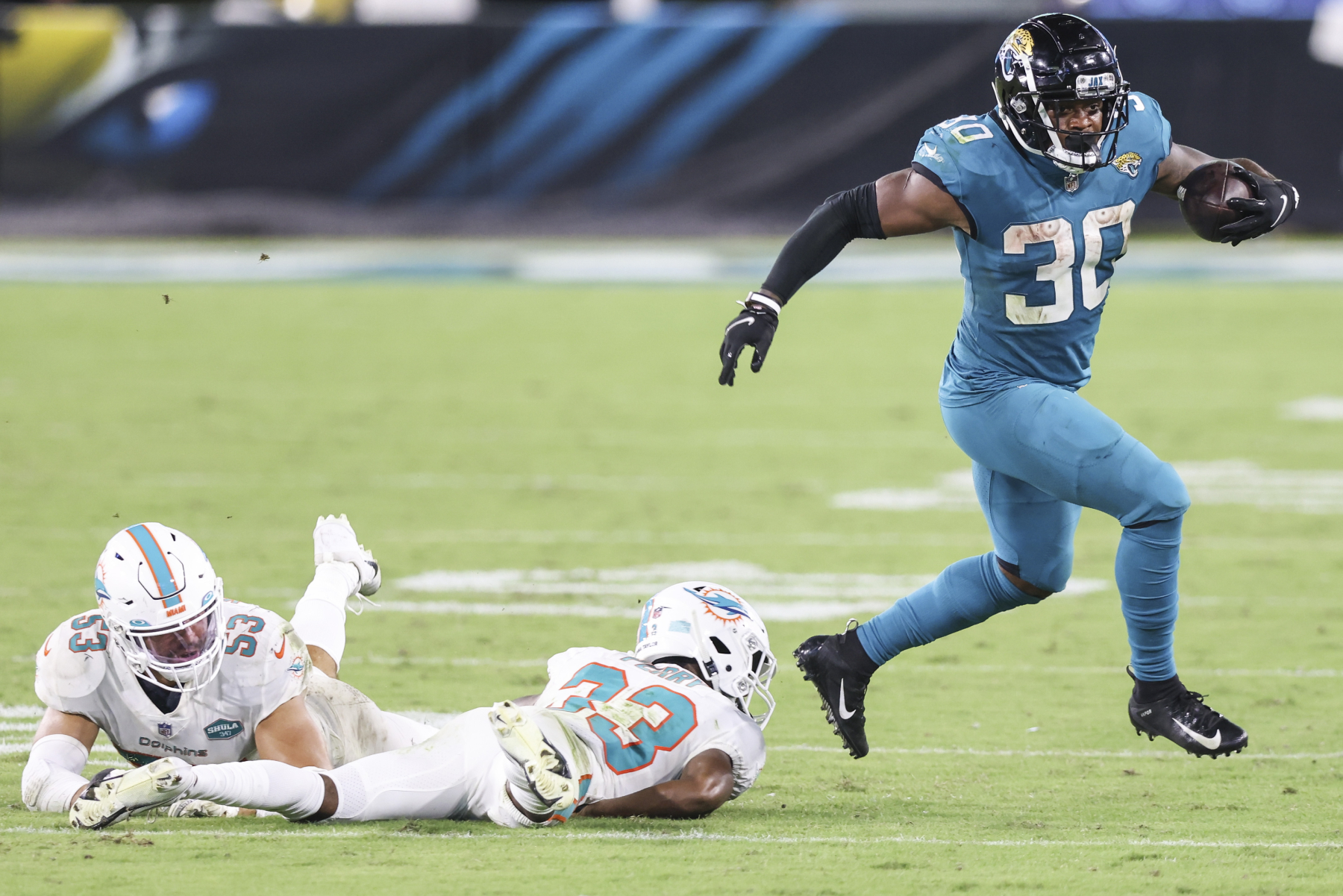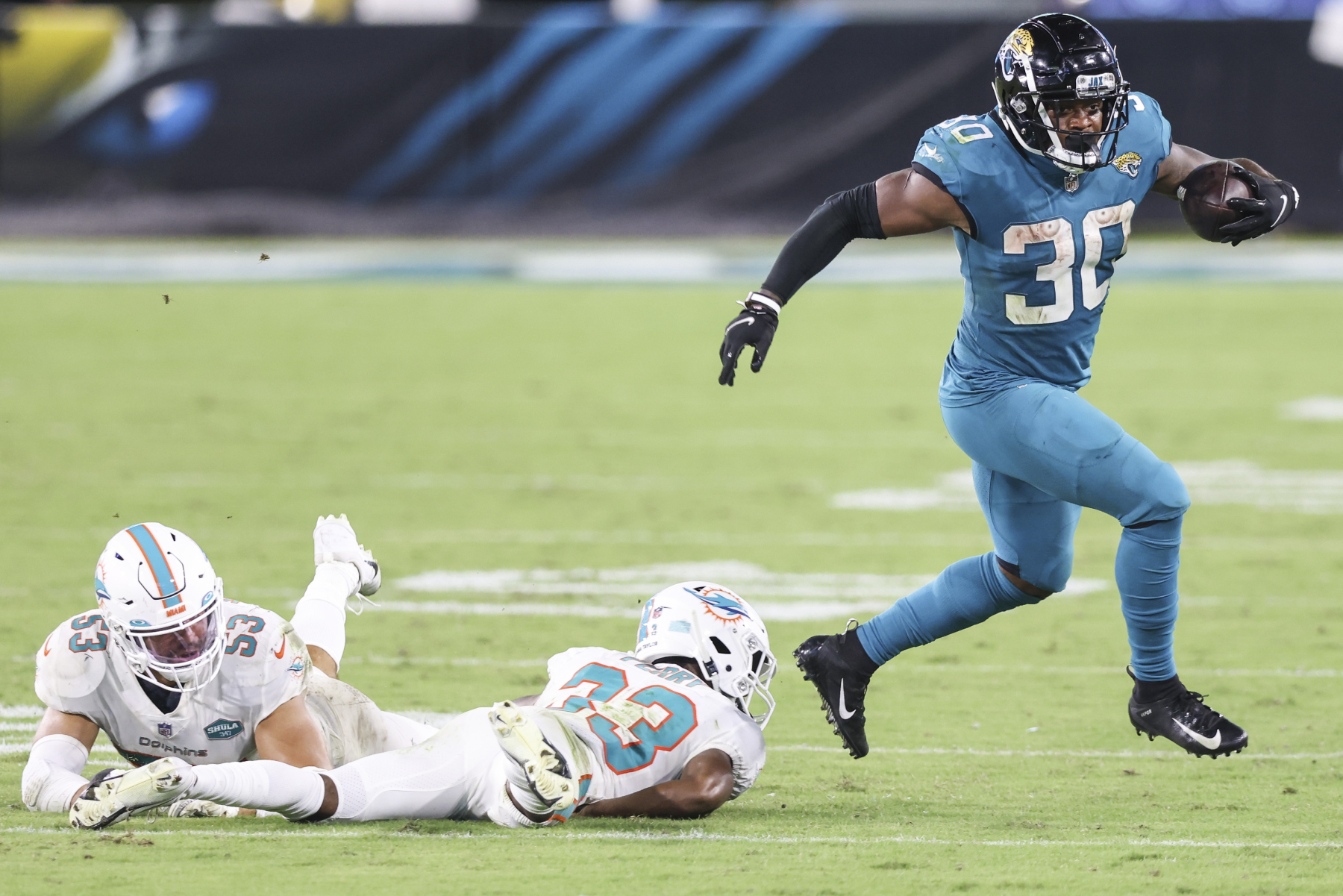 Getting rid of Fournette and rolling with Robinson has been an excellent decision for the Jaguars so far.
In the Jaguars' Week 1 game against the Indianapolis Colts, Robinson ran for 62 yards and had one 28-yard reception. Then in their loss to the Tennessee Titans, Robinson ran for 102 yards and a touchdown, and in their loss to the Miami Dolphins, he ran for 46 yards and two touchdowns on 11 carries, but he also had six catches for 83 yards.
In total this season, Robinson has run for 210 yards and three touchdowns, and he has 339 total yards from scrimmage.
According to CBS Sports, Robinson has the most yards from scrimmage though three games out of any undrafted rookie in NFL history. He's also the only undrafted player in NFL history to record at least 300 yards from scrimmage and multiple touchdowns through their first three career games.
It appears that the Jaguars might have found a star for their future.
Leonard Fournette is a running back that still has a lot of potential and is still very talented. However, the Jacksonville Jaguars might have made the right choice by getting rid of him and rolling with James Robinson at RB1.
Stats courtesy of Pro Football Reference