LeSean McCoy: Everything We Know About the Police Investigation and Abuse Allegations
Buffalo Bills running back LeSean McCoy has hired a lawyer amid a police investigation into a violent home invasion at his residence outside Atlanta, in which his estranged girlfriend was beaten and robbed.
Here's what we know so far about the investigation and the abuse allegations against Shady.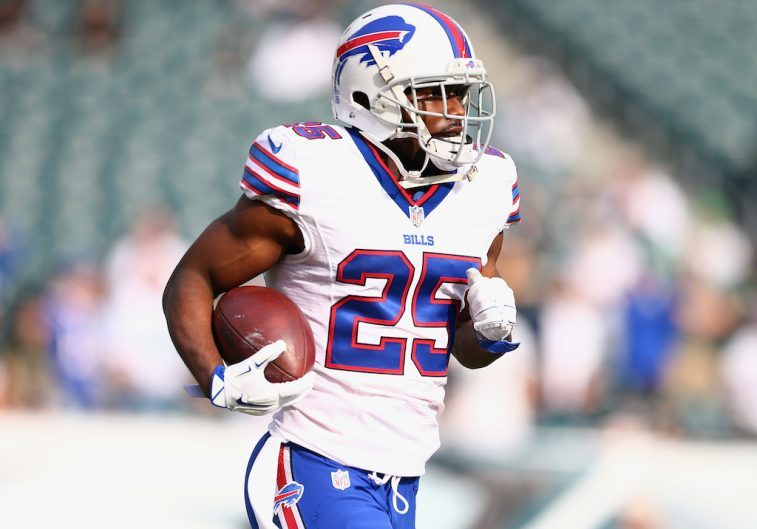 On Tuesday, July 10, someone broke into the Alpharetta, Georgia, home where Delicia Cordon had been living and demanded jewelry given to her by the NFL star. Cordon's lawyer, Tanya Mitchell Graham, said that the assailant hit Cordon "in the face with a firearm multiple times." The woman's female cousin, who was staying at the house with her, was also struck. Graham's client told her that in the past when she "refused to return her jewelry gifts to Mr. McCoy, he would often suggest that she could be robbed because the jewelry was expensive."
The break-in occurred at the same residence in which McCoy has been trying to evict Cordon from. The two were set to go to court over the matter this month, but the hearing was rescheduled for Aug. 14.
The Milton Police Department released the following statement about the investigation:
"On July 10, 2018, at approximately 3:18 a.m., Milton Police responded to a home invasion at a residence on Hickory Pass near the Cherokee County line. The preliminary investigation indicates that this residence was specifically targeted by the suspect or suspects, and not a random incident. When officers arrived they found one victim who had been physically assaulted by a lone intruder. During the altercation, the suspect demanded specific items from the victim. An adult female victim was treated and released at North Fulton Regional Hospital. A second adult female victim also sustained a minor injury during the incident."
Also on Tuesday, a woman named Mia Michelle Boykin claiming to be a friend of Cordon's posted the graphic images of the victim's injuries on Instagram. In the caption, Boykin accused McCoy of abuse writing, "I can't believe you did this to my best friend! We didn't say anything about how you beat your dog 'Henny' into kidney failure. Let's not talk about all the times my best friend had to stop you from VICIOUSLY beating your son for small things like peeing in the bed. We kept quiet about your drug usage…all the ILLEGAL steroids and needles you were using, but we will not keep quiet about this!!!!!! I can't believe you did this to my best friend!!!!!"
The athlete vehemently denied the allegations calling them "totally baseless" and "completely false."
— Lesean McCoy (@CutonDime25) July 10, 2018
Boykin's post has since been deleted.
On Wednesday, it was reported that Shady hired prominent defense attorney Don Samuel, who also represented former Baltimore Ravens linebacker Ray Lewis during his murder trial and helped defend Pittsburgh Steelers quarterback Ben Roethlisberger when he was accused of rape.
"We were very recently retained, as of yesterday, so we're getting up to speed," Amanda Clark Palmer, a partner at the firm, told People. "Don was retained, and our firm in general, so we're getting up to speed on the allegations."
McCoy was not in town at the time of the break-in as he has reportedly been training in Miami. His former teammate Richie Incongnito defended Shady on social media Tuesday night claiming that he "knows the full story" and McCoy was not involved in what happened to Cordon.
The Bills meanwhile are aware of the allegations and said that team officials have spoken to the Pro Bowler and are continuing to "gather information."