Le'Veon Bell Signed With the Ravens 2 Years Too Late After Making a Costly Mistake
The Baltimore Ravens came down with a severe case of the injury bug, and it's lasted throughout training camp and the preseason. After losing J.K. Dobbins for the season in the final preseason game, Justice Hill went down in practice with a torn Achilles. This left the Ravens searching for depth at the running back position. After holding workouts, they signed former foe Le'Veon Bell.
A mistake from two years ago has probably haunted Bell because it changed the trajectory of his career.
Le'Veon Bell signed with the Jets over the Ravens before the 2019 season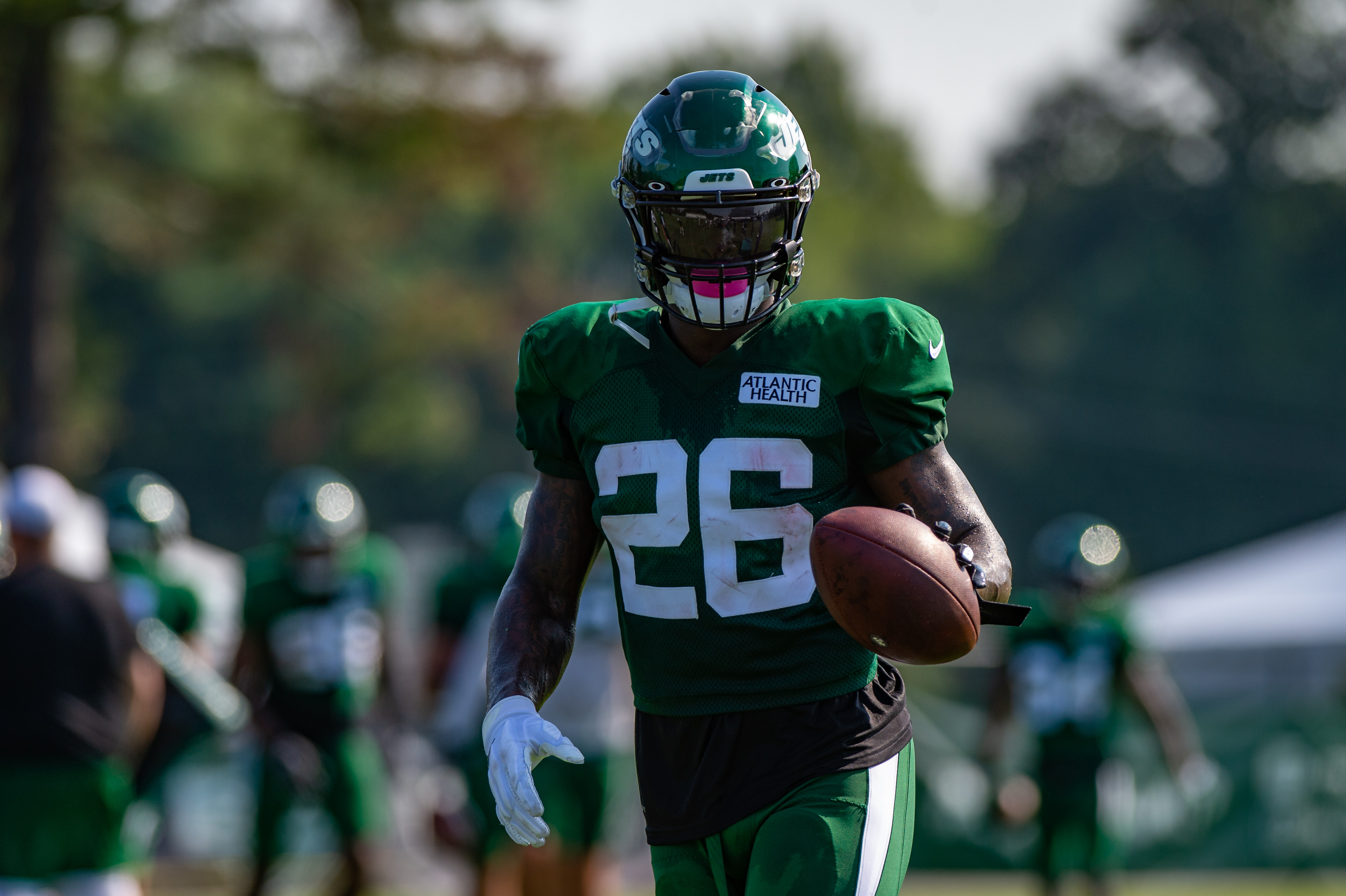 After falling out with the Pittsburgh Steelers, Le'Veon Bell sat out the entire 2018 season. In the years prior, he had developed into one of the most complete running backs in the NFL.
Once Bell and the Steelers parted ways, several suitors were looking to land the All-Pro running back. The Baltimore Ravens were one of them. Instead, he spurned his former AFC North rival to sign with the New York Jets.
The move made sense for Bell financially. The Jets inked him to a four-year $52 million contract. Instead of basing his decision on the football situation, he chased the money. Given the shorter shelf life of running backs, it's not difficult to understand why. However, joining the Jets put a cap on the former Michigan State standout's prime.
Adam Gase was clearly the wrong man for the head coaching gig in New York, and he did not live up to the tag of an offensive mastermind. In 16 games with the Jets, Bell carried the ball 264 times for 863 yards and three touchdowns. He also caught 69 passes for 500 yards and one touchdown.
Mediocre quarterback and offensive line play held back Bell's chances of succeeding with the Jets. That would not have been an issue if he signed with the Ravens. Lamar Jackson was entering his second season in a potent rushing attack, and Baltimore is a perennial AFC contender.
It's unclear if Bell has any regrets about the decision, but he should.
Bell was once an elite NFL running back
The Steelers drafted Le'Veon Bell with the No. 48 pick in the second round of the 2013 NFL Draft. He made an immediate impact on the Steelers offense. The Michigan State product started 13 games and rushed for 860 yards and eight touchdowns as a rookie.
Outside of an injury-riddled 2015 campaign, Bell's workload increased, as well as his production. In five seasons in Pittsburgh, he racked up 5,336 yards on the ground and 35 touchdowns.
Not only could he gash defenses on the ground, but Bell was also a dangerous receiving threat. He recorded 312 receptions for 2,660 yards and seven receiving touchdowns in five seasons.
The Reynoldsburg, Ohio native was selected to three Pro Bowls and earned two All-Pro nods during his tenure with the Steelers. Bell, Ben Roethlisberger, and Antonio Brown formed the football version of a Big Three, and made Pittsburgh's offense tough to stop.
During his prime years, there weren't too many running backs in the league better than Bell.
Le'Veon Bell projects as a depth piece for the Ravens
The Ravens worked out Le'Veon Bell, Devonta Freeman, and Elijah Holyfield in the wake of Justice Hill's season-ending injury. The team ultimately went with Bell and signed him to the practice squad.
The veteran running back last played for the Kansas City Chiefs in what turned out to be a failed experiment. Bell appeared in nine games, carrying the ball just 63 times for 254 yards and two touchdowns. It seems he didn't buy in with Andy Reid, and it led to him often standing on the sidelines.
In Baltimore, Bell gets yet another fresh start. Now, he's not officially on the 53-man roster, so he'll need to carve out a role. However, he adds valuable depth and experience to a depleted running back room.
When Dobbins got injured, Gus Edwards stepped into the No. 1 running back role. He's proven to be more than capable of handling those duties. He rushed for 723 yards and six touchdowns on 144 attempts in 2020. Edwards' five yards per carry average tied for seventh among all NFL running backs. His workload will most likely increase to a career-high. Still, given his relentless running style, there's nothing to suggest he can't continue to produce.
Bell will also be competing with Ty'Son Williams for touches if the Ravens promote him to the 53-man roster. Williams had an impressive training camp and preseason and projects as the clear No. 2 back at this point. The BYU product has garnered praise from his Ravens teammates and coaches. Edwards spoke highly of Williams.
"Everybody gets to see how hard he runs now," said Edwards, per RavensWire. "He makes a lot of good decisions, and he's going to do a lot of good things for us this year."
Williams has gained familiarity with the offense, which gives him an advantage over Bell. Bell is no longer the playmaker he once was, but given his skill set, he would provide an upgrade in the passing game.
When the Ravens offense is firing on all cylinders, they can score in bunches. Whether Le'Veon Bell factors into their plan in 2021 is entirely up to him.
All statistics courtesy of Pro Football Reference and Next Gen Stats
RELATED: The Baltimore Ravens Are Resorting to Desperate Measures to Overcome Their Brutal Run of Bad Luck