Lewis Hamilton's Adorable Bulldog Has Nearly 300,000 Followers on Instagram
Lewis Hamilton dominates his sport as few others have. He's turned the rest of Formula 1 into a race for second place. The glow of the 36-year-old's success also shines a light on his pet bulldogs, Roscoe and Coco. They have a massive Instagram following and travel with Hamilton nearly everywhere.
Cute pets will always gain fans, especially if they're celebrity pets. And Roscoe and Coco are far from the only pooches to garner a fan base. Here's what we know about Hamilton's famous bulldogs. 
Lewis Hamilton is a legend behind the wheel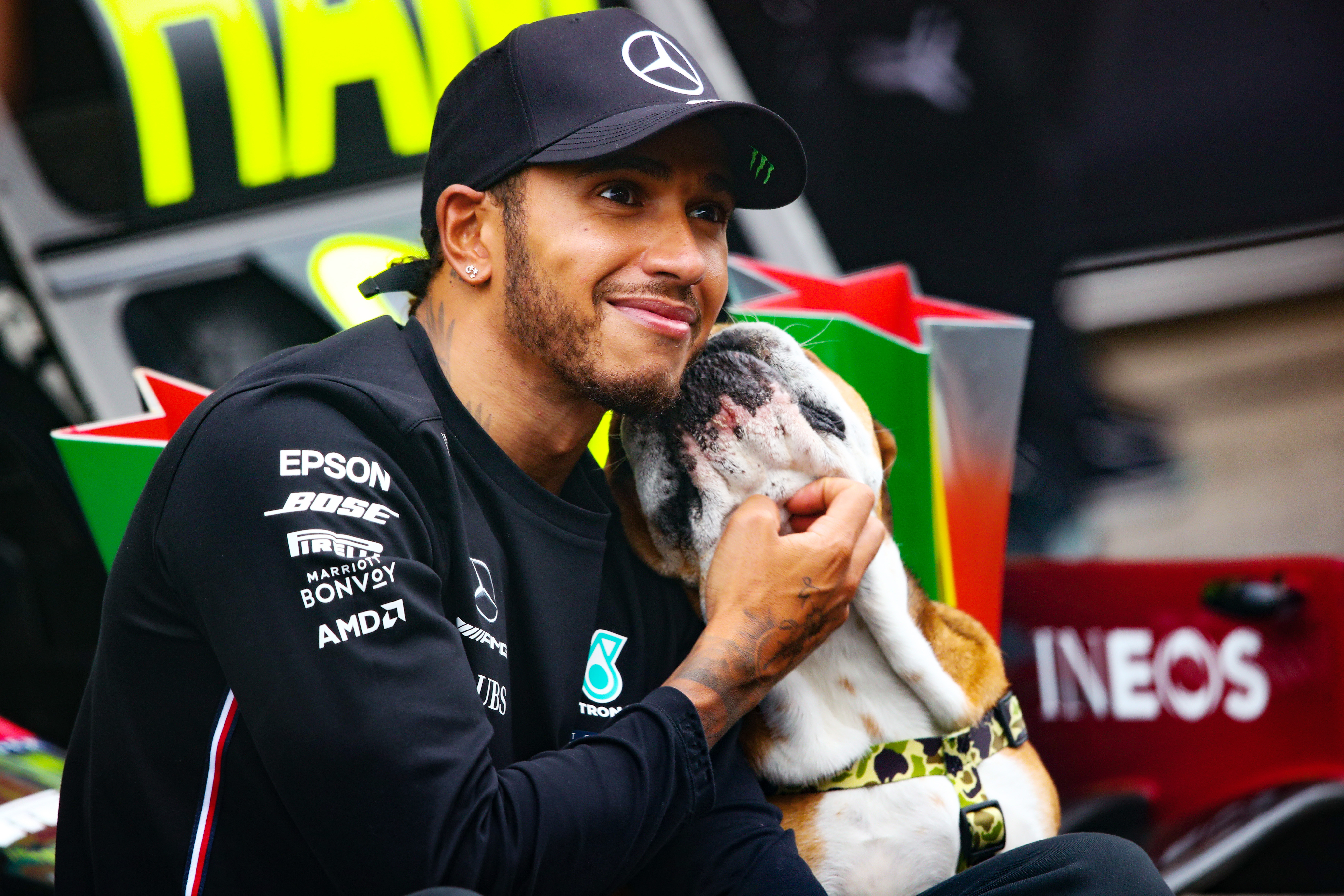 RELATED: How Did Lewis Hamilton Get Into Racing?
Hamilton was destined to be a great driver. He won kart championships as a kid in his native England. And Hamilton continues to win titles since becoming a professional Formula 1 competitor with McLaren and Mercedes in 2007. He set a number of records en route to becoming the youngest World Drivers' Championship runner-up ever in his rookie year.
Hamilton won the first of his seven championships the next season. Last year's constructor's championship brought him on level terms with the legendary Michael Schumacher for the number of F1 titles. The only way Hamilton's lead over the competition will end soon is if he decides to retire while he's still at the peak of his powers. 
His greatness, status as the only Black driver in Formula 1, and his willingness to discuss racial justice-related topics grant Hamilton a level of stardom unmatched by other drivers. With over 21 million Instagram followers, he has a net worth of $285 million. Hamilton even received a knighthood at the start of 2021. 
Lewis Hamilton's bulldog becomes a social media star
RELATED: When Was the Last Time Lewis Hamilton Missed a Formula One Race?
There's nothing the internet loves more than a cute pet. A picture or video of any dog or cat doing literally anything will receive praise online. Hamilton joined in on the act by making an Instagram account for his pair of bulldog siblings, Roscoe (brother) and Coco (sister). 
The duo has shared an account, @roscoelovescoco, for six years, making for an adorable team. But Coco sadly passed away last summer, clearly hitting Hamilton hard considering the number of "in memoriam" posts about her since then.
The account is now solely Roscoe documenting his and Hamilton's time relaxing or going on adventures together. The F1 driver spares no expense pampering Roscoe, getting him massage treatments, fancy cakes, and even taking him to racing events. 
Even with the loss of Coco, @roscoelovescoco is still popular, racking up 299,000 followers eager to view the canine's carefree lifestyle.
Hamilton has faced controversy for claiming that he put Roscoe on a fully vegan diet. (According to some experts, a fully meat-less diet can leave dogs deficient in important vitamins.) But the vibe of the posts and the comments is generally positive. It's hard not to be with cute dogs.
Is Roscoe the most popular celebrity dog on Instagram?
Hamilton is far from the only athlete to make their pet a star on social media. He's not even the only one to do so with a bulldog. Pittsburgh Steelers wide receiver Juju Smith-Schuster's French bulldog, Boujee, has a similar fandom to Roscoe, with over 275,000 Instagram followers.
Olympic gymnast Simone Biles has an account for her two French bulldogs, Lilo and Rambo, as does Michael Phelps for his precious Frenchies, Juno and Legend. Dodgers pitcher David Price doesn't have a separate page for his dog. But he did get framed artwork with his French bulldog as the "best birthday gift I've ever received."
Does it mean something that these athletes have increased engagement with bulldogs? No, but it's a neat coincidence. Sports Illustrated compiled a list of famous athletes with pets, but not all of them have their own social media. Some that do include Serena Williams' Yorkshire Terrier, Chip; Ezekiel Elliot's trio of dogs, Ace, Deuce, and Jack-Jack; and USWNT star Rose Lavelle's Wilma Jean Wrinkles (another bulldog!).  
None of these animals can compete with the true animal celebrities on Instagram. The most popular dog on the platform: a Pomeranian named Jiffpom who boasts a whopping 10.3 million followers. This is one race Hamilton can't win.