Lewis Hamilton, Allowing Max Verstappen to Claim the Formula 1 Championship on a Last-Lap Pass, Has Been Challenged Late Before
Seven-time Formula 1 world champion Lewis Hamilton is considered by many insiders to be the best circuit driver of all time.
Who could argue? Hamilton has an F1-best 103 wins and remains tied with Michael Schumacher for the most drivers' titles in F1 history.
Well, some like Sebastian Vettel will take up the debate. Vettel, who claimed four consecutive titles from 2010-13, remains adamant about his support of Schumacher, who is second on the wins list with 91.
Hamilton had an opportunity to clinch a record eighth F1 title on Dec. 12, but a nasty habit popped up. A rival passed him on the last lap. The following are two of the most significant times Hamilton lost late. Could it be his last?
2021 Abu Dhabi Grand Prix  
This will be one disappointing asterisk on Hamilton's hall-of-fame career. He jumped pole-sitter Max Verstappen at the start and controlled the race through 57 laps and four turns, but on Turn 5, Hamilton drove wide, and his season-long rival dived down to the inside and powered past his machine.
Six laps earlier, Hamilton held a commanding advantage. He appeared in a position to run away with the championship. Verstappen, at that point, could not match the Mercedes' straight-line speed, but then Nicholas Latifi's crash summoned the safety car. Verstappen pitted to take on new soft tires. Hamilton, meanwhile, stayed on the course with old hard rubber.
The decision by Hamilton's team not to pit put Verstappen in position for the last-lap, championship-clinching pass. At 24 years and 73 days, Verstappen is the fourth-youngest F1 champ.
"… I have achieved everything in Formula 1 now," he said after the victory, reported by formula1.com. "So everything that comes next is just a bonus."
2016 Austrian Grand Prix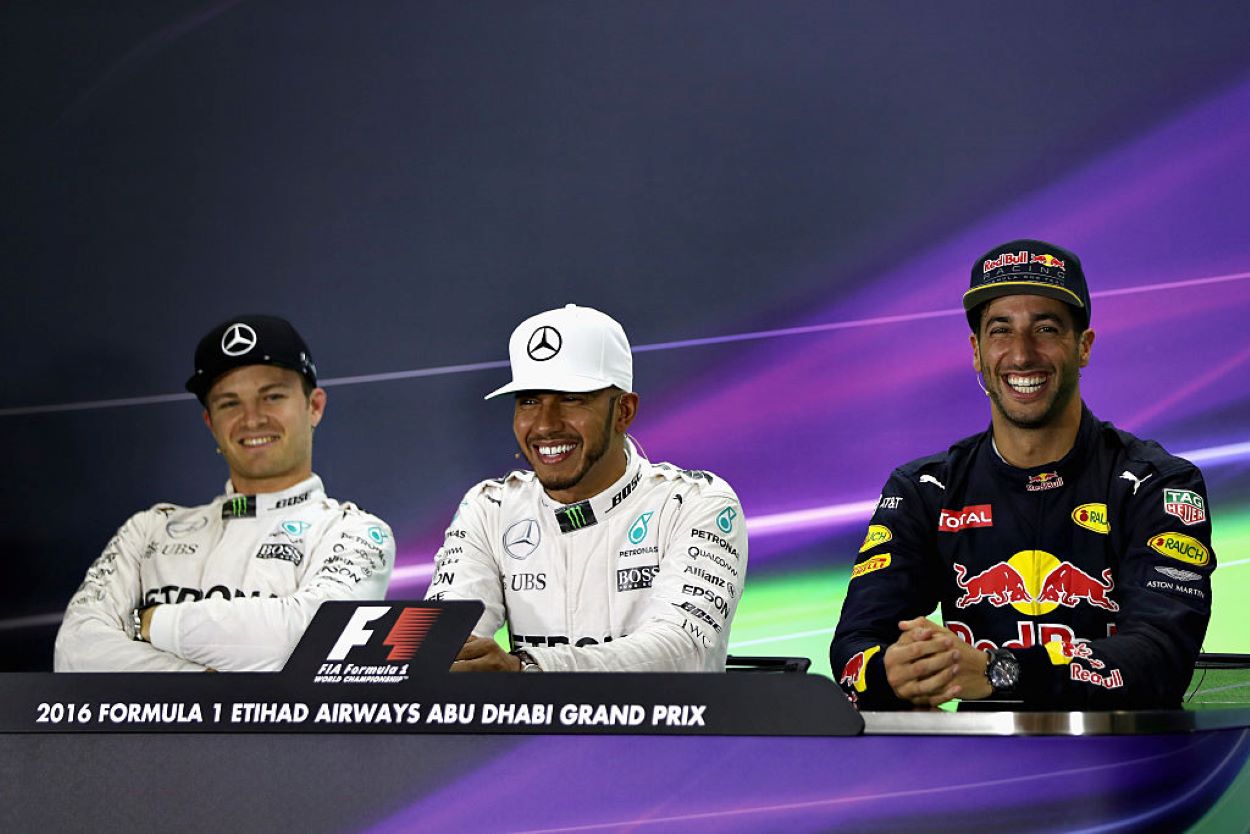 Hamilton's end-of-race, cat-and-mouse game with Mercedes teammate Nico Rosberg provided a bit of spice to an otherwise ordinary GP event. 
Hamilton made the first move by pitting for a new set of soft tires. Alternatively, on the next rotation, Rosberg stopped for supersofts, which launched Hamilton to P1.  
Hamilton and Rosberg jockeyed for the top spot and raced aggressively through the final lap, until … 
The teammates collided on Hamilton's reckless maneuver. He may have escaped the scrape unscathed and won the race, but his desperate act cost his teammate a spot on the podium. 
Despite having a dominant team, the two clashed multiple times, including a Spanish GP crash that drew an F1 inquest. Rosberg eventually clinched the 2016 F1 title in dramatic final-race fashion, then abruptly retired.
Hamilton was criticized within the team. Non-executive chairman Niki Lauda told theguardian.com: "It's stupid … Lewis is too aggressive."
Will the 2021 finale be Hamilton's final last-lap defeat?
It may not be a last-lap setback, but Hamilton's subtle hint of retirement following the Dec. 12 final-loop defeat could be his last – for now.
The 36-year-old social icon spoke of his frustration regarding the season-long drama surrounding the points battle with Verstappen and the controversy surrounding the final restart. In the past, Hamilton expressed his desire to pursue other interests.
His post-race press conference comments were vague but striking.
"A big congratulations to Max and his team," he said, reported by thesun.ie. "I think we did an amazing job this year. My team worked so hard this whole year, it's been the most difficult of seasons. We gave it everything and never gave up and that's the most important thing."I've felt great in the car in the past couple of months. We're still in the pandemic and I just want everyone to stay safe and spend Christmas with their families.
"We'll see about next year."