Lewis Hamilton Criticizes Max Verstappen for Being an On-Track Bully, Calls F1 Champ 'Aggressive as Hell'
The seven-time Formula 1 champion attempted to degrade the reigning champ.
The once silent Lewis Hamilton spoke up and described Verstappen as being "aggressive as hell."  
But was that a dig or a compliment?
Lewis Hamilton's season-finale drama started with a Lap 1 pass of Max Verstappen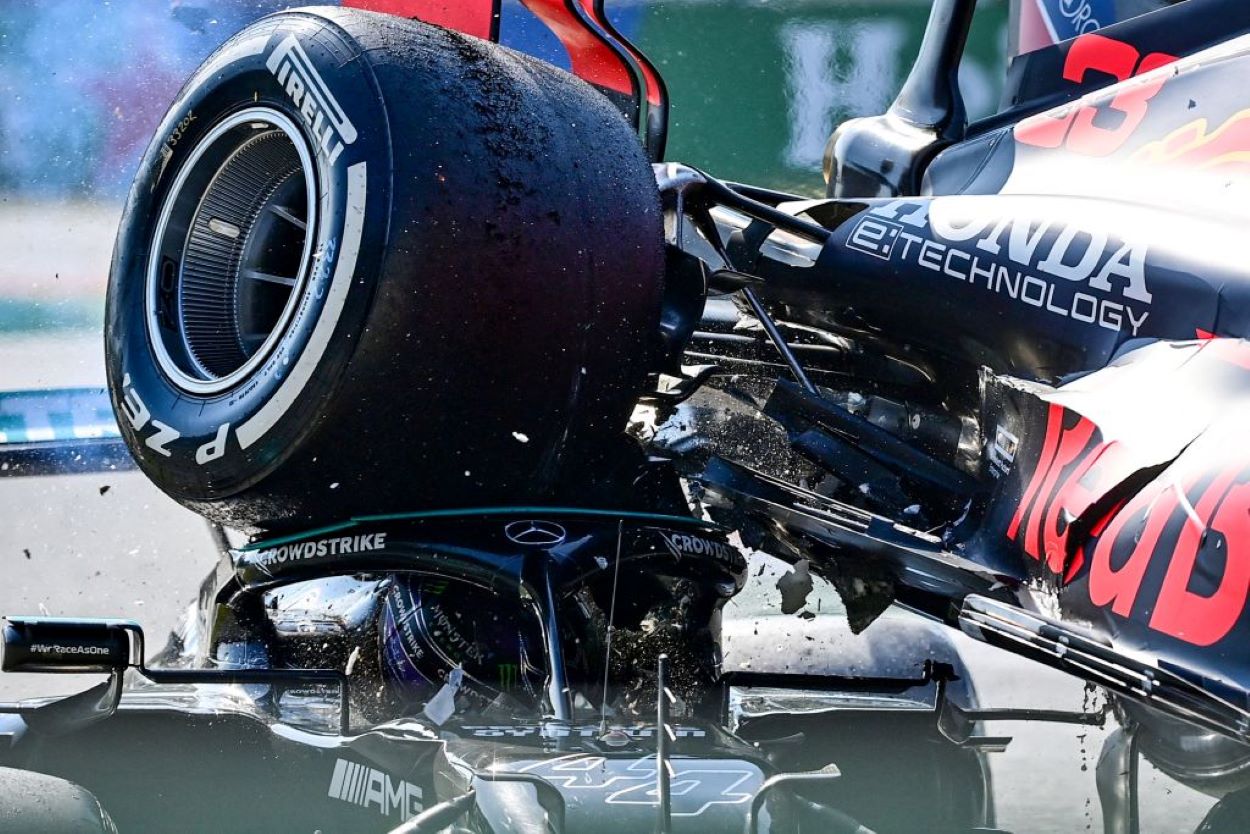 The season-long, drama-filled battle between Hamilton and Verstappen is a ready-made screenplay. Spoiler alert! The ending was a doozy.  
Among their highlights last season, Hamilton contacted Verstappen's rear right tire during a Lap 1 pass attempt during the British Grand Prix. The passing clip sent the Red Bull Racing machine into the tires. Hamilton cruised to the checkered flag despite being penalized 10 seconds for the over-aggressive move.  
A few months later, during the Italian GP, the two tangled, and Verstappen's ride ended up on Hamilton's Mercedes after striking a curb. It was a scary moment. Verstappen's tire hit Hamilton's helmet.
Hamilton, a 7-time F1 champ, continues to 'Drive to Survive'
During an upcoming episode of Netflix's "Drive to Survive," Hamilton, who spent most of the offseason on a social-media blackout, spoke against the tactics his rival used to deny him the F1 record eighth drivers' championship. The episode premieres on March 11, according to Insider.
At the season-ending Abu Dhabi GP, the two entered the event tied in the drivers' standings. Verstappen started on the pole but lost the lead on the first lap.
In the first of a series of controversial moments, stewards did not issue a penalty to Hamilton following a late lunge by Verstappen along Turn 6. Hamilton controlled much of the race until the final climatic lap.
With racing resuming for one lap after a caution period, Verstappen utilized fresh tires to pass a disgruntled Hamilton, whose team declined to pit. Mercedes' team issued at least two appeals to the FIA, but they were denied in short order.
Hamilton on Verstappen: 'More often than not, he pushes it to the limit and beyond'
Fueled by Mercedes' offseason lobbies, former FIA Race Director Michael Masi was made to be the fall guy for allowing the five lapped cars to pull ahead of the Safety Car. With no traffic to block the pursuer and the leader Hamilton riding on old tires, Verstappen pulled the aggressively stunning, title-clinching Lap 5 pass.
"I think Max is aggressive as hell," Hamilton said during the series' third episode. "And more often than not, he pushes it to the limit and beyond."
Verstappen will continue to push the limits for Red Bull Racing for at least seven more years after signing a five-year contract extension on March 3.
"I've raced against a lot of drivers. There is always bullies, but that's not how I operate. I just try and beat them on track."
Like Sportscasting on Facebook. Follow us on Twitter @sportscasting19.
RELATED: Did Timo Glock Deliberately Slow Down and Let Lewis Hamilton Pass for His First Formula 1 World Championship in 2008?