Lewis Hamilton Describes Exactly How He Felt as He Lost F1's Controversial 2021 Abu Dhabi Grand Prix: 'My Worst Fears Came Alive'
We've all heard of the controversial finish to the 2021 Abu Dhabi Grand Prix. There, Lewis Hamilton lost the race — and the championship title — to rival Max Verstappen. Hamilton watched his potential record of eight world championships disappear after what most F1 fans considered poor officiating by the race director Michael Masi.
In a Vanity Fair interview, Hamilton described his thoughts and emotions during the controversial 2021 Abu Dhabi Grand Prix finish.
The controversial F1 2021 Abu Dhabi Grand Prix Finish
To understand the controversy surrounding the 2021 Abu Dhabi Grand Prix, we must first look at the events leading up to it. Before the final race of the season, Hamilton and the young Max Verstappen were tied on equal points. The deadlock meant whoever finished ahead in the Abu Dhabi Grand Prix would win the season.
Hamilton and his Mercedes Benz team did all they could to help him achieve a new world record. He would become the first man in the sport's history to win eight world championships. Hamilton already held numerous other F1 records, including most F1 wins (103) and most F1 points (4193.5).
On the other hand, according to Sports Big news, Max Verstappen had much fewer records before his big Abu Dhabi win. His record included the youngest F1 points scorer, youngest F1 winner, and a few more.
However, as the race came to its final stages, a decision by the race director Michael Masi changed things in favor of Verstappen, causing an uproar. With five laps remaining, Hamilton led 11 seconds ahead of Verstappen. The safety car came out onto the track due to an incident involving Nicholas Latifi's Williams car. To anyone with an in-depth understanding of F1 rules, Hamilton appeared destined to win the season in an anticlimactic ceremonial procession.
Instead, the race director improvised a rule without precedent. The ruling resulted in a final lap of what most considered superficially competitive racing. It was a lap that Hamilton could not win despite his initial lead since Verstappen, now behind him, had a significant speed advantage due to his fresh tires. Eventually, Hamilton lost the F1 title to Verstappen.
After controversy and backlash, an inquiry occurred. Michael transferred from his post as race director despite support from F1 Champ Sebastian Vettel. The official report regarded the event as a human error in judgment made in good faith. The rules were then clarified and updated to prevent a repeat. However, the results stood.
Lewis Hamilton breaks down the controversial F1 2021 Abu Dhabi Grand Prix Finish
As the checkered flag flew, Hamilton's world crashed, realizing he lost the championship title. In an interview with Vanity Fair, Hamilton described his thoughts and emotions at that moment. "It was the toughest moment I have had in a long time. I recall sitting there in absolute disbelief and realizing I have got to undo my belts and climb out of this thing. I have to find the strength. My worst fears came alive."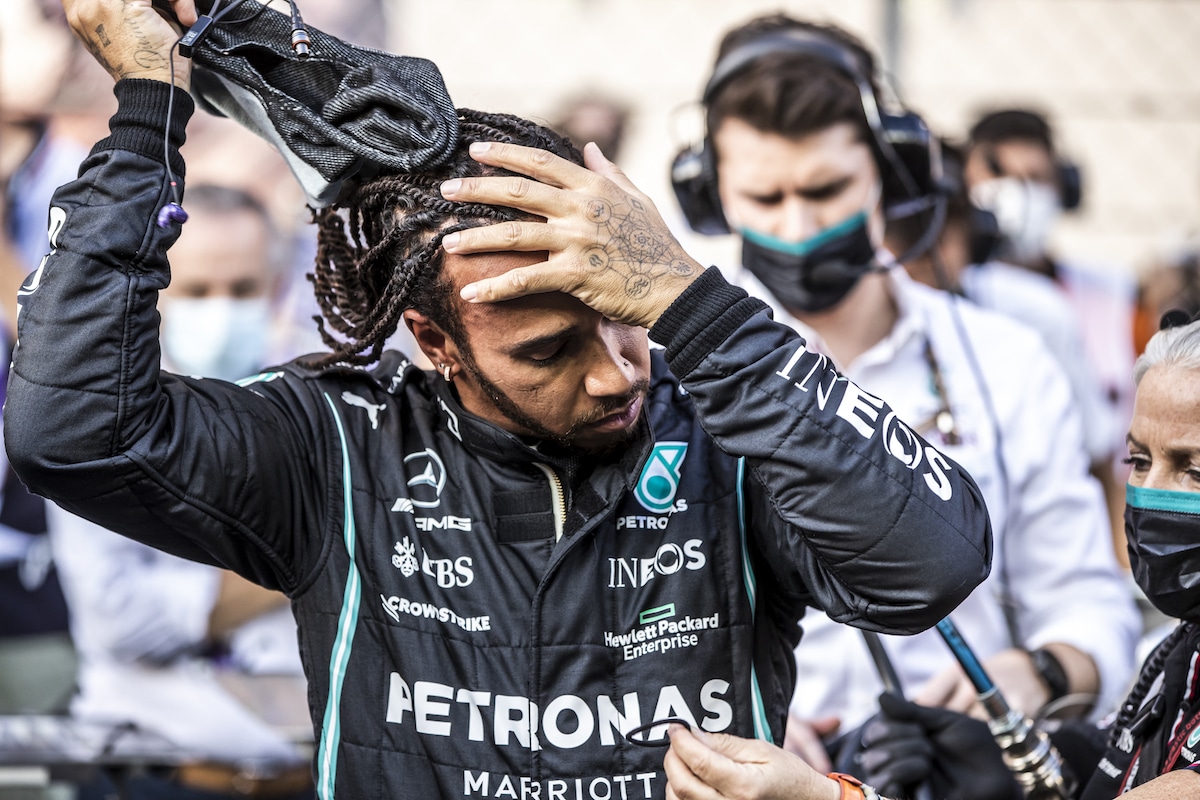 So intense was the feeling of disbelief that when Hamilton eventually got out of the car, he did not know where his father was, despite his dad standing beside him. However, like a great sportsman, Hamilton handled it gracefully no public venting, no shouting, raging, or even declaiming the unfairness.
Instead, he composed himself, walked over to Max Verstappenand, and shook his hand. Hamilton congratulated his rival on the win in a show of great sportsmanship.
What did other celebrities think of the controversial F1 2021 Abu Dhabi Grand Prix Finish?
As the controversy played out, many of Hamilton's celebrity friends, including Sebastien Ogier, George Lucas, Mellody Hobson, and Tom Brady, supported him.
Married couple George Lucas and Mellody Hobson, who were both in Abu Dhabi to see Hamilton play, characterized the event as a horrible act. After the race, they got to see him and Hamilton apologized for having them travel across the world only to see him lose.
However, the couple would not have it. They explained that this was precisely why they came — to support in case he lost, not in case he won. Tom Brady, who also watched the event from home, commented on the controversial decision calling it the craziest ending of all crazy endings. 
RELATED: Lewis Hamilton Is So Popular That a Country Other Than His Homeland Is Looking to Adopt Him