Lewis Hamilton Has Flashback as He Prepares to Battle Max Verstappen During Abu Dhabi GP
Lewis Hamilton was not overwhelmed by the moment. The four-time defending Formula 1 champion had been there before.
The swirling controversies surrounding the haymaker moves that Hamilton and Max Verstappen executed during the Saudi Arabian Grand Prix on Dec. 4 had little effect.
For Hamilton, he experienced déjà vu.
Lewis Hamilton recalls the 2008 points battle, his first title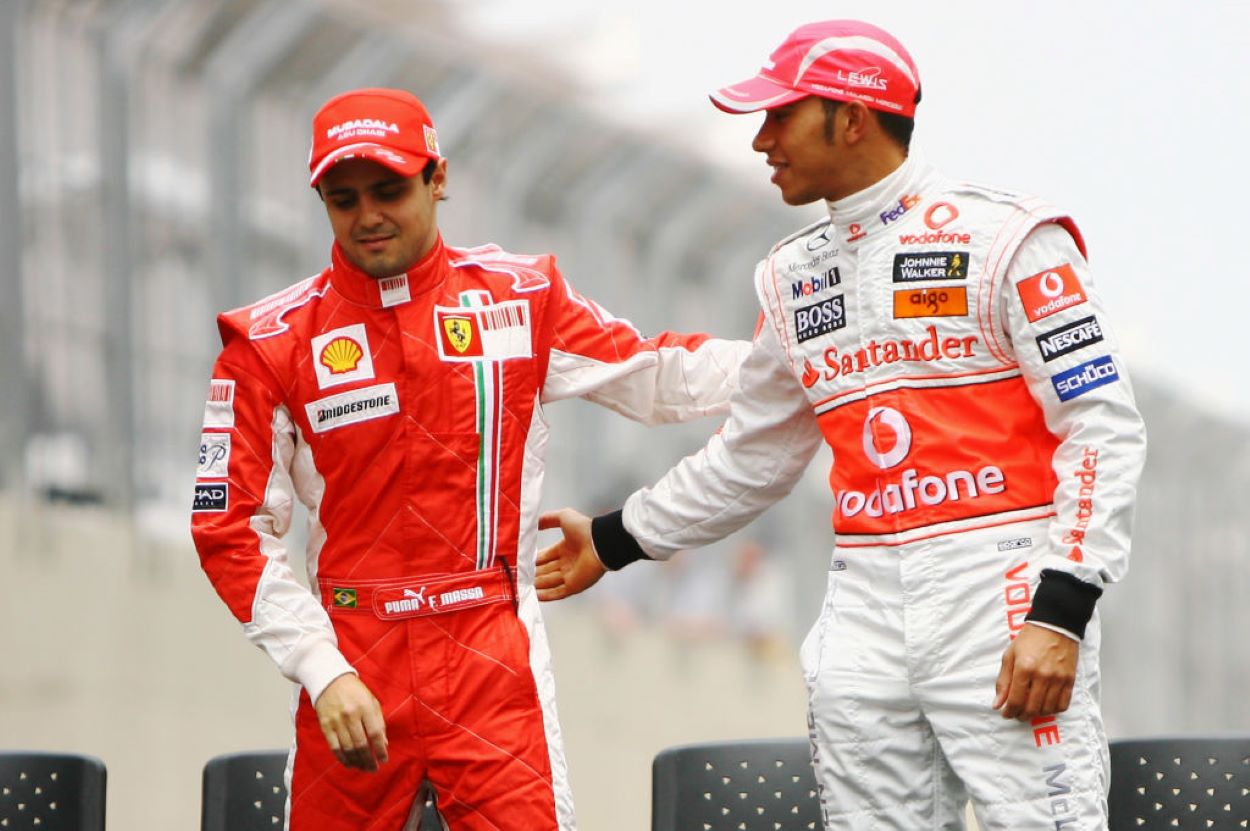 Thirteen years ago, during the Belgian Grand Prix, an up-and-coming Hamilton was gunning for his first F1 world championship. The reigning titleholder, Kimi Raikkonen, played an earlier version of the protagonist Verstappen.
Hamilton had a flashback during the post-race press conference, reported by planetf1.com.
"I was just reminiscing about 2008 in Spa … when I was fighting Kimi into the last corner of the chicane," Hamilton said. "He ran me wide, and I went across the chicane and had to let him back past, but then I overtook him straight away, and I remember (race director) Charlie Whiting telling the team it was okay and then finishing the race – Kimi obviously didn't finish the race – but then getting I think it was a 10-second (penalty) or whatever it was, 20 seconds, and then finishing third."
Actually, it was a 25-second penalty, and it occurred as heavy rainfall started covering the track, but it did drop Hamilton to third place behind Felipe Massa and Nick Heidfeld.
Hamilton suffers a setback with delayed penalty announcement
Hamilton's penalty was announced about two hours after Raikkonen crashed his Ferrari, and McLaren issued – and later denied – an appeal.
Hamilton easily connected the dots between the Belgian GP of two decades ago and the inaugural Saudi Arabian GP:
Two of F1's highest-profile pilots dueled for track control.
The drivers displayed aggressive yet questionable tactics.
The way Race Control intervened and adjudicated the result.
With Hamilton dropping back in 2008, the post-race, six-point swing led to a drama-filled, end-of-season Brazilian GP.
Moments after the checkered flag flew, Massa's family and friends celebrated what appeared to be a world championship in Ferrari's garage area.
Massa captured the event from the pole position, but behind the leader, Hamilton executed a final-lap, final-corner maneuver, passing the slower Toyota of Timo Glock for fifth place, clinching the title by one point (244-243).
Hamilton set to face rival Verstappen in the finale for 2021 F1 title
Fast-forward to 2021, and Hamilton has won three consecutive F1 events, eliminating Verstappen's once comfortable lead. Pursuing his record eighth championship, Hamilton enters the finale even with Verstappen.
The Abu Dhabi GP will be a 55-lap event at the 5.281-kilometer Yas Marina Circuit on Yas Island on Dec. 12. For F1 fans, it will be must-see TV.
During the Saudi Arabian GP, race stewards issued three penalties to Verstappen. During the race, Hamilton said on team radio: "This guy is &!%# crazy, man."
The Abu Dhabi finale could prove to be crazier than 2008.