Lewis Hamilton Just Lost His Second Championship of 2021 to a Former Teammate and Title Rival
Seven-time Formula 1 world champion Lewis Hamilton is still dealing with the heartbreak of losing the world championship to Max Verstappen at the final round in Abu Dhabi. To make matters worse, his Extreme E team was just beaten to the championship by the rival team of former Mercedes teammate and 2016 Formula 1 world champion Nico Rosberg.
Two championship losses in a single season are tough to handle and made even more unbearable as Hamilton and Rosberg have a rocky history in the sport. Both Hamilton and Rosberg are team owners in the electric off-road Extreme E series and employ some of the best rally racers in the world to battle for championship glory.
A championship battle that mirrors the 2016 and 2021 Formula 1 season
In a pure coincidence of competition, Lewis Hamilton's X44 team's championship hopes came down to the season's final race, the Jurassic X-Prix in Dorset, United Kingdom. In another coincidence, Hamilton's team would fight for the championship with Nico Rosberg's Rosberg X Racing Team (RXR), which drew comparisons to the infamous 2016 Formula 1 season in which Hamilton and Rosberg went toe-to-toe for the world title. 
But, much like 2021 and 2016, it was not Hamilton's year. Team X44 won the final race but ended the season level in points with RXR. With RXR winning more events, they were crowned the champions, handing Hamilton his second championship loss of the year.
2009 Formula 1 world champion Jenson Button's JBXE team finished in the third spot of the championship. 
What is Extreme E?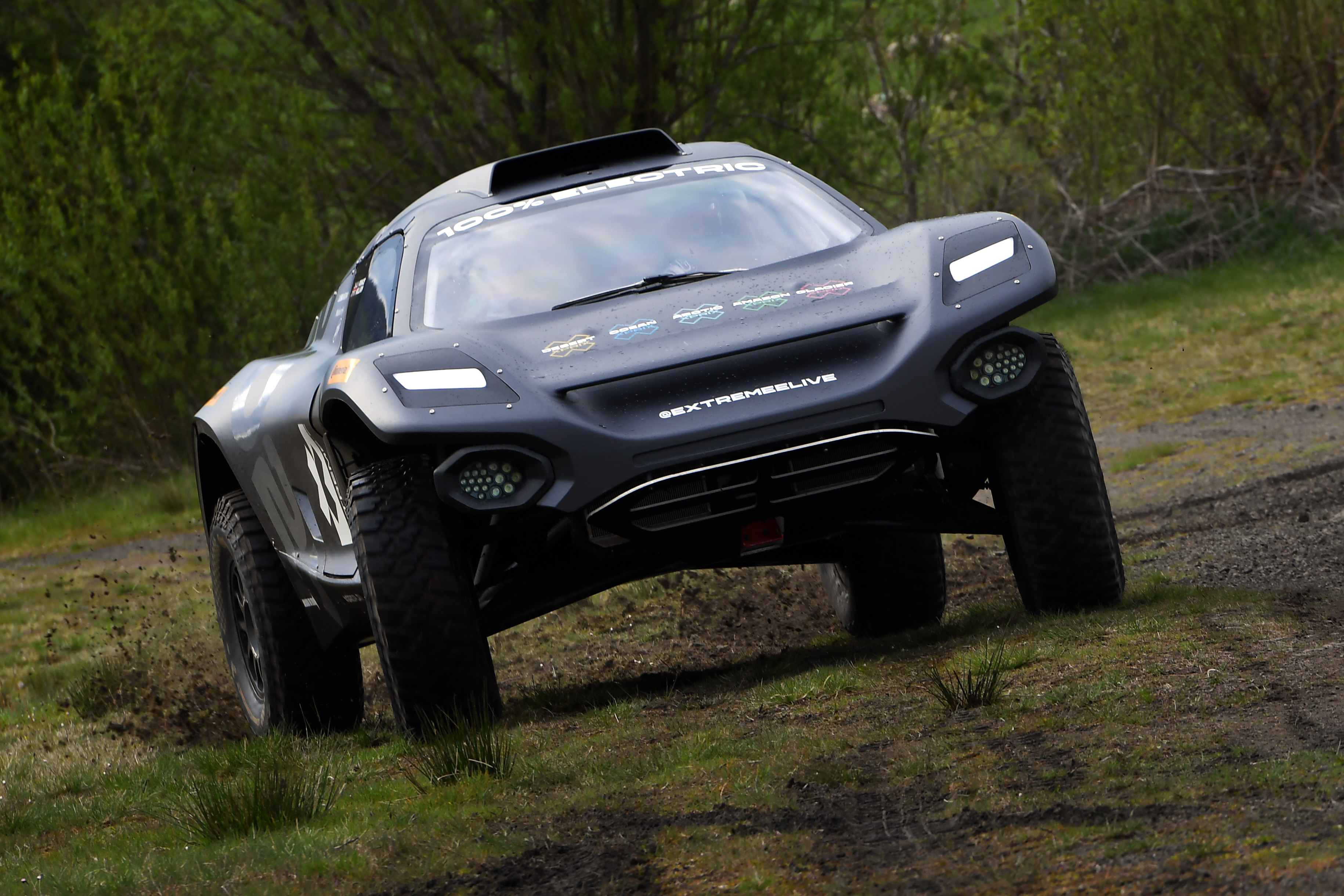 The 2021 racing season is the debut year for the Extreme E Series. The series uses bespoke electric SUV prototype off-road vehicles shared by a male and female driver. They race on specially created racecourses on some of the most challenging terrains on the planet in five different locations. From the sand dunes of Saudi Arabia to the ice and snow of Greenland, nine teams with 18 drivers compete for the championship.
The premise of Extreme E is to create an off-road racing series focusing on sustainability and reducing the overall climate impact from motorsports.
The vehicle itself is known as the ODYSSEY 21. A tubular-frame, purpose-built off-road racer with an electric powertrain that produces up to 550 horsepower. The battery system is designed and built by the Williams F1 Team, and the body panels are made from natural fibers that are more eco-friendly than carbon fiber or fiberglass.
The championship contenders
The nine teams that compete in the series feature some of the biggest names in motorsport. Formula 1 world champions Lewis Hamilton, Nico Rosberg, and Jenson Button each own a team. American-based Andretti Autosport and Ganassi Racing also have teams in the series.
Two American drivers, Sarah Price and Kyle Leduc, are racing on the Hummer EV Ganassi Racing team and go up against some of the best drivers in the world, including nine-time World Rally champion Sebastian Loeb, two-time W-Series champion Jamie Chadwick, and Ferrari F1 driver Carlos Sainz Jr's father and sister, two-time World Rally champion Carlos Sainz and Laia Sainz.
The series has gained significant traction throughout the season, with McLaren announcing their participation in 2022 with a driver line-up featuring American Tanner Foust and New Zealand Rally champion Emma Gilmour.
2021 has proven to be a challenging year for Lewis Hamilton. A fierce championship fight with Max Verstappen ended with a controversial loss in Abu Dhabi and now a second championship loss in Extreme E adds to the disappointment of the season.
Hamilton has enjoyed a remarkable run of success in racing, but he knows that you can't win every race and every championship. Losing out on the Formula 1 world title and the Extreme E championship won't dampen his motivation and competitive spirit for long. Expect Hamilton to return in 2022, ready to win it all again. 
Related: Lewis Hamilton Just Received a Title That Max Verstappen Never Will