Lewis Hamilton May Yet Claim His Record 8th Formula 1 Drivers' Championship but Sebastian Vettel Says Michael Schumacher Remains the 'Greatest'
Lewis Hamilton will be gunning for a Formula 1 record at the Abu Dhabi Grand Prix. If he completes what a month ago seemed improbable, Hamilton will claim his eighth F1 drivers' championship, breaking free from the mark he shares with Michael Schumacher. 
The winner of three consecutive races, Hamilton eliminated Max Verstappen's 19-point advantage following the Mexico City Grand Prix on Nov. 5. Hamilton and Verstappen are even entering the season finale on Dec. 12. 
If Hamilton does establish a new record, it will not matter much to Sebastian Vettel. In his opinion, Schumacher will remain the "greatest." 
To Sebastian Vettel, Michael Schumacher will always be the 'greatest' F1 driver
Schumacher remains an enigma.  
Is he one of the best drivers in motorsports history? 
Is he someone to look up to? 
A four-time F1 world champion, Vettel made up his mind long ago. 
Despite currently being tied with Hamilton, to Vettel, Schumacher will permanently set the pace. The fellow German obviously favors his countryman. 
"Michael is my hero," Vettel told dailymail.co.uk. "For that reason, I probably don't want Lewis to win, but the truth is, they (Hamilton and Max Verstappen) have both had a strong season; they are going into the last race with the opportunity to win the championship because they both deserve it. 
"In a way, I'd be happy if Michael's record still stands, but even if Lewis wins, to me, Michael is still the greatest." 
Schumachber's questionable move clinches his first F1 title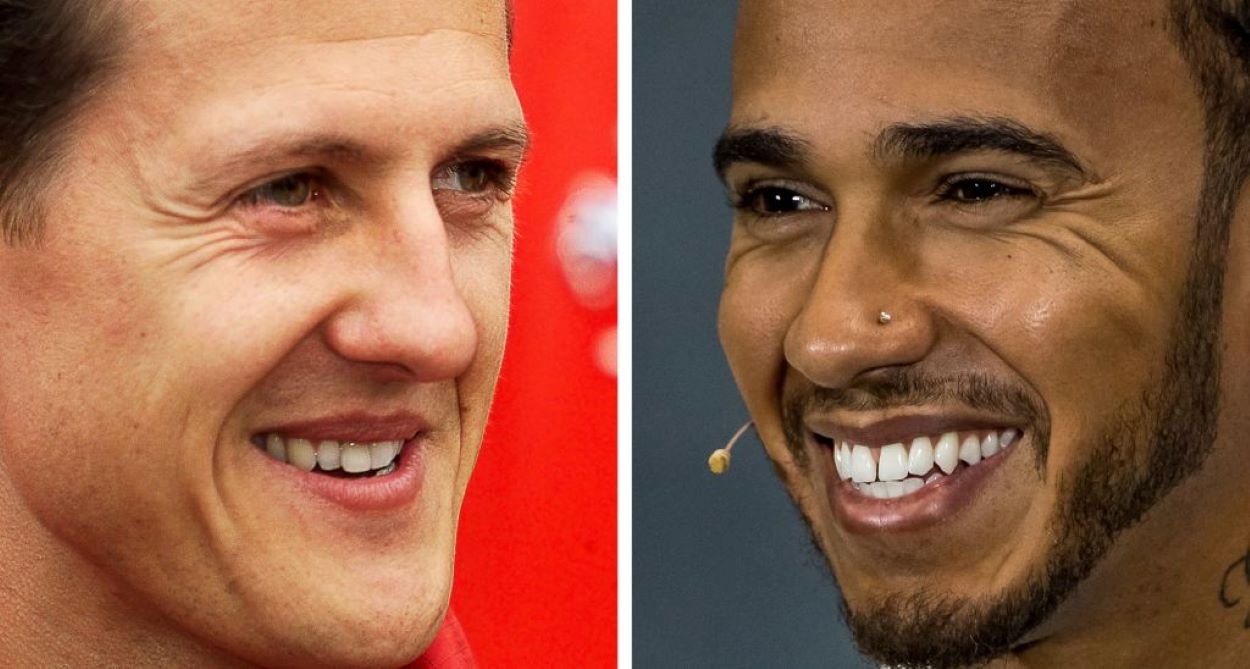 In 1994, Schumacher claimed his first title, but his winning move created a controversy he carried throughout his career.
In a tight points battle with Damon Hill entering the Australian GP, Schumacher clinched the title with a questionable maneuver. He ran off the road, re-entered the track, and took out Hill's machine, damaging its front wishbone.  
Hill was forced to park his ride in the pits. All he could do was shake his head at Schumacher, who also was unable to continue. As a result, Schumacher earned the points title, 92-91.
 F1 officials reviewed Schumacher's move and deemed it a racing incident.
Vettel: 'Let the best man win' between Hamilton and Verstappen
At the Portuguese GP on Oct. 25, 2020, Hamilton captured his 92nd career F1 race, breaking Schumacher's mark. Hamilton now has 103 career wins. 
But that doesn't matter much to Vettel, who has collected 53 career F1 events. To Vettel, Hamilton will never be a better driver than Schumacher no matter how much more he accomplishes. 
"Lewis can win one more, two more, three more, five more championships but it doesn't change anything for me, and I get along with Lewis," Vettel said. "So the gut says I want Max to win just to keep the record alive, but my head is clear in terms of 'let the best man win.' "
To Vettel, that always will be Schumacher.