Lewis Hamilton and Mercedes Got Their Michael Masi Wish Granted by Formula 1
Lewis Hamilton's Formula 1 future could depend on the professional fate of FIA Race Director Michael Masi. Reportedly, Hamilton and Mercedes were granted their wish. 
Hamilton could be in, and Masi could be out. 
7-time F1 champion Lewis Hamilton is still threatening to walk away if FIA fails to fire Michael Masi
 According to the Express, an FIA General Organizational Chart does not list Masi, an indication the race director has been sacked.
If Masi is indeed axed and Hamilton ends his retirement threats, a much-anticipated rematch against F1 world champion Max Verstappen will be established for 2022.
Rumors persist of the seven-time champion walking away from F1 following his emotional defeat at the 2021 Abu Dhabi Grand Prix on Dec. 12.
Former F1 boss Bernie Ecclestone told Blink last month that "his disappointment is too great" and Hamilton would walk away to pursue other interests, like focusing on "becoming a fashion entrepreneur."
An earlier report from motorsport.com indicated Hamilton planned on honoring his 2022 contract with Mercedes.
It all comes down to this: Is Masi in or out?
'Disillusioned' Hamilton's status for 2022 remains unresolved for now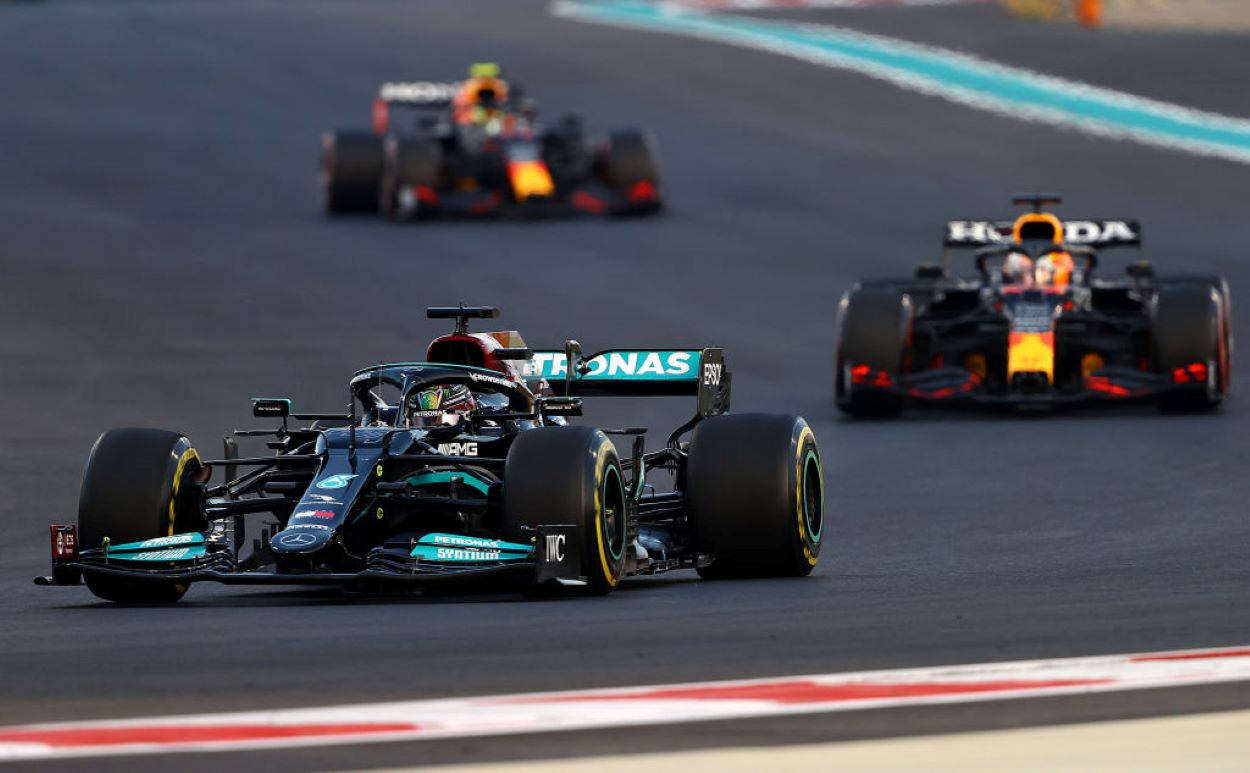 According to a BBC report, Hamilton remains "disillusioned" following Masi's decision to allow lapped machines to pass the Safety Car before restarting the season-ending race with one lap to go.
Verstappen had fresh tires on his Red Bull Racing car. Hamilton's team decided against the pit-row move at the start of the caution period. Verstappen executed the series-clinching move along the fifth turn, denying Hamilton a record eighth drivers' title.
Mercedes officials filed at least two protests, claiming Masi did not correctly apply safety-car measures. For that, Masi appears to be out.
According to the Express, Masi last appeared on the organizational chart in October as head of single-seaters sporting events.
The FIA is now under different management. New FIA president Mohammed Ben Sulayem reportedly removed both Masi and peer Nikolas Tombazis from their responsibilities.
Report: FIA, Mercedes 'agreeing a quid pro quo' to fire Masi, Tombazis
The FIA apparently relieved Masi and Tombazis from their duties after the BBC reported Mercedes decided to dump an appeal, which the F1 team denies. 
But an Express report on Jan. 13 indicates Mercedes and FIA officials are "agreeing a quid pro quo" to sack Masi and Tombazis.  
If it happens and Hamilton ends his social-media ban and announces his return for a 2022 showdown against Verstappen, Mercedes would demonstrate how much power it yields.
Like Sportscasting on Facebook. Follow us on Twitter @sportscasting19.