Lewis Hamilton Picks His Battles With Max Verstappen. Backing Down is Not Weak, But 'Clever'
The 2021 Formula 1 driver's championship has provided more excitement, uncertainty, and swings in momentum than any other season in recent memory. Seven-time world champion Lewis Hamilton has his hands full with Wunderkind Max Verstappen, who is on the hunt for his first world championship.
Mercedes GP and Red Bull Racing are throwing everything they can at their cars in a race for technical superiority. Accusations of bending the rules from both teams have led to a fractious relationship between Mercedes team principal Toto Wolff and his counterpart at Red Bull Racing, Christian Horner. 
The off-track battles have been just as intense as those on the circuit, with the rivalries verging on being personal. Despite the war of words, the on-track racing has been some of the best seen in Formula 1, with both Hamilton and Verstappen pushing each other to the limit. 
At that level of intensity, racing can lead to incidents and crashes, with both drivers causing and falling victim to a season of "no holds barred" driving. Each driver has stated that they will not back down from the fight, but a recent interview with Lewis Hamilton suggests that the British superstar employs some clever tactics when battling his rival.
In order to finish first, first you have to finish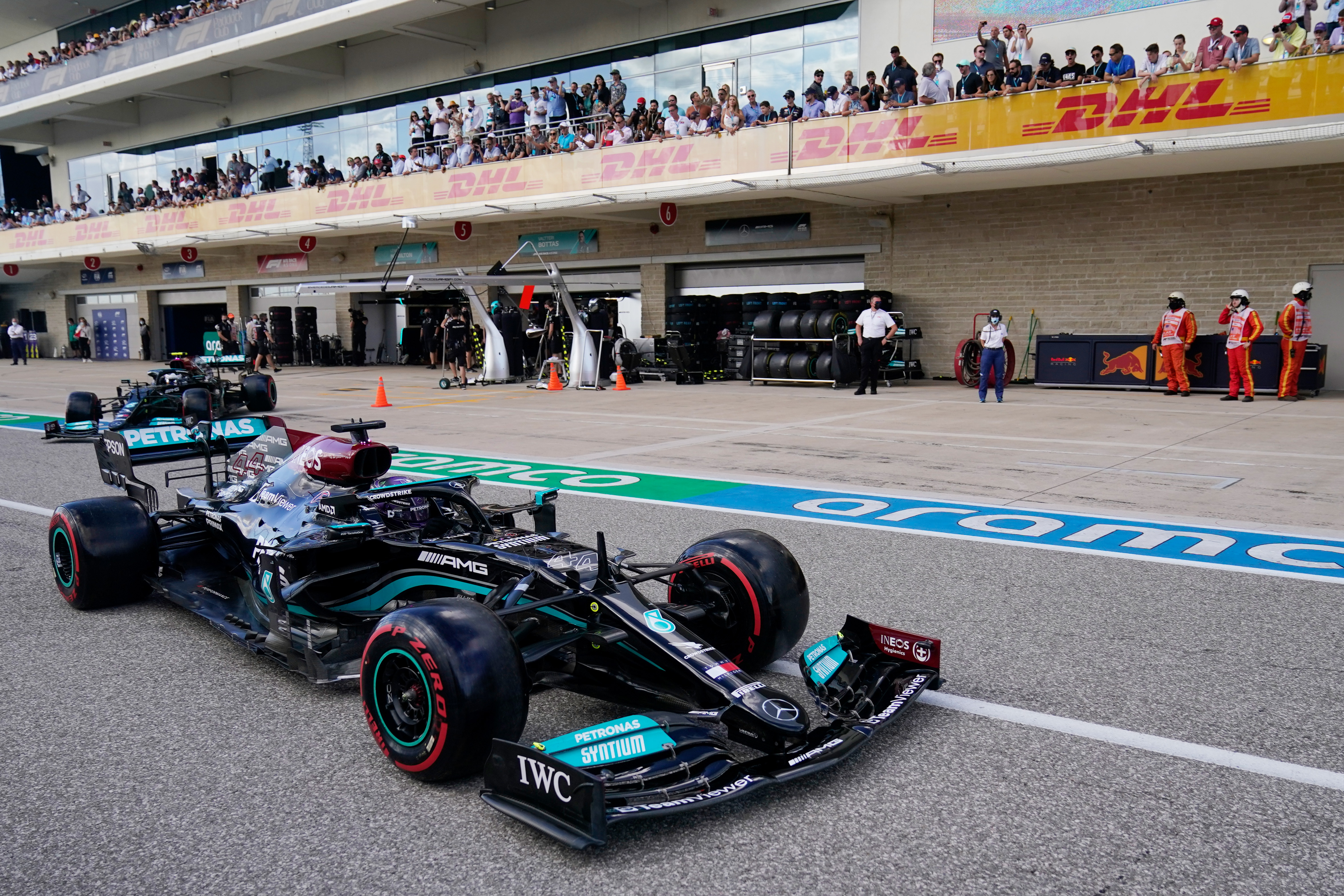 The 2021 Formula 1 season is a titanic battle between Lewis Hamilton and Max Verstappen for the drivers' championship. Their wheel-to-wheel battles have been hard-fought and ended on a few occasions with major contact and crashes. Most notable are the Grands Prix at Silverstone and Monza.
The Sao Paulo Grand Prix provided the most recent example of a Hamilton-Verstappen clash with the Dutchman forcing Hamilton wide at turn four, causing the pair to leave the track. Neither car made contact, but without Hamilton ceding room to Verstappen, both would have likely collided, ending their race.
Throughout the year, Hamilton has consistently been the one to back down on the track. This could be seen as a sign of weakness, but for Hamilton, it is part of a larger strategy for winning a season-long war. 
Speaking to Auto Motor und Sport, Hamilton was asked if backing down from Verstappen was a sign of weakness. The champ had this to say, "When you're on the outside, it's almost always the more sensible option to pull back so you can finish the race. On the inside, there were situations where I clearly saw myself as being in the right, like at Silverstone, for example. Look at the pictures again. My front wheel was level with his front wheel. It wasn't that my front wheel was at the corner entrance level with his rear wheel. If I had acted like Max in Brazil in this situation, that is, had stayed on the gas, left the track, and held the position, how would that have turned out?"
"I don't feel too big or too successful to avoid a fight. I know that sometimes you have to take this path. You have to be the clever one."
For Lewis Hamilton there is much more at stake than just a battle for position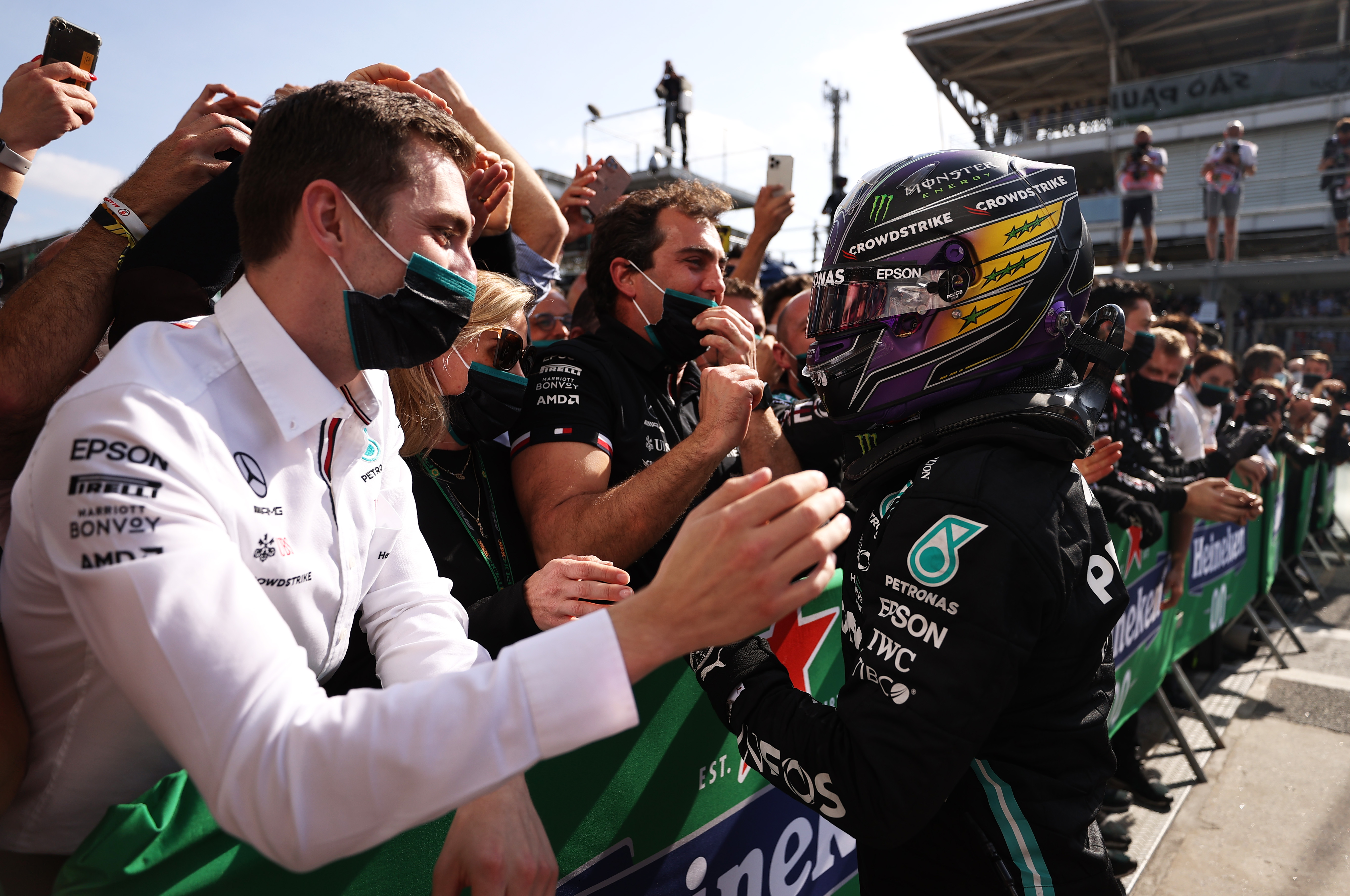 Hamilton carries the entire Mercedes GP organization with him every time he's on track. When relating his battles with Verstappen to the larger picture, as he sees it, Hamilton has this to offer, "Sometimes you lose points, but it's not just about me. I have 2,000 employees behind me. A selfish act where I stick to my point and don't finish the race could cost my whole team the bonus payments at the end of the year. And then create more work on the damaged car."
Hamilton's philosophy that his race is not just about him and includes the 2,000 people that work at Mercedes GP is the mindset of a mature racing driver who believes he has nothing left to prove to anyone. Max Verstappen rarely, if ever, speaks like this and is a driver who still has everything to prove. He is one of the most talented drivers on the grid but doesn't have a world championship title to go with the accolades. Verstappen races for himself and to prove that he is the best. He acknowledges that the team plays a role in his success but never thinks about what an on-track clash with Hamilton would mean beyond his results. 
That differing mindset, Hamilton's holistic view of racing, and Verstappen's results-driven philosophy make this battle between them much more enjoyable. 
Caution is the better part of valor
With two races to go in the 2021 season, Lewis Hamilton is more cautious in his battles with Max Verstappen. Only eight points are separating them in the title fight, and a DNF or major mistake could cost him the championship.
Speaking on the subject of dueling with a hard racer like Verstappen, Hamilton added, "You just have to be very careful, more cautious than ever before, you have to know what can happen.
"You always have to be ready to do whatever you can to avoid the collision, even if that means leaving the track. After all, you want to end the race. If you are too stubborn and defend your position, you will crash. In Brazil, I made sure to avoid the collision.
"I was always very decent in situations like this, I would say. Of course, you don't always get it done perfectly.
"He's not my first opponent to act like this. Now that I'm a little older, I take a closer look at the characters of the other drivers and their personal backgrounds. How you grew up also has an impact on how we behave. I try to understand."
Hamilton's mindset has changed a lot as he has matured as a grand prix driver. He is still devastatingly quick in qualifying and on race day but relies more on experience and strategy than a "win at all costs" mentality. His title rival this season, Max Verstappen, is his polar opposite in that regard. 
The season is still too close to call for either driver. Regardless of who comes out on top when the final checkered flag flies, both drivers have given Formula 1 and the fans an incredible season full of great driving and great battles. They both do their jobs incredibly well, but strikingly different approaches to racing only add to the interest of a great season.
Related: Lewis Hamilton's Dominant Win in Qatar Narrows the Points Gap to Max Verstappen. Here's What the Championship Picture Looks Like With Two Races Left