Lindsey Vonn Said P.K. Subban Was 'Totally Arrogant' When They First Met: 'I Had a Boyfriend at the Time'
Making time for a love life can be tough for pro athletes, who dedicate huge amounts of time to training and travel. Unsurprisingly, many athletes connect romantically with the people who understand their lifestyle: other athletes. Andre Agassi and Steffi Graf are just one of many athlete-couples who've made a lasting connection.
One of the hottest couples in pro sports has been skier Lindsey Vonn and hockey player P. K. Subban. Back in 2019, Vonn got to grill Subban in a 40-question "Couples Quiz" for GQ. Let's look at this athletic power couple and the funny account of their relationship history.
Lindsey Vonn's skiing career
RELATED: What Is Power Couple Mia Hamm and Nomar Garciaparra's Net Worth?
Vonn, who retired in 2019, will go down in history as one of the greatest alpine skiers ever. She is one of just two women to win four championships at the World Cup level. She even won three consecutive wins, per ESPN. Vonn also has 82 overall World Cup victories, making her the winningest woman in the history of the sport, according to Britannica.
Vonn's dominance goes far beyond the boundaries of just women's skiing. Her 82 World Cup wins are the second most for either gender, with only Ingemar Stenmark's 86 wins ahead of her. Vonn also excelled across multiple skiing disciplines, having won World Cup races in the downhill, slalom, giant slalom, super-G, and super combined categories.
According to Ski-DB, Vonn currently holds the No. 1 spot in a ranking of women's skiers since 1966 — a position she's likely to retain control of for many years to come.
P.K. Subban's NHL career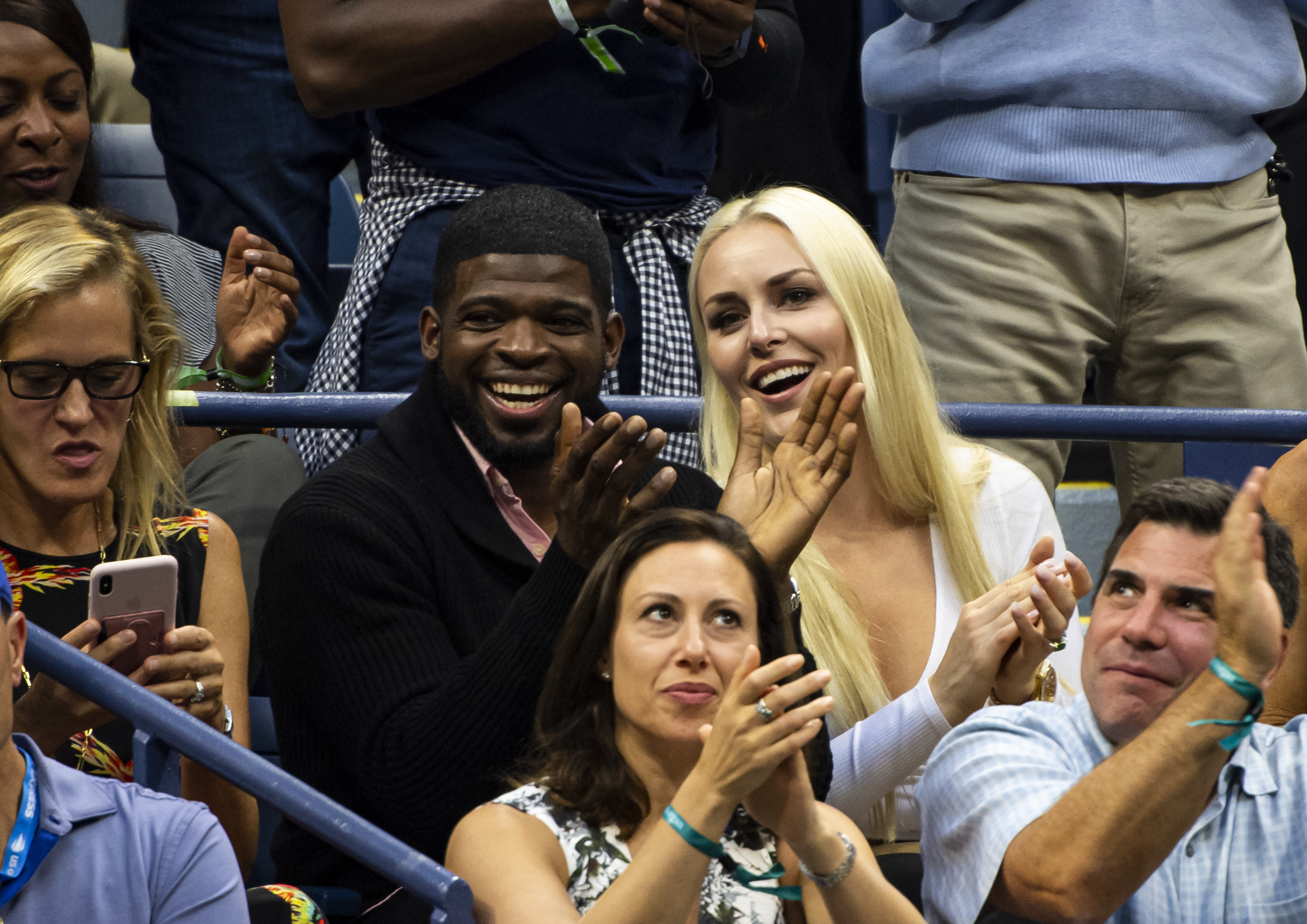 Fans rightly regard Subban, currently with the New Jersey Devils, as one of the NHL's best defenseman of the last decade. He got his professional start in 2009, with the Montreal Canadiens. In seven seasons with the Canadiens, Subban established himself as a charismatic personality who nonetheless struck fear into his opponents on the ice.
In 2013, Subban won the coveted Norris Trophy for best NHL defenseman. The Canadiens shocked the hockey world in 2016 by trading Subban to the Nashville Predators for Shea Weber. In Nashville, Subban continued his stellar play for three seasons. Then, the Predators traded him to the New Jersey Devils, where he's struggled to maintain his former excellence.
In his 12-year career so far, the 31-year-old has racked up 278 points, 617 blocks, 601 hits, and 153 takeaways, per Hockey Reference. In December 2019, ESPN ranked Subban as the 30th best player of the decade, noting that in those 10 years he had the 14th most points among the league's defensemen.
Lindsey Vonn and P.K. Subban: a match made in sports heaven?
RELATED: Power Couple Caroline Wozniacki and David Lee Have a Combined $70 Million Net Worth
Vonn and Subban had dated since 2018. According to their GQ video, the two met at the ESPYs. Subban jokingly claims Vonn "basically had to do everything in her power to keep her hands off me." Vonn countered by recalling that Subban had been "arrogant." She said he went on live TV and said, "It's hot out here, but not as hot as Lindsey Vonn looks tonight."
Vonn also pointed out that at the time she was dating somebody — presumably her prior beau, NFL assistant coach Kenan Smith. Once Vonn and Subban got together, it didn't take long for them to decide they were a good long-term match. A little over a year after they started dating, they got engaged.
Vogue initially reported in August 2019 that Subban proposed to Vonn. Then a few months later, Vonn flipped the script by proposing to Subban on Christmas Day. As USA Today reports, Vonn wrote on Twitter that "women aren't the only ones who should get engagement rings."
The two soon purchased a home together in the Post Office area of Beverly Hills, reportedly paying $6.75 million for it, according to Hilton & Hyland. Everything seemed great for the celebrity couple — until in December 2020, when Vonn posted on her Instagram account, announcing that the two decided to go their separate ways.