Lionel Messi Move Quietly Gives Michael Jordan a Boost
Proving that nothing lasts forever, Argentine soccer legend Lionel Messi severed ties with FC Barcelona to start fresh with Paris Saint-Germain in France's Ligue 1. Messi is club soccer's most decorated player with a more than two-decade affiliation with Barca. But his bold move could end up paying dividends across the pond for Michael Jordan in a subtle way.
Messi has not yet made his first match appearance for PSG. His preseason went off the rails due to leading Argentina to the Copa America championship; his departure from Barcelona followed. But at least there won't be any hype surrounding his first game with his new club. No, it'll just be another day at the office. Or not.
The attention is undoubtedly a problem Jordan understands.
Michael Jordan, Lionel Messi, and their similar career paths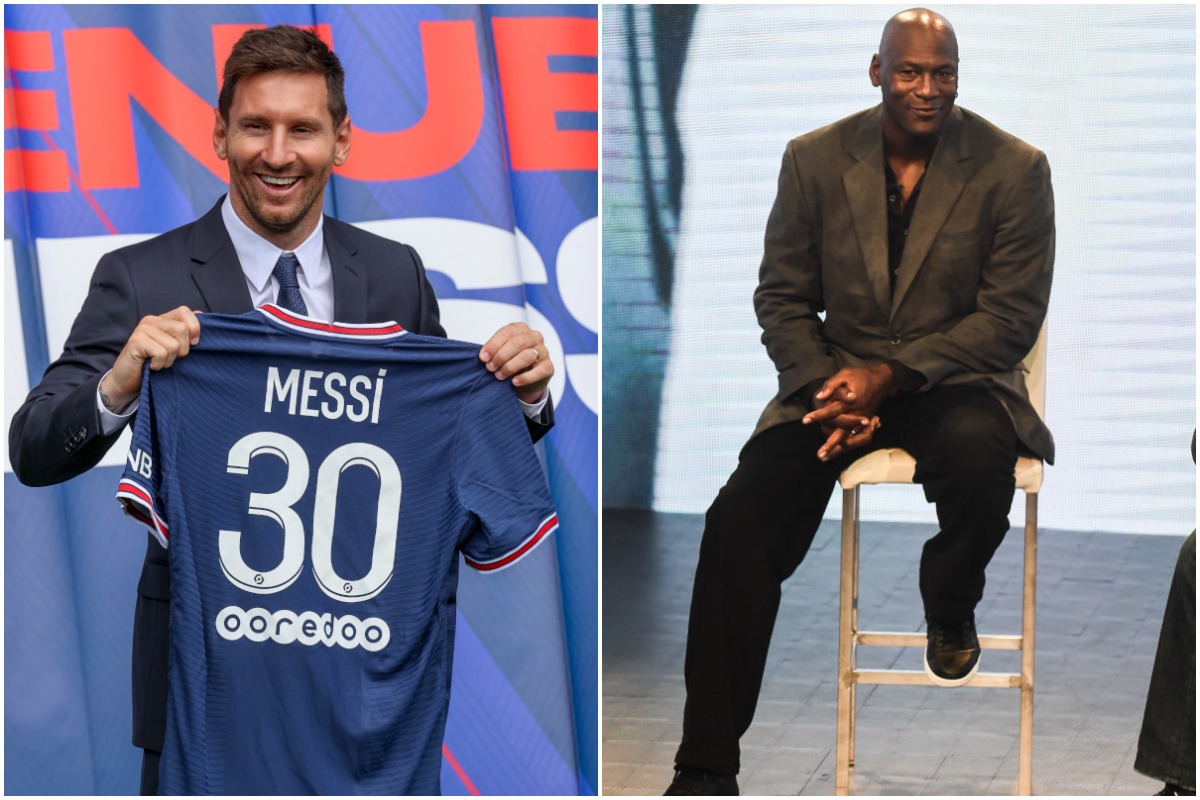 Michael Jordan spent the best years of his career with the Chicago Bulls, retiring (for the second time) at age 34. He left with five NBA MVP awards, six NBA championships, six NBA Finals MVPs, and remains the all-time leader in points per game.
Later, Lionel Messi spent his best years with FC Barcelona, leaving the organization at age 34. He joined Barca's youth program in 2000, progressing through its system until debuting with the top-level club in 2004.
He left Barca with a record six Ballon d'Or awards as the world's best player, four UEFA Champions League titles, 10 championships in Spain's La Liga, and was named the best player in the circuit eight times.
When Jordan returned from his first retirement in March 1995, it was must-see TV. It was more of a curiosity when he returned a third time with the Washington Wizards in 2001. While Jordan wasn't the player he was in his prime, he averaged 21.2 points per game at ages 38 and 39.
As for Messi, the world awaits his much-anticipated first appearance with Les Parisiens. But even before he dons the blue-and-red kit for the first time in a match, Messi is making Jordan some cold, hard cash.
Michael Jordan will add to his $1.6 billion net worth with Messi move
How exactly does an Argentine soccer star cross paths with an NBA legend and current NBA team governor from North Carolina? With Lionel Messi's transfer to Paris Saint-Germain for the 2021–22 Ligue 1 season, a Michael Jordan property will experience a direct effect.
Nike's Jordan Brand has been the manufacturer of PSG's kits since 2019. So, for every Messi fan who shells out the money for a new Messi No. 30 PSG jersey, Jordan pockets a cool 5% of the profit, per MARCA.com.
Estimates set Messi jersey sales land around 2.5 million. The first weekend the jersey was available, PSG sold 120 million euros worth ($141.3 million). Jordan's take then is roughly $7.1 million. That's a decent weekend.
Per MARCA.com, PSG sells the official match shirt for 165 euros ($194), but you can get the replica jersey on the team's website for 115 euros ($135). With expectations of 2.5 million sales, even Jordan's 5% will net a significant chunk of change.
When will we see Lionel Messi on the pitch?
Lionel Messi was on the training field on Aug. 16, just the third time he's done so with Paris Saint-Germain since the historic move from Barcelona. PSG manager Mauricio Pochettino is renowned for his high fitness standards.
That scenario separates the Messi-Michael Jordan legacies. When Jordan returned after an 18-month flirtation with professional baseball, he announced his return on March 18, 1995, and was on the court the following morning against the Indiana Pacers.
According to Sky Sports, Messi may travel with the team to its Aug. 20 match at Brest, but it's not likely he'll play.
Instead, barring any setbacks in training, Messi's much-anticipated first match with PSG should be Aug. 29 when the club travels to Reims on Aug. 29. It will also mark a reunion for Messi with former Barca teammate Neymar.
Pochettino addressed the Messi question after PSG beat Strasbourg 4–2 on Aug. 14.
"As for when we might see Leo, it is his second day of training after a month since he played the last game at the Copa America. We will take it step-by-step, get to know each other, and have him feel fit and comfortable so that he is able to make his debut when he is fully fit."

PSG manager Mauricio Pochettino
Lionel Messi's massive fan base will continue to make Michael Jordan's cash registers ring in the interim.
Statistics courtesy of Basketball Reference and FBREF.
RELATED: Michael Jordan's Net Worth Has Taken a Mysterious $500 Million Hit