Lions 35, Giants 14: Three Things You Should Know
The Detroit Lions got the Jim Caldwell era off to a good start in Week 1, posting a 35-14 victory over the New York Giants on Monday Night Football. The Lions scored two touchdowns in the first quarter, both by their best player, and gave their new head coach a win in his Detroit debut.
Here are three things you should know from the Lions-Giants game, starting with — who else? — the face of the Lions franchise, "Megatron" himself.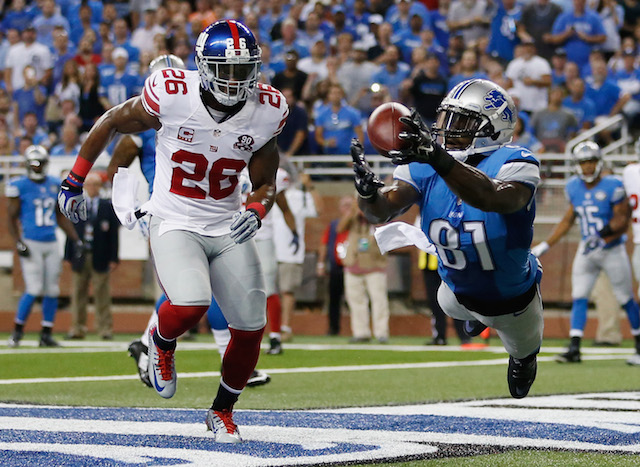 Calvin Johnson is as dominant as ever
The Lions' star wideout had two receiving touchdowns on the board before 10 minutes were gone (as fantasy owners all over the world rejoiced), sparking his team to an early lead it would never relinquish.
His first touchdown came with no one even close to him — as quarterback Matthew Stafford kept the play alive, Johnson turned upfield and his defender fell down (which always helps a little bit when a receiver is trying to get open!). Johnson walked (or if you prefer, strutted) in for a 67-yard score to get Detroit on the board, and said later he's never been that open in his life. Touchdown No. 2 came on a beautiful full-extension grab in the back of the end zone, as you can see in the picture above.
"I just tried to put a ball in a safe spot, in a good spot for him to go make a play," Stafford said of Johnson's highlight-reel diving catch. "It will be fun to watch it on TV and get a better view of it, but I heard it was a pretty sweet catch."
Johnson finished with seven catches for 164 yards and tied the team record (held by Herman Moore) by grabbing a reception in his 107th straight game.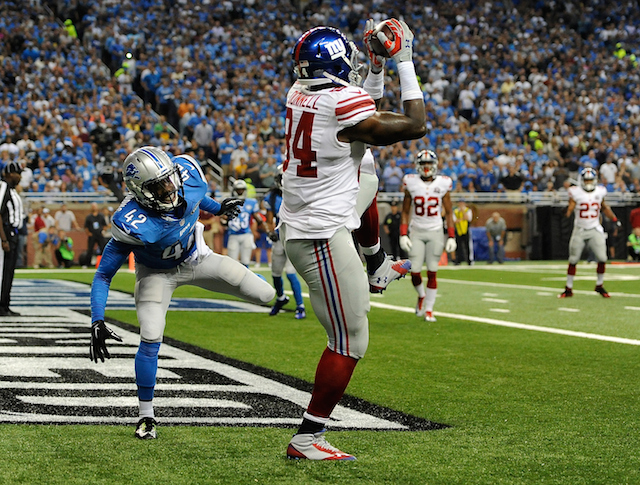 Detroit needs to get the penalty problem fixed
When the Lions fired Jim Schwartz after last season and brought in Caldwell to replace him, the team's lack of discipline was widely understood to be one of the biggest reasons. Not to throw too much cold water on a nice Week 1 win, but there is obviously still some more work to do in that department.
Detroit committed eight penalties for 85 yards in the first half of Monday's victory, including a roughing-the-punter call that led directly to the Giants' first touchdown. The good news is that Caldwell's team was never seriously threatened in the second half (it's always better to learn lessons in a double-digit win, right?), and the better news is that there were signs of improvement even before the final whistle. The Lions managed to avoid a single penalty flag after intermission.
Still, it's obvious that if Caldwell is going to help this franchise take the next step in the long term, the penalty problem needs solving as soon as possible. The first half of Monday's opener clearly demonstrated that it hasn't gone away quite yet.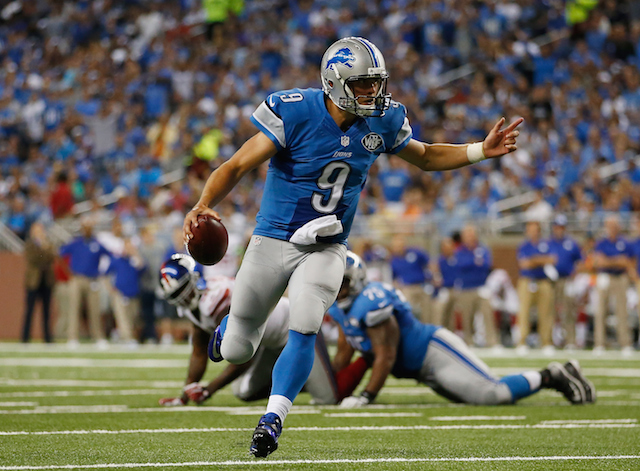 Matthew Stafford can run. Wait, what?
Saying Matthew Stafford is not known for his mobility qualifies as a significant and drastic understatement, so perhaps the most shocking storyline from the Lions-Giants game was Stafford looking — dare we even use this word? — nimble in the pocket. Stafford's two first-quarter touchdown passes both came as direct results of his feet, first eluding the pass rush and side-stepping a defender on the long bomb to Johnson (how many Giants defenders actually fell down on that play, anyway?), then rolling left and throwing back across his body to the right on the throw into the end zone.
"He certainly slid away from pressure and got himself in a position he could make throws for us outside the pocket," said Caldwell. "Matthew has talent, obviously, as we all know, inside and outside the pocket."
Stafford put the cherry on top of his performance by juking yet another Giants player en route to a 5-yard touchdown run in the third quarter that gave Detroit a 20-point lead. For a player whose number of career rushing scores after five full seasons was still in the single digits, Monday's performance served notice that the new and improved Stafford can beat you with more than just that powerful right arm.
"I don't work too much on my moves in practice," Stafford said with a laugh in the post-game press conference when asked about his (newfound?) scrambling ability. "Some of those plays are just natural instinct. Those just kind of happen, a little bit off the beaten path."
Yes, there was much to smile about for Stafford and company on Monday night, and the Lions will just have to hope those kinds of plays — and these kinds of wins — keep happening as the 2014 season unfolds.