Lions Players Are 'Buying In' to Dan Campbell's Plan for the Team in the Post-Patricia Era: 'This Coaching Staff Understands'
The Detroit Lions have been one of the least successful franchises in NFL history. The franchise has never appeared in a Super Bowl despite being around for the entire Super Bowl era. Their last playoff appearance came in the 2016 season, and they haven't won a playoff game in 20 years. More recently in Lions history, the team made a coaching change during a 5-11 season in 2020, firing Matt Patricia 11 games into the season. If players' reactions to new head coach Dan Campbell are any indication, the change could be positive for the franchise.
The Lions shift to head coach Dan Campbell
ESPN reported on the firing of Patricia and general manager Dan Quinn in November 2020. Patricia had led the team to a 13-29-1 record since taking over the coaching staff in 2018 amidst Detroit's third straight losing season. Offensive coordinator Darrell Bevell finished last season as the interim head coach, but he didn't get the permanent job. In January, the Lions hired Saints assistant Dan Campbell, giving him his first position as the full-time head coach after serving as an interim in Miami after the firing of Joe Philbin in 2015.
CBS Sports quotes Lions owner Sheila Ford Hamp as crediting Campbell's "more than 20 years of experience as both a coach and player in the National Football League" as a reason for giving him the job. She says he "knows the rigors of professional football and what it takes to be successful," while also crediting him as having "high energy" and a "respect for the game." The Lions reportedly gave Campbell a six-year contract.
Lions players are buying into Campbell's plan
Although he wasn't with the Lions during Patricia's tenure, Michael Brockers has heard stories about the former coach from his new Lions teammates, according to CBS. The players are telling Brockers that, compared to Patricia, "this coaching staff understands." The coaches "communicate with you," and the players are "buying in" to what Campbell and his staff are telling them.
Brockers is confident after the 2021 campaign in Detroit, saying he thinks they're "off on the right foot" and it's "definitely going to be exciting to move forward with this team." He cited his experience on the Rams going from 4-12 in 2016 to 11-5 and a playoff appearance in 2017.
Dan Campbell's quotes are making headlines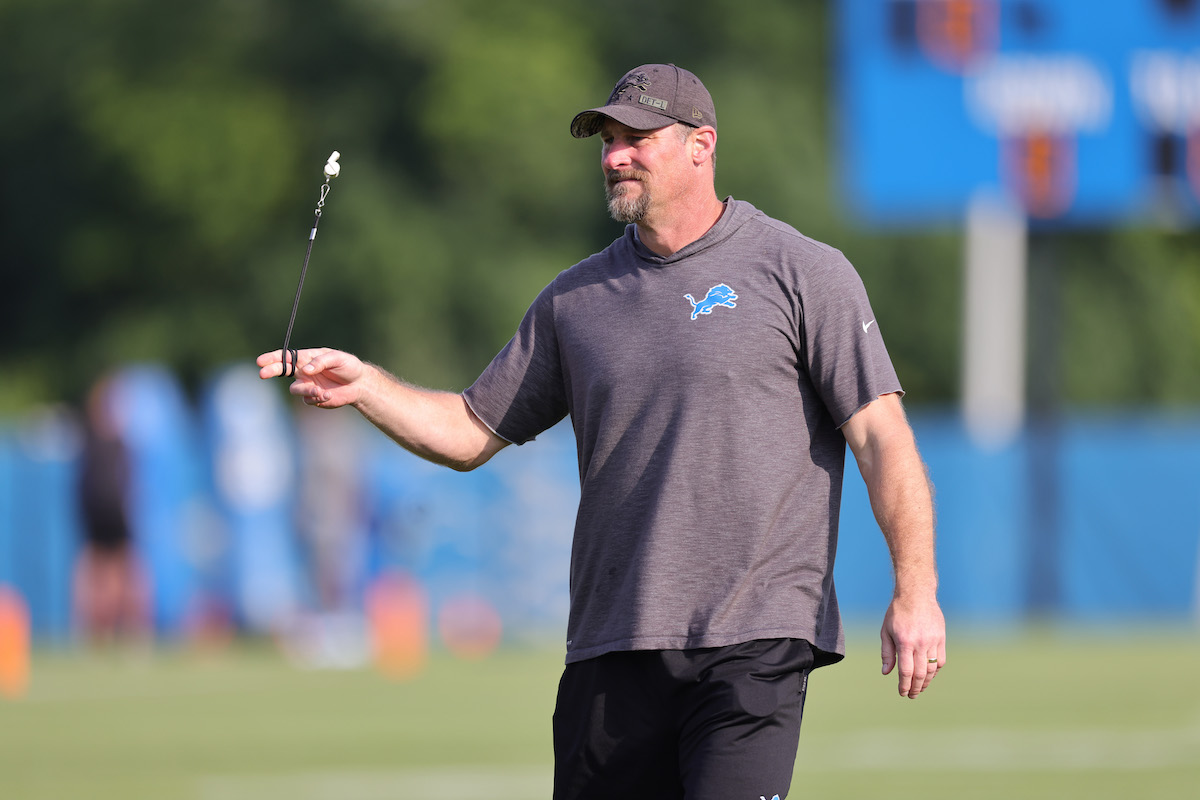 One way Campbell is getting his players fired up is by making some interesting quotes, which tend to make headlines given the content of what he's saying. In March, the Sporting News writes, Campbell was asked about who would make roster moves, him or new GM Brad Holmes, when the time comes. He assured Lions fans there wouldn't be any butting of heads between the two new leaders of the teams, but he did so by offering his definition of what a "true alpha" is, calling it someone who "knows when it's time to concede," meaning if he and Holmes have a disagreement on a roster move, collaborate on the decision and not have arguments about the situation.
More recently, SN wrote about another Campbell quote that got people talking. In this case, Campbell told his players he is not going to hold their hands or babysit them. But the way he chose to state it entertained some people. On his first day with the team, he said to the players, "Look, I'm not carrying your toilet paper around. I'm not gonna wipe your butt. You're gonna wipe your own butt." With the season rapidly approaching, there will likely be more interesting quotes from Campbell on the horizon.