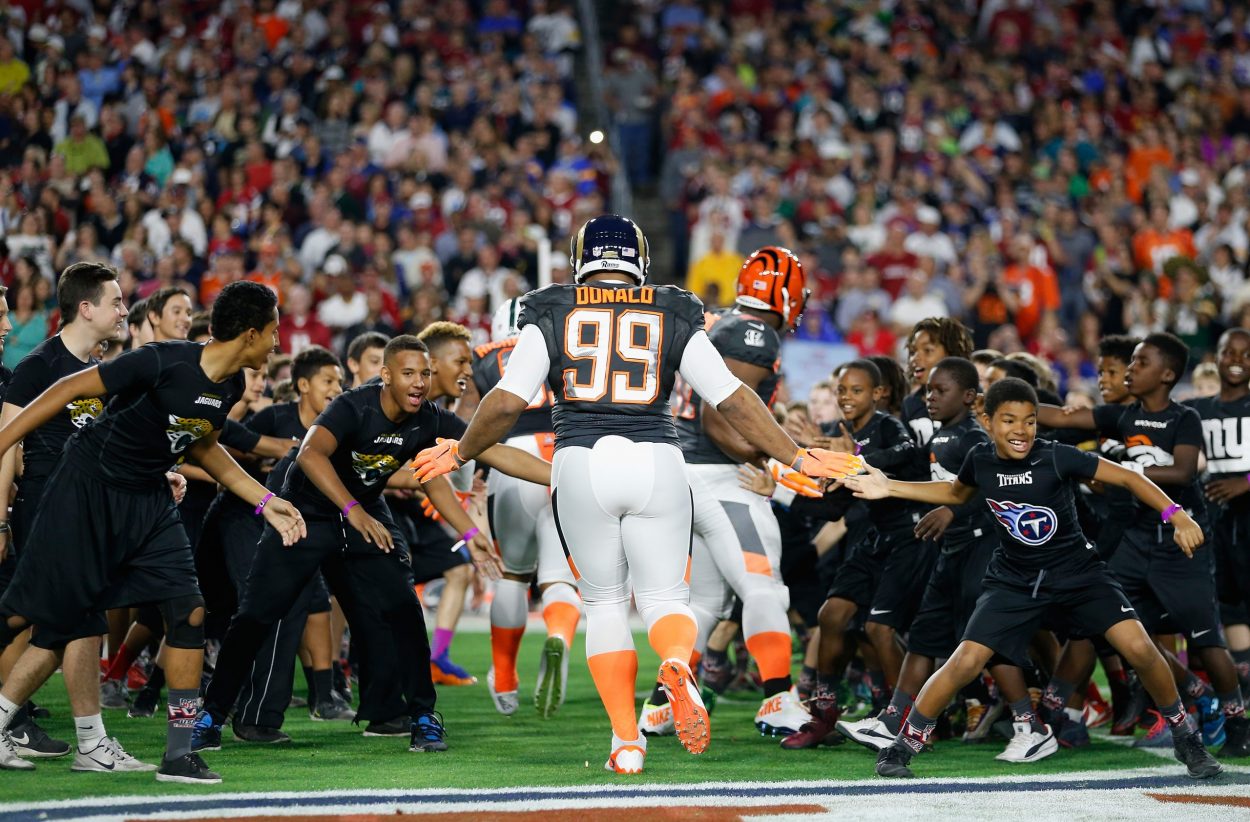 Longest Pro Bowl Streaks by Player, Career and Active
Aaron Donald and Bobby Wagner are the active leaders in consecutive Pro Bowl selections with eight.
The Los Angeles Rams are in the Super Bowl in 2022, for just the second time with the team based out of Southern California. With the game being played at their home field of SoFi Stadium in nearby Inglewood, expect plenty of nostalgia about the Rams from their days in the 1970s, when they finally reached the Super Bowl against the Pittsburgh Steelers in January, 1980.
Of course, one of the byproducts of reaching the Super Bowl is that the players for the Rams and Cincinnati Bengals that were named to the Pro Bowl will not be in Las Vegas to actually take part in the game. It is a virtual certainty that none of those players are regretting their alternate plans this week.
But that does not take away from what is another Rams-specific distinction that surrounds the Pro Bowl in 2022. For it is both a former Rams defensive lineman and a current one who holds the record for most consecutive Pro Bowl appearances in a career and among active players. And both can claim the honor of starting their record streaks from the beginning of their careers.
Donald is the active leader in consecutive Pro Bowls and another rare distinction
Aaron Donald is arguably the best defensive player in football, and it is one of the Cincinnati Bengals' biggest challenged to neutralize the defensive tackle in Super Bowl 56.
Teams have had eight years to try and slow Donald down, with limited success. Donald was named to his eighth consecutive Pro Bowl in 2021, tying him with Seattle Seahawks linebacker Bobby Wagner for the longest consecutive streak of Pro Bowl selections among active players.
But where Donald stands alone is that he has reached the Pro Bowl in all eight of his NFL seasons. In the entire history of the Pro Bowl, only eight players have reached the game in more consecutive seasons to start their careers, and only one did it more than 10 seasons in a row.
That man is Los Angeles Rams legend Merlin Olsen, the greatest Pro Bowl participant of all time.
Olsen and Matthews are the all-time leaders in consecutive Pro Bowls
Most people likely associate Olsen for his post-player career, whether as the NBC counterpart to John Madden as the No. 1 analyst on NFL broadcasts from the late 1970s through 1988, mostly partnered with Dick Enberg. Olsen also had prime-time success in his roles on Little House on the Prairie, or later his own show, Father Murphy.
But on the football field, the gentle Olsen was a terror for quarterbacks. As part of the Rams' "Fearsome Foursome" defensive line with Deacon Jones, Lamar Lundy, and Rosey Grier, Olsen went to the Pro Bowl each of the first 14 seasons of his career, making him not only the all-time leader in consecutive Pro Bowls but also the all-time leader for consecutive appearances from the start of a career, a twin set of marks that fellow Ram defensive lineman Donald is now chasing.
The other player to go to a record-14 consecutive Pro Bowls was offensive lineman Bruce Matthews, who kept the likes of Warren Moon and Steve McNair upright and helped lead the Tennessee Titans to Super Bowl 34 in 1999.
Matthews is the brother of Cleveland Browns and Atlanta Falcons standout Clay Matthews Jr., who played 19 seasons as a linebacker and went to four Pro Bowls. Bruce Matthews' nephew, Clay Matthews III, was a six-time Pro Bowler with the Green Bay Packers.
Wagner, Kelce, Hill and Juszczyk are the other active streak leaders
Donald's run of Pro Bowl appearances, health willing, does not appear to be slowing down anytime soon. But he is not alone among active players who have put together impressive streaks of consecutive appearances.
Wagner is in his eighth straight Pro Bowl, despite a down season for the Seahawks' defense. Wagner's first Pro Bowl came in 2014 when the Seahawks were defending Super Bowl champions and lost to the New England Patriots on the famous goal-line interception by Malcolm Butler.
Two players who thought they were going to be joining Donald at the Super Bowl, Travis Kelce and Tyreek Hill of the Kansas City Chiefs, are in their seventh and sixth consecutive Pro Bowl, respectively. Another player who just missed a Super Bowl appearance was San Francisco 49ers fullback Kyle Juszczyk, who like Hill, is in his sixth consecutive Pro Bowl.
Stats courtesy of Pro Football Reference