Longtime Damian Lillard Teammate Has a Message About the Rumors Claiming Dame Wants out of Portland: 'I Can Say That He's All-In'
It's been an uneasy summer for the Portland Trail Blazers. Damian Lillard's desire to remain with the only organization he's known as a professional hangs over everything like a guillotine waiting to fall. There are rumors, reports, rumblings on an almost daily basis. Fans are left trying to interpret even the smallest of moves. But his longtime backcourt mate, CJ McCollum, said that he's not too worried about Lillard's state of mind.
McCollum recently talked about the speculation about Lillard's future in Portland. His attitude seems that if there were anything to the talk, the six-time All-NBA pick would say so.
But it is fair to at least wonder how much more patience Lillard has left, considering nine years with the Blazers have yielded a single conference finals appearance.
Damian Lillard isn't happy about the media speculation
Since the Trail Blazers reached the Western Conference Finals in 2019, they've taken two straight first-round exits on the chin. That includes a six-game loss to the Denver Nuggets last season despite an excellent series from Damian Lillard.
Lillard scored 34.3 points and 10.2 assists in a whopping 41.3 minutes per game and shot 44.9% from 3-point range. But NBA MVP Nikola Jokić also had a terrific series to push the Nuggets through. The offenses were phenomenal in the series (or the defenses were horrific). Portland averaged 122.1 points per 100 possessions, only to be outdone by Denver's 123.4.
The NBA Finals weren't over before the Lillard speculation swirled. Henry Abbott of True Hoop reported Lillard was going to request a trade. Brian Windhorst of ESPN cited "Lillard's people" as talking to the Blazers and other teams.
Lillard clapped back against the rumors while in Las Vegas preparing for the Olympics with Team USA.
"If there is something to be said … I'm going to say it, and I'm going to stand on it."
With training camp five weeks away, he's still not talking.
CJ McCollum doesn't think Dame Time is changing time zones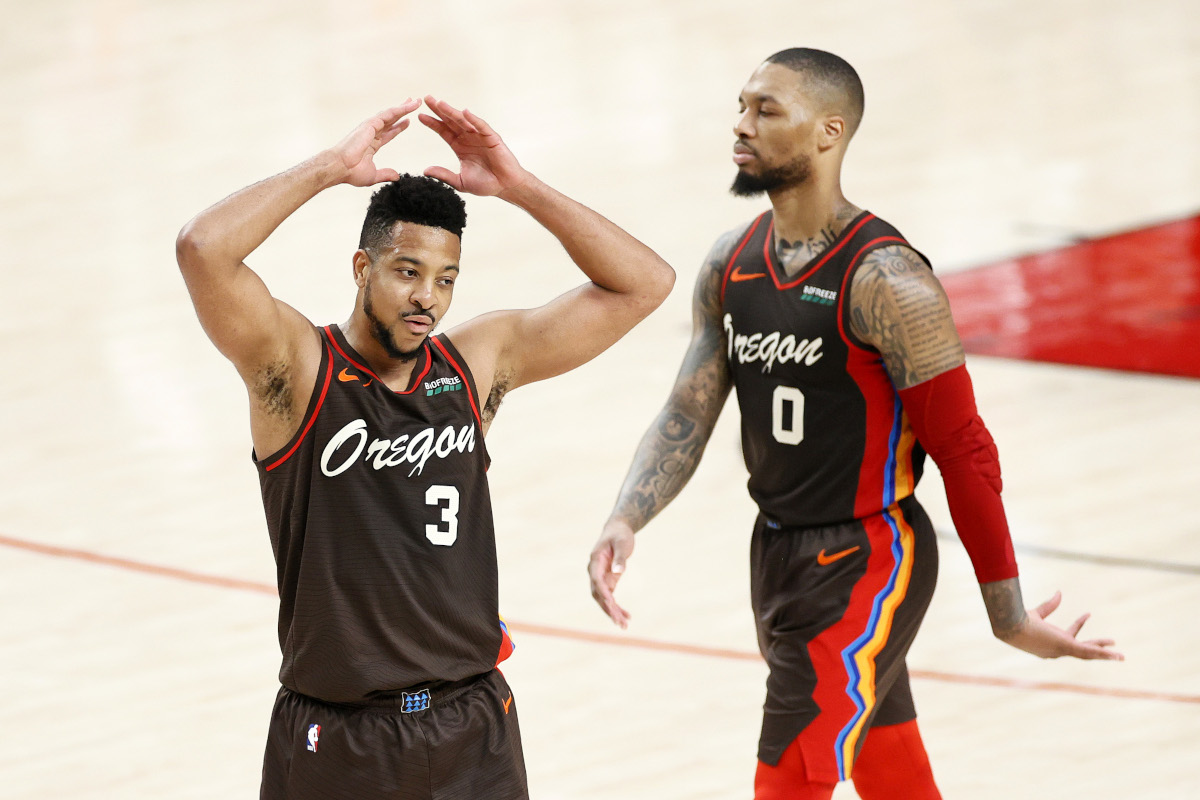 During an appearance on ESPN's The Woj Pod with Adrian Wojnarowski, CJ McCollum spoke freely about the Damian Lillard situation. The two have formed the starting backcourt in Portland since 2015. They've been the bulk of the offense throughout that span.
McCollum believes Lillard is committed to winning in Portland, citing the commitment of his longtime teammate heading into the 2021–22 season.
"I have a pretty good sense of where he's at, and I think his goal is to win a championship. At the end of the day, that's what we all want. We want to put ourselves in the best position to win a championship. He's all-in. I think, at this stage, I can say that he's all-in. He just wants to win at the end of the day."
Lillard and McCollum are different types of stars in today's NBA. They went to mid-major Division I basketball programs and entered the draft after exhausting their collegiate eligibility. Lillard went sixth overall to Portland out of Weber State in 2012; the Blazers took McCollum from Lehigh with the No. 10 selection in 2013.
Damian Lillard is the subject of much reading of tea leaves in the Pacific Northwest
Throughout the offseason, every move the Portland Trail Blazers have made or not made is followed by speculation about what it means about Damian Lillard's situation. Nothing CJ McCollum can say on a podcast can calm the fan base down at this point. That group is well on the wrong side of the panic line.
Portland doesn't sign Kelly Oubre? Lillard needs to demand a trade. His trainer takes a job with the Philadelphia 76ers? Oh, no, Dame's going to Philly, and we're going to be stuck with Ben Simmons! Reports claim that Lillard is willing to sacrifice money to get out of Portland, reports that even McCollum helped discredit.
The Blazers are going into next season with a new coach for the first time since Lillard was a rookie. Chauncey Billups is a first-time NBA head coach taking over a program that had hit its ceiling under Terry Stotts. Billups is a former NBA Finals MVP, so he knows the road to get to the Finals and win.
It seems only logical that Damian Lillard would at least give Billups a chance to learn how to read the map before bailing on the Trail Blazers and their fans.
Statistics courtesy of Basketball Reference.