Longtime Detroit Lions Fan Eminem Is Happily Rooting for Matthew Stafford Ahead of the 2022 Super Bowl: 'We Feel Like This Is the Closest We're Gonna Get'
In April 2009, the long-suffering Detroit Lions selected Georgia quarterback Matthew Stafford first overall in the NFL draft. Grammy Award-winning rapper and Detroit native Eminem released Relapse, his long-awaited comeback album, less than a month later, after a lengthy hiatus. Both moves thrilled the Motor City, especially amid the Lions' constant losing and the ongoing recession.
Nearly 12 years later, the two are headed to Los Angeles, not for an award show, but to participate in Super Bowl 56. As it stands, this year's Big Game is effectively a Lions fan's worst nightmare.
Detroit native Eminem is happily rooting for ex-Lions quarterback Matthew Stafford in Super Bowl 56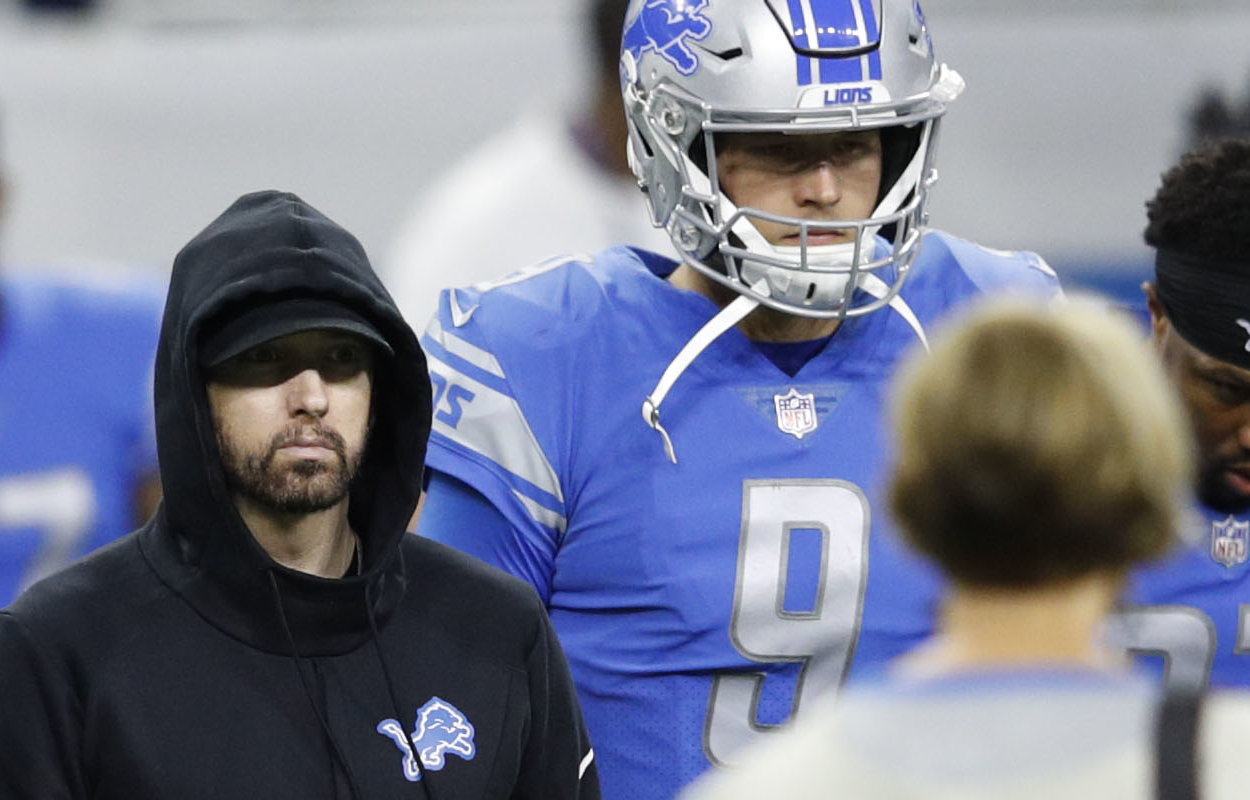 Despite taking place in Los Angeles, this year's Super Bowl will have a special Detroit flavor. The hometown Rams acquired Stafford, a 2014 Pro Bowl selection, in a trade following the 2020 season. Midway through the veteran signal-caller's stellar first season in LA, the NFL announced Eminem, a 15-time Grammy winner, would join Dr. Dre, Kendrick Lamar, Mary J. Blige, and Snoop Dogg and perform at halftime on Sunday, Feb. 13.
Now, the Big Game is here, and it'd be an understatement to suggest the always-frowning Eminem is excited. During a Feb. 11 appearance on Sirius XM's Sway in the Morning, the 49-year-old told Sway Calloway how thrilled he is to perform at a Super Bowl featuring Stafford, who remains arguably the greatest quarterback in Lions history.
"We feel like this is the closest we're going to get to a Super Bowl. It's through Matt Stafford. It's a perfect scenario where I can root for a team that I like because of Matt Stafford and the Detroit connection."

Eminem
Eminem, whose real name is Marshall Mathers, also praised NBC Sports' Al Michaels, who will call his record-tying 11th Super Bowl on television.
"The stars are aligned," Eminem told Sway Calloway.
The rap legend has supported Stafford, on and off the field, for well over a decade
When he's not rapping about mom's spaghetti or running his Mom's Spaghetti restaurant in Detroit, Eminem loves the NFL and his woeful Lions. Along the way, he developed a soft spot for Stafford, who arrived in Michigan as a baby-faced, curly-haired signal-caller.
GQ's Peter Schrager spoke with Eminem in January 2012 during the ongoing NFL postseason. The two briefly discussed the Lions, who went 10-6 and lost to Drew Brees' New Orleans Saints in the NFC Wild Card Round.
After praising the Lions' then-core of young players, including running back Jahvid Best and defensive back Louis Delmas, Eminem offered lofty praise for Stafford. The Georgia product exploded for 5,038 yards, 41 touchdowns, and 16 interceptions that year after only throwing for 19 touchdowns and 21 picks across his first two seasons.
"It feels good to finally root for a team that's headed in the right direction. F—, man, if you look at Stafford — this was his first full season. 5,000 yards! He did some incredible s—, and I can't grasp how he got left off the Pro Bowl team for [New York Giants quarterback] Eli Manning."

Eminem
Although Eminem hadn't name-checked Stafford in a song as of publication, the iconic rapper did shout out the former Lions quarterback in a 2020 tweet. While still with the Lions, Stafford penned a story for Derek Jeter's The Players' Tribune titled "We Can't Just Stick to Football" and argued that everyone involved in the sport, from players to fans, couldn't use the start of the season to forget about ongoing social justice conversations.
"Proud of Matt for writing this, everyone needs to use their platform to speak out," Eminem tweeted in response.
Eminem isn't the only Super Bowl 56 halftime performer with extensive sports ties
Part of what makes Super Bowl 56's halftime show so intriguing is how many of the involved figures have significant sports ties — and that isn't just limited to performing in stadiums and letting ESPN use their songs in commercials.
In October 2018, the NBA agreed to a partnership with Dr. Dre's Beats headphone line. The Philadelphia 76ers agreed to a similar collaboration a month later.
Snoop Dogg, a devoted Los Angeles Lakers and Pittsburgh Steelers fan, has been a reoccurring face at sporting events for decades. He's participated in official flag football and celebrity games, including the 2015 MLB All-Star Game's softball event.
The rapper's son, Cordell Broadus, signed to play football at UCLA in 2015. However, the 6-foot-2 receiver left the team twice and never played a game for the Bruins.
Those who perform at the Super Bowl halftime show are not paid for the appearance. However, if they're asked to remain neutral and not reveal their rooting interests, Eminem already went above and beyond in breaking that rule. Not that he'll care, so long as Stafford captures the Lombardi Trophy, one which continues to elude tortured Lions fans.
Like Sportscasting on Facebook. Follow us on Twitter @sportscasting19.
RELATED: How Matthew Stafford Will Make History When Super Bowl 56 Officially Begins