Longtime Giants Reliever Jeremy Affeldt's Kids Turned Him Into a Walking Injury Bug
Jeremy Affeldt played a vital role in the San Francisco Giants' dynasty years. The veteran reliever also often found himself on the disabled list.
Calling Affeldt "injury-prone" like former Yankees starting pitcher Carl Pavano is unfair. Most of Affeldt's injuries weren't suffered on the field or came from his actions.
His family, on the other hand, claimed responsibility for Affeldt's various ailments. Here's why members of the Giants' front office had every right to cringe when they saw Affeldt's kids at the ballpark.
Jeremy Affeldt had a dominant stint with the San Francisco Giants
RELATED: This Slam Dunk Contest Featured Ken Griffey Jr., Deion Sanders, and Barry Bonds
Outside of San Francisco, Jeremy Affeldt didn't get the national love that World Series heroes Aubrey Huff, Brian Wilson, and Pablo Sandoval did.
Don't let the lack of attention fool you because Affeldt quietly had a dominant run with the Giants from 2009-14. The veteran left-hander posted a 2.76 ERA in 362 games across that span.
Affeldt's bullpen presence proved vital for the Giants. San Fransisco won three World Series titles from 2010-14 after capturing none between 1955-2009.
Jeremy Affeldt retired with a 3.97 ERA and over $42 million in career earnings, according to Baseball-Reference.
Affedlt is a legendary postseason pitcher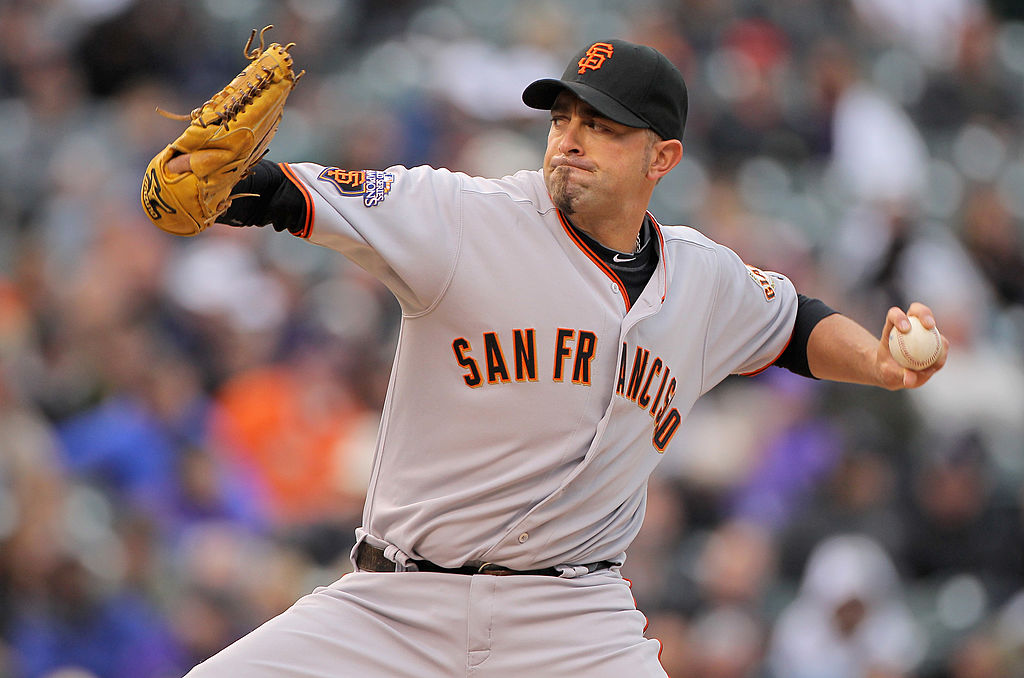 RELATED: Whatever Happened to Giants Closer Brian Wilson and His Iconic Beard?
When Jeremy Affeldt took the mound in the postseason, opposing teams grimaced. Come October, Affedlt suddenly looked like Mariano Rivera late in games.
Affeldt appeared in 21 games across the 2012 and 2014 postseasons. He didn't allow a run in any of those games, earned or unearned. That included 5.1 scoreless frames in the 2014 World Series.
Interestingly, Affeldt didn't start his playoff career so strong. He allowed his only postseason home run in his first career postseason game, a victory over Philadelphia in the 2007 National League Division Series.
Jeremy Affeldt had a 6.75 ERA in the 2010 World Series. That marked the last time he ever allowed a run in the playoffs.
Jeremy Affeldt could blame at least two injuries on his family
RELATED: Madison Bumgarner Once Dated a Girl Named Madison Bumgarner
When Jeremy Affeldt was healthy, he was terrific. Unfortunately, there were numerous occasions his family cost him playing time.
Affeldt sliced his throwing hand in 2011 while cutting frozen hamburger patties to grill at a barbecue. A year later, the Giants placed Affeldt on the 15-day disabled list when his son tackled him and injured the reliever's knee.
In 2015, Affeldt suffered another knee injury, this time when he slipped jumping off a lake at his son's birthday party, according to CBS Sports. He missed over a week but returned for the final month.
Affeldt suffered fluke injuries on his own time, too. He hurt his oblique muscle in 2013 when he sneezed; that also earned him time on the disabled list.
Jeremy Affeldt always stayed good-humored over the incidents. Winning three World Series titles in a Giants uniform certainly helped.