Lonzo Ball Emphatically Proves His Real Worth to LeBron James and Validates His All-Star Potential With Dominant Performance on His Old Home Court
When Magic Johnson the Los Angeles Lakers selected Lonzo Ball with the No. 2 overall pick in the 2017 NBA Draft, they likely envisioned the Chino Hills native becoming a homegrown star. Only, with LeBron James joining the Lakers a year later, the franchise could not afford to wait on the talented point guard after he put together mixed results in his first two seasons in LA. The Lakers bid goodbye to Ball before the 2019-20 season, trading him for Anthony Davis.
The Davis trade paid dividends in the immediate sense, as LA won its first title since 2010. But Ball is indeed developing into the star-caliber player he seemed to promise four years ago. Now with the Chicago Bulls, the former UCLA product showed James and the Lakers his incredible evolution with a dominant performance at Staples Center on Monday night.
Lonzo Ball put on a clinic against the Lakers on Monday
The old knock on Ball had to do with his shooting ability. This season, however, he's been one of the best three-point bombers in the NBA.
Ball went 7-of-10 from beyond the arc against the Lakers on Monday, finishing the contest with 27 points. He's now shooting 44.4% from deep on 7.1 attempts per game and ranks sixth in three-pointers made (44).
But while the improved shooting form and confidence probably looked new to LeBron James as he sat in street clothes, the other components of Ball's game almost assuredly did not. The Bulls guard racked up eight assists, throwing long outlet passes for easy transition buckets and feeding perfectly-timed entries to Derrick Jones Jr. as soon as he gained position in the post. Ball also pulled down seven rebounds.
The advanced numbers show the totality of Ball's game and the impact it has on his team. Chicago outscored the Lakers by 25 points with Ball on the floor, and he finished the contest with the single-highest net rating and box plus-minus.
Ball's raw numbers (12.9 points/5.4 rebounds/4.6 assists) might not seem overwhelming. However, his skill set and improvements from the perimeter contribute to winning for the Bulls. He's a much new player from the guy who wore the Purple and Gold.
Ball keeps making strides every season
Some players arrived at stardom more quickly than others. It took Luka Doncic and Trae Young little time to realize their potential. Lonzo Ball simply needed time to work out the kinks.
Ball's evolution is apparent in his year-over-year improvement as a perimeter shooter. His three-point rate is up by close to 14% from his rookie season. However, efficiency is not the only consideration here.
The 24-year-old is gradually making the most of his volume. Ball took 5.7 threes per contest in his rookie season, though that number fell to 4.9 in his sophomore campaign. The attempts went back up after the Lakers traded Ball to the New Orleans Pelicans, however. He even took a career-high 8.3 triples per game last season.
Although Lonzo is technically taking fewer threes on average, he's also playing most of his minutes with scorers like DeMar DeRozan and Zach LaVine, with the latter continuing to score at a high level despite playing through injury. Ball's usage rate (17.5%) is the second-lowest of his career.
Ball is capitalizing on his opportunities. He's also showing he can play alongside other star players.
Ball is the perfect point guard for DeMar DeRozan and Zach LaVine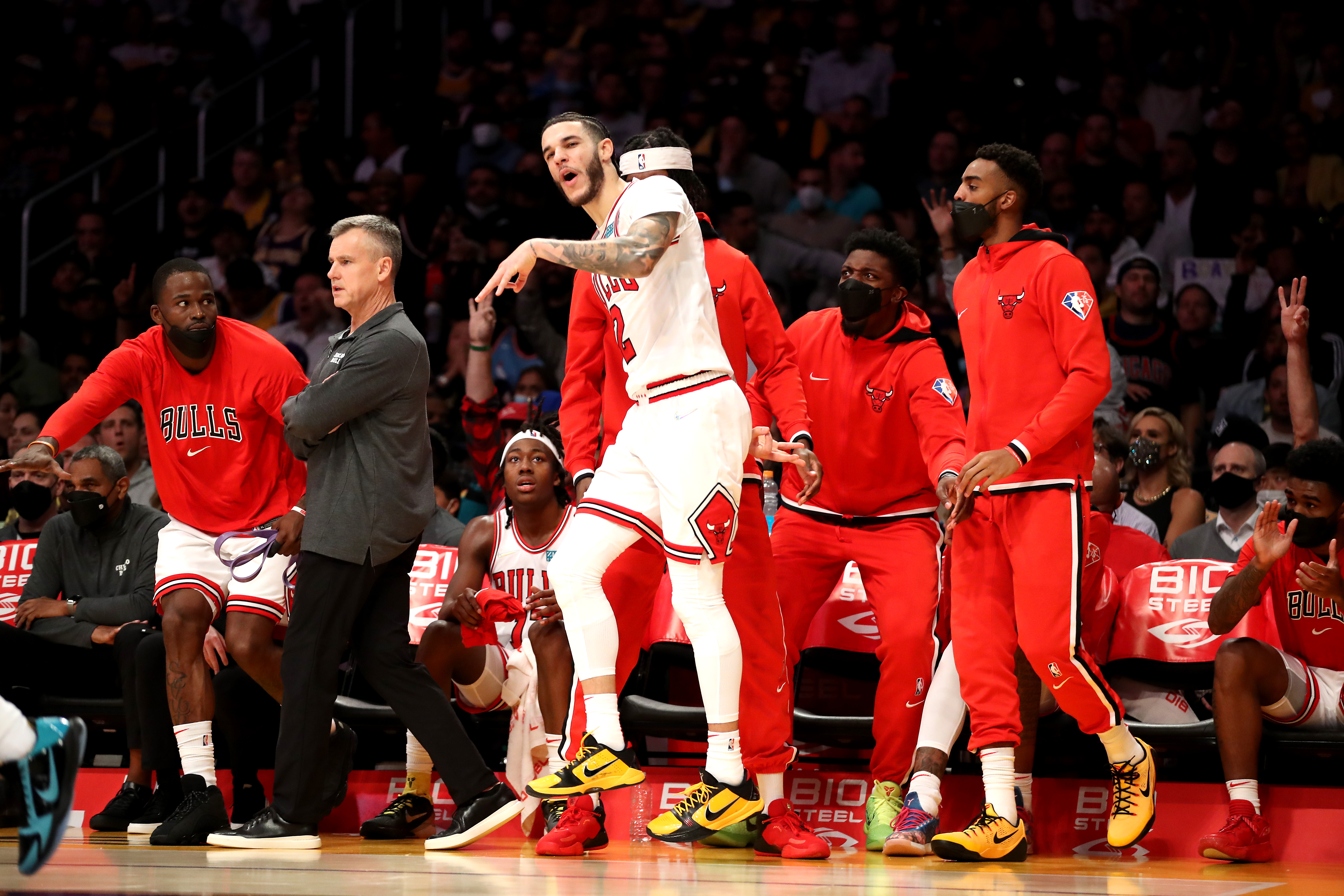 LaVine and DeRozan made their affinity for Ball known during preseason, lauding Lonzo's ability to see the floor and get everyone involved.
Ball's selfless style is what helps to make the Bulls go. He constantly hunts assists, especially in transition. The eldest Ball brother also shows no hesitation in clearing out in the half-court and allowing both DeRozan and LaVine to isolate.
The difference this year is that defenses have to respect Ball, which is tough when so much of the focus goes to the other scorers. He can knock down jumpers coming off ball screens and routinely drills catch-and-shoot looks, making it difficult for opponents to help off him. Additionally, his abilities as an on-ball defender who can get deflections and steals make a massive difference for Chicago's team defense.
In many ways, this sweet-shooting, selfless playmaker version of Ball is precisely what LeBron James and the Lakers could use. Instead, the former LA draftee is becoming an All-Star-caliber player in the Windy City.
Stats courtesy of Basketball Reference.