Looking Back at RG3 and Russell Wilson: the 'Rivalry'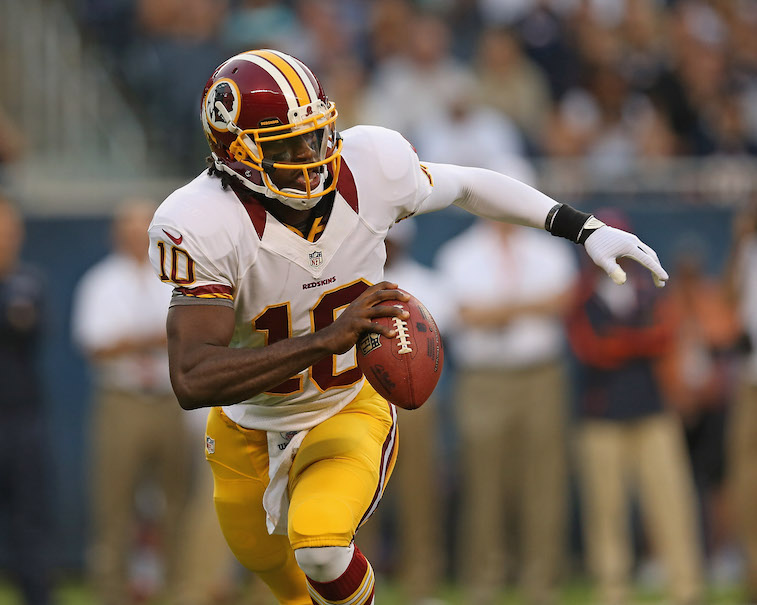 The average NFL career spans a little over three years. It's a statistic you'll hear numerous ex-players and pundits cite in the context of a player suffering a major injury or getting into the sorts of off-field trouble that can prematurely end one's tenure in the league.
Yet that number isn't even a consideration for the players we recognize and become familiar with — anyone who achieves moderate success and even stardom. Barring unforeseen circumstances, you'll be seeing Andrew Luck on your television for at least another decade, and there are some of us (not naming names) who probably still own the Peyton Manning jersey their mom got them when he was a rookie in 1998.
The point is that the 3.2 (or 3.3) year figure is, if anything, propped up by the sheer number of good-to-great players who manage to hang around for double, triple, and even four times the length of it. There are plenty of careers that end almost before they begin, and if the NFL is anything it's a league where things can change in an instant, where major injuries or misdeeds can bring a swift end to a promising career and as quickly as those stars rise, they can explode, burn out, and disappear. Consider Robert Griffin III, who made waves when he said that he feels he is the best quarterback in the league. Self-confidence is a prerequisite to being a professional athlete, but that seems unrealistically optimistic at best and completely delusional at worst.
And in spite of how weird it may have sounded today, in August of 2015, he would have come off as reasonable, if a bit ambitious and overeager, had he said it back in January of 2013. That season, he captured the Offensive Rookie of the Year award, as well as the NFC East crown, and squared off against a fellow rookie phenom, Russell Wilson, in the NFC Wildcard Round of the playoffs.
Oh, how their paths have diverged since. 
The Injury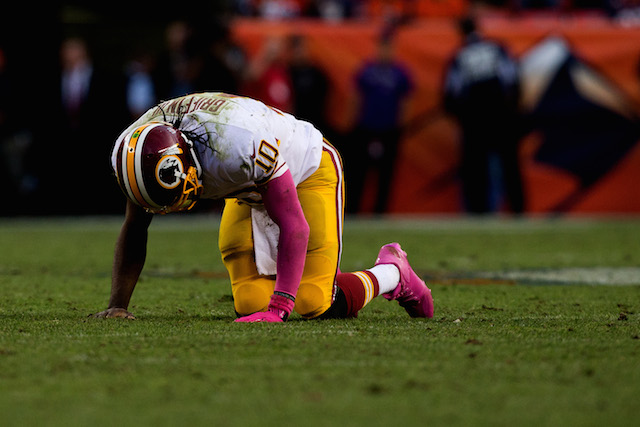 You have to wonder, given how the two subsequent seasons have unfolded, just how often RG3 wishes he could time travel back to the end of the first quarter of that playoff matchup. The Redskins held a 14-0 lead at home and were, by all accounts, about to cruise to their eighth straight victory.
You know the rest. Seattle pushed back and Griffin eventually suffered this horrific injury, resulting in a very long, intentional rehab process throughout the offseason that culminated with him being "ready for day one" of the new season – and summarily getting whacked by the Philadelphia Eagles in the opener.
Prior to that knee buckling, though, Griffin had appeared to tweak it and might have been able to avoid tearing his ACL later on by simply stepping out then and there, realizing that there would be many more playoff games in his future where his knee would feel fine. In so doing, he could have also potentially altered the downward trajectory of his career ever since. — that trajectory including two consecutive lackluster seasons in which he's been injured on and off, feuded with two different head coaches, and been replaced at different times by Kirk Cousins and Colt McCoy. You could make the argument that "toughing it out" with regard to injuries is a leading reason why those NFL careers are so short. 
The Subsequent Years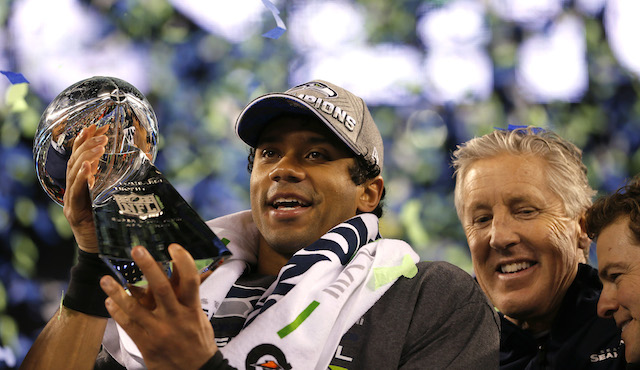 Ever since that particular game, the rivalry between these two players – if there ever was such a thing – has been totally one-sided. Wilson has led the Seahawks to consecutive Super Bowl appearances, including one victory, and has frequently seen his name tossed around in debates about the very best quarterbacks in the NFL. For some, he's right up there behind guys like Aaron Rodgers and Tom Brady.
While Griffin has struggled, Wilson has soared; RG3's loss of speed (and honestly, fearlessness) has coincided with Wilson's acceleration. When the two of them met in the postseason almost three years ago, Griffin was at the head of a national conversation about seemingly indefensible "Option" offenses and how they were fundamentally changing the game, perhaps for good. Wilson, a third-round pick who'd achieved surprising success, was a nice story by contrast.
Fast forward to the present day: RG3 is very possibly embarking upon his last chance to be an NFL starting quarterback and Russell Wilson just got paid a ton to stay in Seattle for the long haul. The Seahawks are once again an NFC and Super Bowl favorite, while Washington is picked by most – including us – to miss the playoffs, if not sit in the divisional cellar once again.
As these two men head in very different directions, one thing remains crystal clear: whatever dramatic events are to blame, an NFL career can suddenly and dramatically change as fast Robert Griffin III used to be able to run.
Connect with Tamer on Twitter @iamtamerabouras