Looking Back at the Future: The NFL's 2014 Rookie QBs, Graded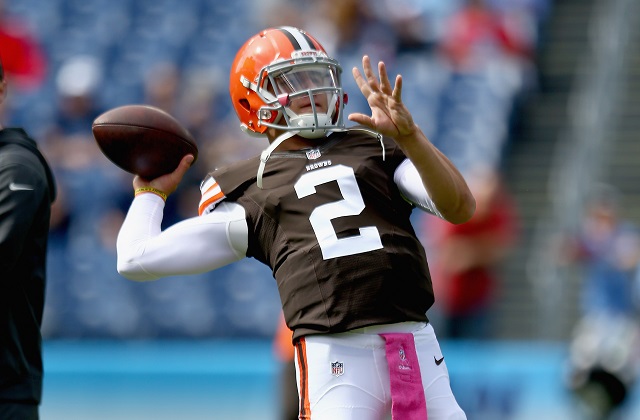 The NFL Draft is first and foremost a fountain of optimism for fans, front offices, and anyone else who cares about one football team or another. After all, nearly every NFL player of serious note is taken quite high in the draft — we said nearly, Tom Brady fans, not every — and athletes are picked for their projected potential. By the same token, arguably no positional player in the game has a larger impact on a franchise's future than a quarterback, and so any rookie taken in the draft to fill that position represents a Wonka-esque golden ticket for a team's fan base: a new face and jersey to pin hopes and dreams on.
Needless to say, this doesn't always work out, and for every Peyton Manning there's a handful of JaMarcus Russells. It's true that the process is a little more complicated than that — some quarterbacks are drafted with full knowledge that they're going to be spending a while holding the clipboard, while others are pulled in to make an immediate impact. Some, of course, are in between those two. For now, though, we're going to look at the seven rookie quarterbacks of the class of 2014 and see where they're at and how it's going for them now that they're officially in the NFL. They're arranged in the order they were drafted, for the record.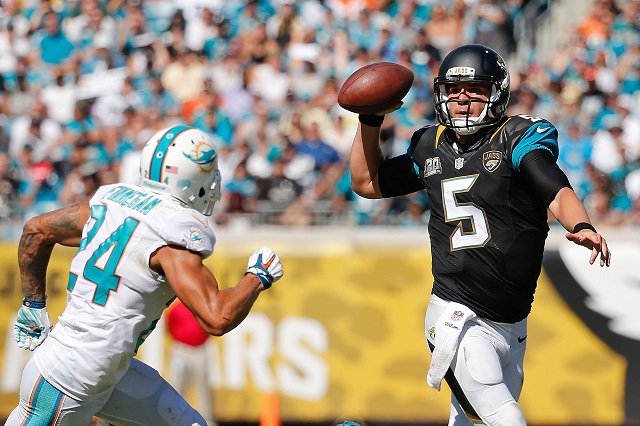 Blake Bortles, Jacksonville
Taken third overall, Blake Bortles looks like a franchise quarterback. Not so much on the field, but in press conferences and interviews and things, where, without fail, he looks hand-picked by central casting for the gig that he's got. Unfortunately for the Jacksonville Jaguars, after six games and five starts, Bortles has already thrown twice as many interceptions as he has touchdowns. How much of this is due to the abysmal nature of the team and how much this   about Bortles, remains unclear. We'll give him a C- based on his numbers so far, but with the full knowledge that, you know, he plays for the Jags. He could bump that all the way to a B+ if things change.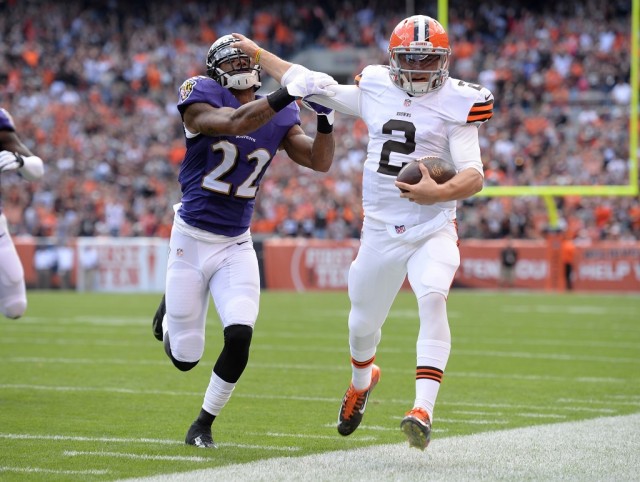 Johnny Manziel, Cleveland
The most infuriating thing about Johnny Football is not that he didn't instantly come forward and bring the Browns to the land of milk and honey — as much fun as he was to watch in college, there was never any real chance he was going to have a massive impact in his rookie season — but that we've barely seen him get involved with anything to do with actual quarterbacking. His most notable play was an illegal one, and his only pass attempt was incomplete. We're going to give him a D, which can also be rolled into a "Dude!" if he ever manages to stay on the field.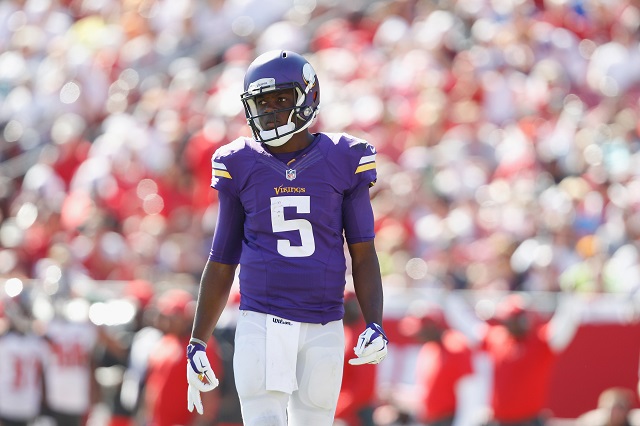 Teddy Bridgewater, Minnesota
You'll notice that, nearly without fail, these quarterbacks are all starting for bad teams — typically teams that have cycled through at least a few different options at the signal-calling position without finding much long-term success. That's where Teddy Bridgewater is with the Vikings, and given the fact that he's been handed what amounts to the Midwest's version of a totally terrible team — what, with the suspension of Adrian Peterson and all — it's hard to tell if he's actually any better or worse than Christian Ponder. Sounds like a cop out, right? Maybe it is, but that's the crux of the problem when you're looking at the rookie QB who has the lowest completion rate (60%) of the ones who have actually attempted a bunch of passes with, more or less, no one to pass to. We'll give him a C.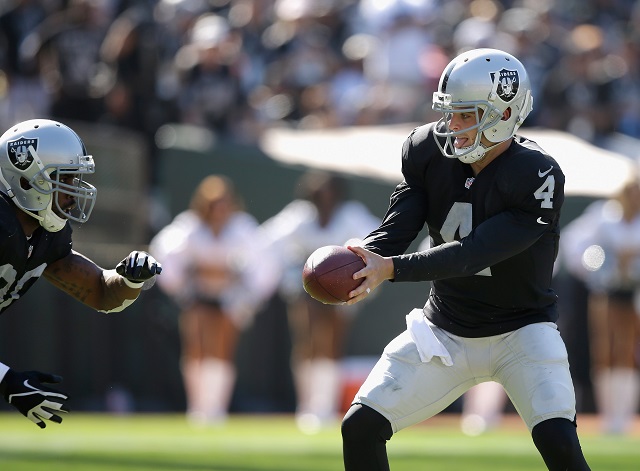 Derek Carr, Oakland
The younger sibling of former No. 1 overall pick and general NFL nonentity quarterback David Carr, Derek Carr looks primed to follow in his brother's footsteps as a guy who isn't ever a household name but manages to carve out a nice career for himself. If he's ever able to get off the Raiders, he could definitely fill a role of competency for another team — he's the only rookie QB to have thrown more touchdowns than interceptions in a sample size that matters, and he's doing it for a team that's got absolutely no real way to win games. Grade: B.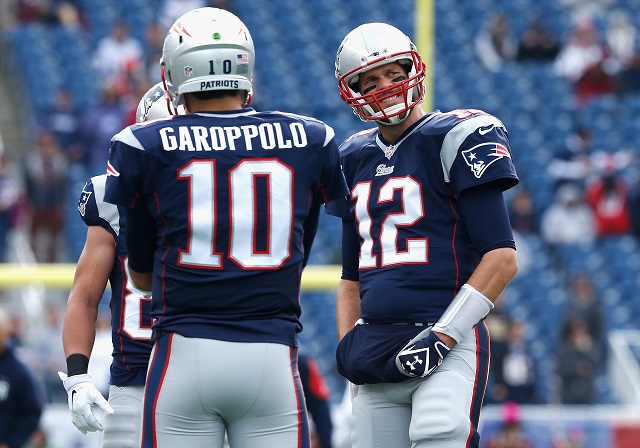 Jimmy Garoppolo, New England
Out of the 10 throws Jimmy Garoppolo has made on the clock as a member of the New England Patriots, nine of them have been successful. He's thrown for 92 yards and one touchdown in three games, and he remains firmly behind Tom Brady on the depth chart, despite the early season concerns that came with the Patriots looking awful. He's also the only player on this list who's on a team that's actively trying to win games and isn't throwing its rookie out to the slaughter in an effort to see what he can do. Garoppolo gets a C.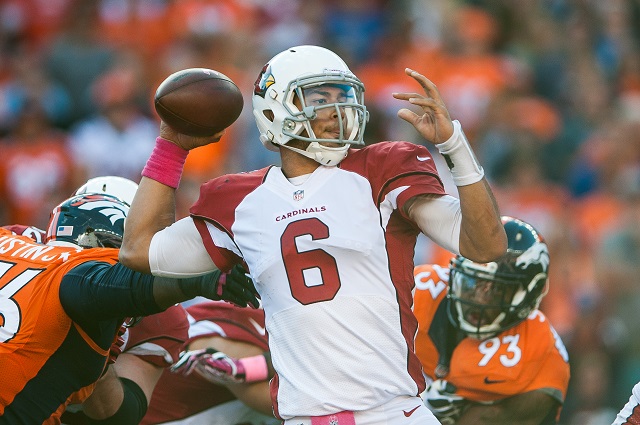 Logan Thomas, Arizona
The Cardinals have been surprisingly good this year, and while a lot of that has to do with a rejuvenated Carson Palmer — actually, nearly all of it has to do with a rejuvenated Palmer connecting with his receivers in a way that wasn't happening last year — Logan Thomas has quietly been excused from his solitary showing, coming in against Denver to play some garbage time in a 41-20 loss. He only managed to connect on one pass, but it was an 81-yarder. That's pretty cool, but we don't have enough data on Thomas to properly rate him, really. He's a B, if only because we're making a bold prediction that you're probably going to be all right under Bruce Arians someday.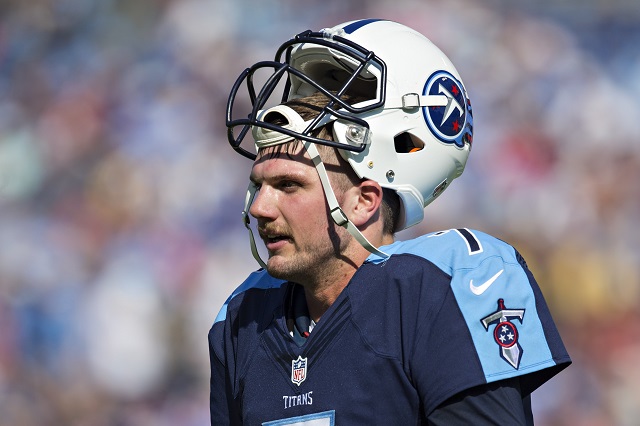 Zach Mettenberger, Tennessee
A+ for the impeccable Dazed and Confused Wooderson impression that almost certainly made Aaron Rodgers proud. Also gets extra marks for having the cojones to declare what we're all thinking: That football is about fun, and there are a bunch of people who don't think that's the case. It's a game, everybody. Act accordingly.