Los Angeles Angels Honor Tyler Skaggs With Emotional No-Hitter
On July 1, 2019, Tyler Skaggs passed away. The former Los Angeles Angels starting pitcher was only 27 years old and was by all accounts a tremendous young man. His untimely death was a devastating blow to both the local community in Anaheim and the baseball world as a whole.
Touching tributes have been made in Skaggs' honor this month by players and teams around the league including a moment of silence at the MLB All-Star Game. In their first home game since the tragedy occurred, the Angels had a wonderful pregame ceremony in remembrance of their teammate on Friday night. And then, on a night designed to celebrate the memory of Tyler Skaggs, Los Angeles gave their fans plenty to celebrate with 13 runs and a no-hitter.
The pregame ceremony
Mike Trout and Andrew Heaney placed a framed Tyler Skaggs jersey on an easel behind home plate to begin the ceremony. As they did this, the Los Angeles Angels (all wearing No. 45 Skaggs jerseys) and the Seattle Mariners took their places on the basepaths.
The Angels played a tribute video highlighting Skagg's career, which was followed by a 45-second moment of silence and a beautiful trumpet rendition of the national anthem.
Following the national anthem, Tyler's mother Debbie, wife Carli, stepfather, and stepbrother walked to the mound for the ceremonial first pitch. Pitching to Andrew Heaney, one of her son's closest friends, Debbie threw a perfect strike.
Mike Trout leads the way on offense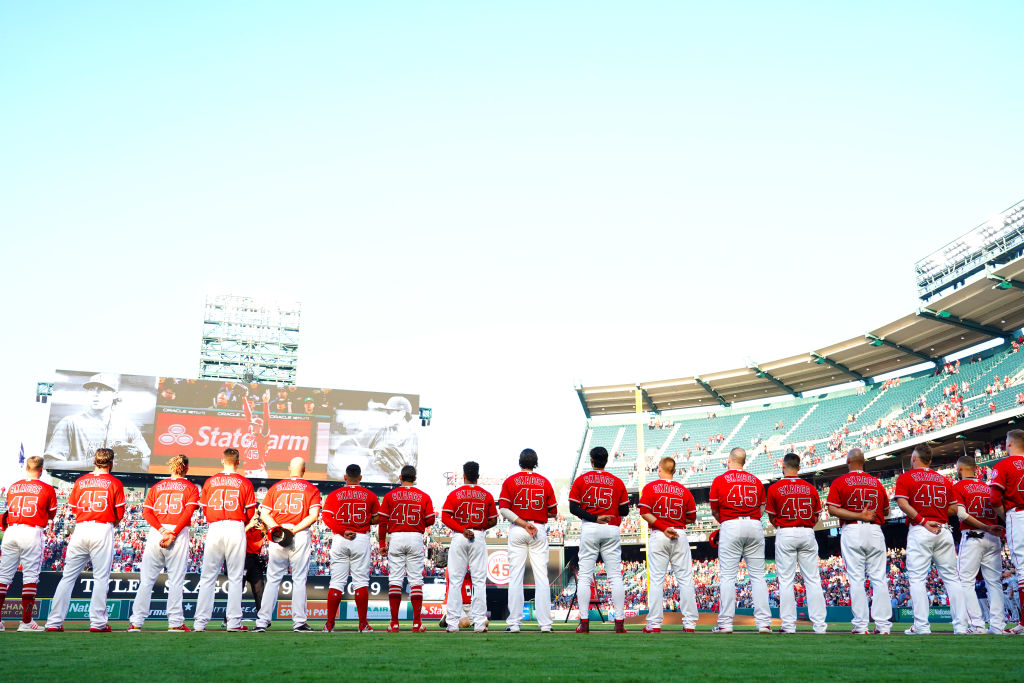 The Los Angeles Angels, all donning Tyler Skaggs jerseys, took the field in the top of the first inning. They sat the Mariners down 1-2-3. And then it was their turn to bat.
David Fletcher battled through an 0-2 count to rope a double into right field on the seventh pitch of the at bat. Mike Trout needed only one pitch, clobbering Mike Leake's sinker to deep center field for a 454-foot home run. You could feel the emotion in Angel Stadium as the crowd erupted on this swing.
The first inning was far from over. The Angels batted around as Shohei Ohtani, Justin Upton, Andrelton Simmons, and Dustin Garneau all reached base with singles. When David Fletcher returned to the plate, there were two outs and the score was 5-0 in Los Angeles's favor.
Fletcher singled to load the bases for Mike Trout. Mike Trout delivered again, directing a changeup into shallow left field to bring in two more runs. An Ohtani walk followed by a Justin Upton strikeout brought an emotionally driven 7-0 first inning to a close.
Over the course of the night, the Angels tacked on six more runs to bring their game total up to 13. Trout finished the night 3-for-4 with two runs and six RBI.
Taylor Cole and Felix Pena take care of the rest
The pregame ceremony for Tyler Skaggs was emotional and beautifully done. The seven-run first inning with all nine batters coming to the plate in their honorary No. 45 jerseys was a moment that no one watching this game would ever forget.
But what better way to honor a pitcher than with a no-hitter?
Taylor Cole, tasked with being the "opener" in Friday night's game, played his role to perfection. Six up, six down. He handed the ball over to Felix Pena, who already had a 9-0 lead going into the third inning.
Felix Pena pitched the game of his life.
The 29-year-old long reliever has a career ERA of 4.39; perfectly acceptable in today's game, but not spectacular. Pena got off to a good start in 2019 but has been struggling since late May; in his previous seven appearances before Friday night, Pena had a 6.98 ERA and a 1.62 WHIP across 29.2 innings pitched. He had allowed eight home runs over that stretch.
You'd have never known it on Friday night. Pena needed just 81 pitches to record the final 21 outs of the game. Four fly balls, six strikeouts, and 11 ground balls. A fifth-inning walk was the only blemish on an otherwise perfect game for Cole and Pena.
A night that transcended sports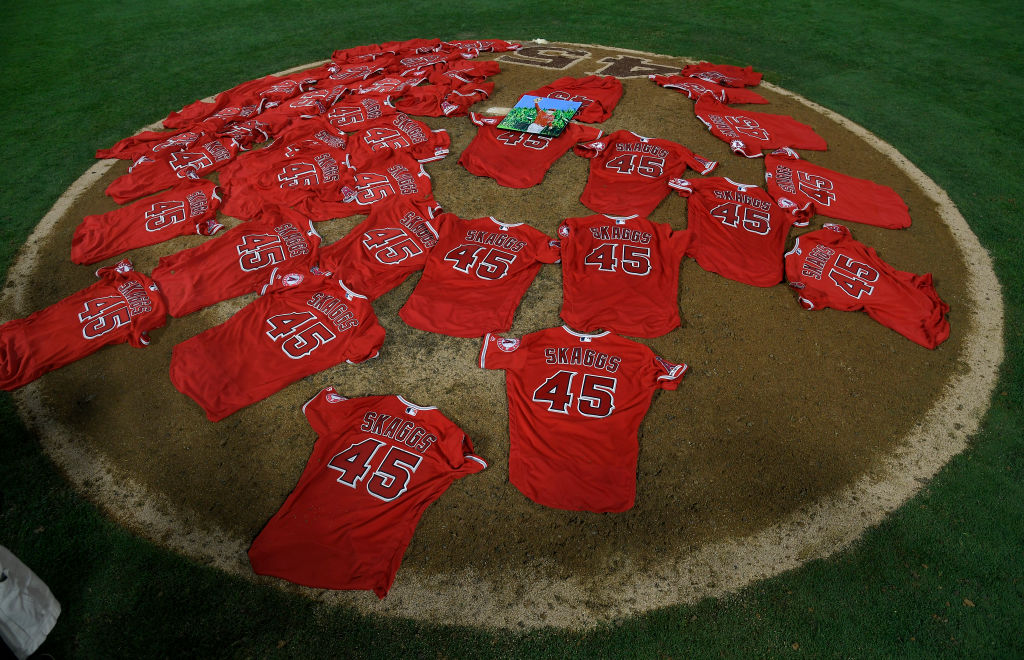 The pain stemming from the loss of Tyler Skaggs will always be felt by his friends, family, teammates, and fans. That pain will never go away. But through that pain, the best way to honor him is through remembering him fondly and celebrating the impact that he had on the game and the lives around him.
Thanks to this transcendent performance by the Los Angeles Angels, we all had the chance to join in on that celebration on Friday night.