Los Angeles Chargers' QB Justin Herbert is Poised to Vault Himself Into the MVP Conversation Josh-Allen Style
The Los Angeles Chargers' Justin Herbert was named the 2020 NFL Rookie of the Year. It's a high bar to set for any player, especially a quarterback. Herbert will have to do something special to take another jump in 2021. How about ending the year in the running for the MVP? The former Oregon Duck is ready. Herbert is about to go from good to great and vault himself into the MVP conversation Josh-Allen style.
Allen's path was an extra year in the making as he struggled during his rookie season before showing improvement in year two. He then had a career campaign in 2020, finishing second to Aaron Rodgers in MVP voting. Herbert is about to make the same leap.
Questions surrounded Justin Herbert entering the NFL draft, but he answered them quickly
The weaknesses scouts spotted in Herbert prior to the 2020 draft, for the most part, concerned his makeup. Herbert had all the physical tools to succeed at the NFL level — size, speed, arm strength, intelligence. The problem was that those tools didn't always translate to the field the way they should. With his physical abilities, Herbert should have dominated the Pac-12 at Oregon, and he didn't. He was good, not great. Scouts also worried about his command of the offense and leadership abilities; he seemed too laid back.
In hindsight, maybe those criticisms aren't what stop a player like Herbert from succeeding in the pros. Maybe they were overblown. Regardless, he was the third quarterback selected in the draft behind Joe Burrow and Tua Tagovailoa. There was risk inherent in LA's pick, but the need for a high-level quarterback was obvious for the Chargers as Philip Rivers moved on.
Herbert is about to follow the same path as Allen, who vaulted himself into the MVP conversation in 2020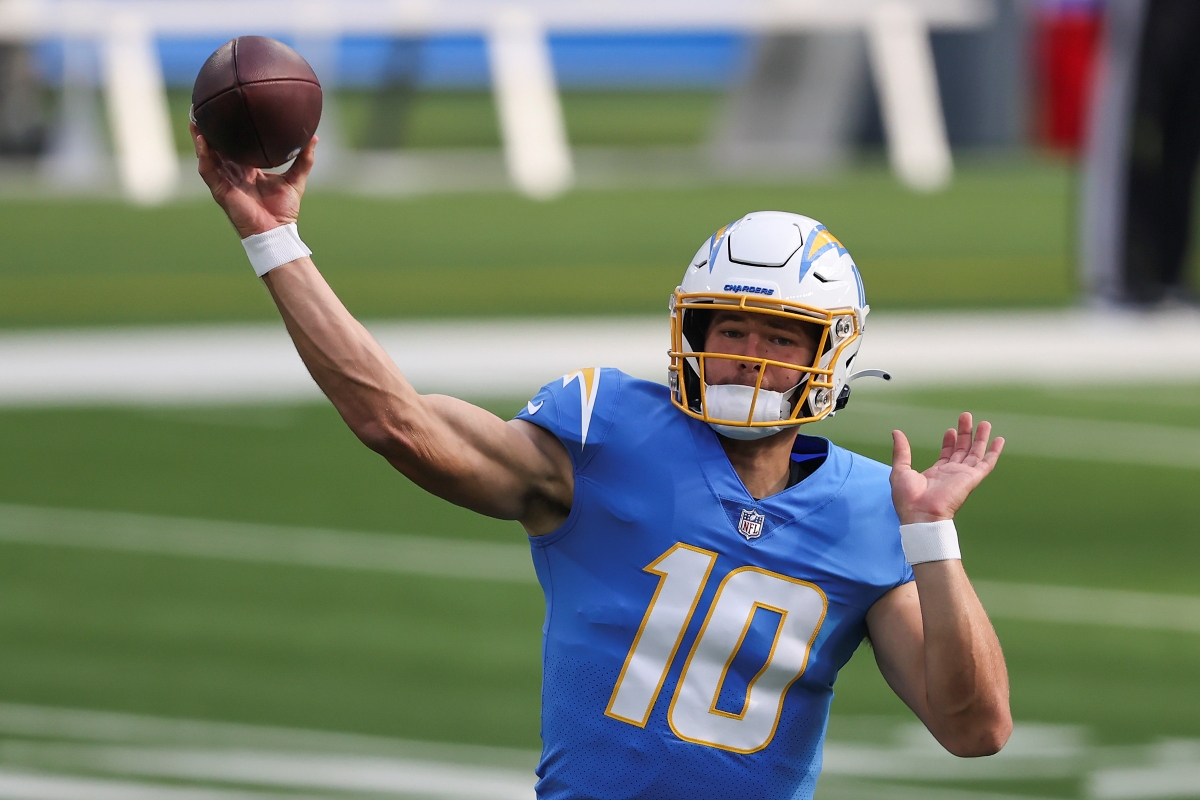 Herbert put all those questions to bed with a Rookie of the Year campaign. The 6-foot-6, 236-pound dual-threat quarterback started 15 games for the Chargers, completing 66.6% of his passes for 4,336 yards and 31 touchdowns. He only threw 10 interceptions and added five more scores on the ground. Statistically, it was an all-time great rookie season.
Allen recovered from a poor rookie campaign to have a second season that showed promise. As a 23-year-old — the same age Herbert was his rookie season — Allen threw for 20 touchdowns and 9 interceptions with a 58.8% completion percentage. The Wyoming product is similar in stature to Herbert but used his legs more often, rushing for 510 yards and 9 more touchdowns. His team also went 10-6 and made the playoffs. Last year, however, in his age 24 season, Allen exploded to the tune of 4,544 yards, 37 touchdowns, and 10 INTs, in the process nearly becoming the league's MVP.
Both players have similar physical traits, but Allen was more raw coming out of college. He had two years to develop before his MVP run but found a way to win games while doing it. Herbert put up better stats, but it didn't lead to team success. That will change in 2021.
Justin Herbert is already on his way to becoming one of the league's best quarterbacks
The fact that Patrick Mahomes is in Herbert's division will make it more difficult to stand out. But LA's star quarterback's play should do plenty of talking on its own. The former four-year starter at Oregon almost immediately answered scouts' concerns about him coming out of college. His team is also better this year as LA remolded its offensive line, bringing in three players in free agency — including one of the best centers in the NFL in Corey Linsley — and drafting its potential future left tackle in Rashawn Slater. The Chargers still have Austin Ekeler, Keenan Allen, and Mike Williams at the offensive skill spots and brought in tight end Jared Cook.
The ingredients are there for the second-year quarterback to explode in 2021. Much like Allen did a year ago, Herbert is about to vault himself into the NFL MVP conversation.
All statistics courtesy of Pro-Football-Reference.