The Los Angeles Dodgers and San Diego Padres Game Provided a Glimpse Into How Baseball Is Killing Itself and Flourishing at the Same Time
The LA Dodgers and San Diego Padres played a game that lasted 16 innings and almost six hours before LA finally won 5-3. The word "marathon" has been thrown around to describe games before, but this one didn't end until nearly 4 a.m. ET. It was, by all definitions, an exciting baseball game. It had extra-inning home runs by superstars, momentum changes (sometimes in the same inning), and literally hours of tension. It also was a perfect example of why the sport is dying and growing at the same time.
LA and San Diego are two of the most popular and well-known franchises in baseball. The Padres have one of the brightest, most exciting young superstars in the game in Fernando Tatis Jr. The Dodgers started one of the best young pitchers in baseball in Walker Buehler. LA is fighting for a division championship, while San Diego entered the night one game back of the Cincinnati Reds for the final wildcard spot. The game had everything it needed, but also everything it didn't. It was a microcosm of everything right and wrong with baseball in 2021.
The Los Angeles Dodgers and San Diego Padres played for nearly six hours and 16 innings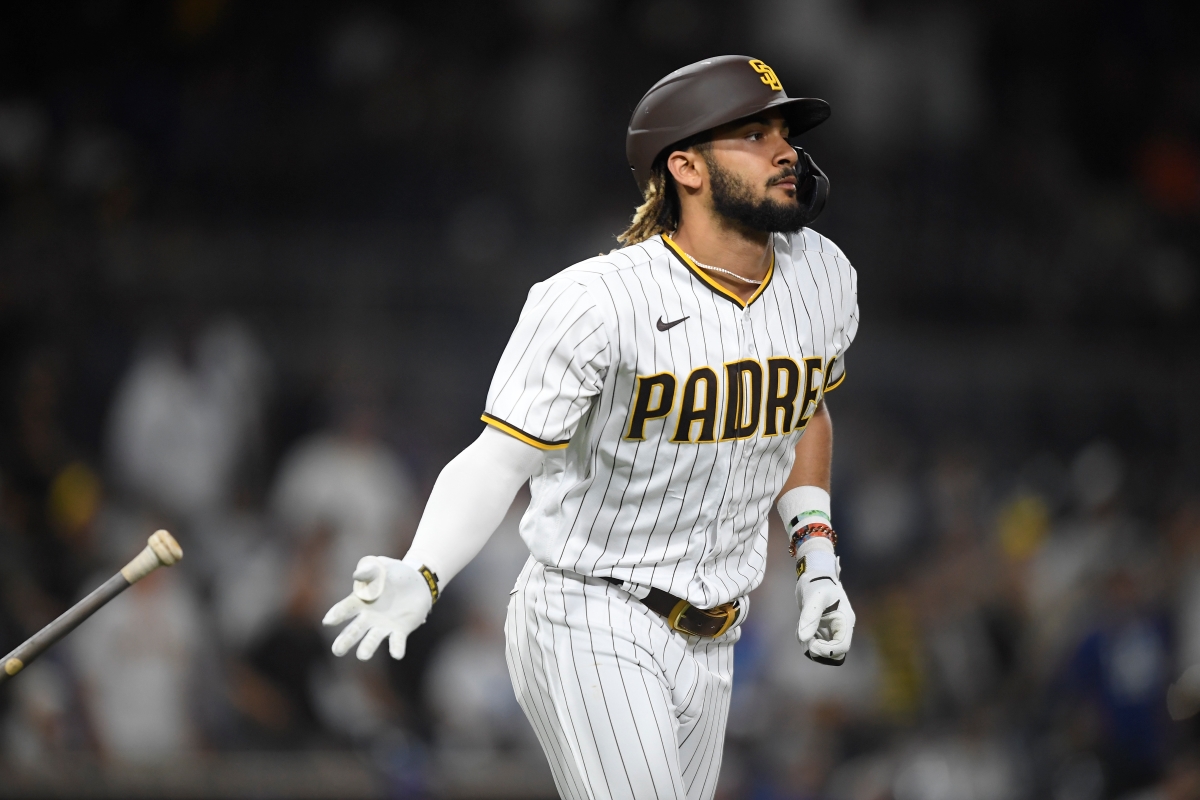 It was a game that started at 8 p.m. ET and blew past 3 a.m. before the Dodgers finally earned a 5-3 win over the Padres. San Diego scored first in the bottom of the second inning and LA tied the game with a run in the top of the eighth. No one scored again until the 15th inning when Billy McKinney and Trea Turner drove in runs for LA.
But Tatis tied the game once again with a dramatic two-run homer to right in the bottom of the 15th as the game continued. The Dodgers' AJ Pollock hit his own two-run shot in the top of the 16th to put LA ahead before Shane Greene finally closed the door in the bottom of the 16th to give LA the two-run win.
The official run time for the game was 5 hours, 49 minutes, according to SI.com.
For reference: According to MLB.com, the longest game in baseball history in terms of innings played is 26. That game between the Brooklyn Robins and Boston Braves in 1920 ended in a tie due to darkness. The longest game in terms of time went 8 hours and 6 minutes over two days when the Chicago White Sox beat the Milwaukee Brewers 7-6 in 1984.
The Dodgers-Padres game was a perfect example of how baseball is somehow dying yet growing at the same time
Four of the five most popular players in baseball, in terms of jersey sales, play for LA and San Diego. Mookie Betts and Cody Bellinger of the Dodgers are first and second based on sales of Nike Jerseys from MLBShop.com. Tatis is third, and LA's Clayton Kershaw is fifth, according to MLB.com. Tatis also graced the cover of this year's MLB The Show video game.
The 16-inning affair had star power, drama, clutch home runs, and bat flips. Everything a fan could want in a baseball game. But, it also lasted almost six hours and featured 12 innings in which neither team scored — everything a fan doesn't want in a baseball game.
For comparison's sake, it would be like an overtime game between the Kansas City Chiefs and New England Patriots. Except if no one scored for three quarters and the game was twice as long.
These are the two polar opposites that MLB is fighting right now. The biggest stars in the sport are playing exciting, meaningful games. But the headlines the next morning aren't about who did or what or the final score; they're about how excruciatingly long the game was.
Baseball has a fine line to walk to keep its current fans while trying to attract new ones
According to SI.com, MLB introduced several rule changes heading into the 2021 season, like a baseball designed to tamp down home runs, beginning extra innings with a runner on second base to shorten games (oops), and cutting down on defensive shifts. In the minor leagues, baseball is experimenting with a 15-second pitch clock and an automatic strike zone that would eliminate umpires. All these rules are designed to streamline the game and make it more entertaining.
But more than any other sport, baseball has a fine line to walk in terms of changes. The game has been around for more than a century. Baseball fans care about records more than any other; the records are more sacred. Mark McGwire and Sammy Sosa broke Roger Maris' record for 61 home runs in a season (blew past it, actually). Then Barry Bonds crushed that record and broke Hank Aaron's all-time home run record. Those all included asterisks because the new records were "tainted." Maybe so, but baseball's popularity took a huge leap when McGwire, Sosa, and Bonds started crushing balls out of parks left and right.
But things obviously need to change somehow. How many people under the age of 30 stayed up to watch that entire 16-inning game? Probably not many, in the relative sense. Baseball is losing its luster, even as younger and more flamboyant stars gain popularity. If a game with every ingredient of all-timer is mostly newsworthy because of its length and not its drama, baseball is clearly missing its target.
All stats and information courtesy of MLB.com.