The Los Angeles Lakers Blew a 26-Point Lead, but Russell Westbrook Chose to Throw a Temper Tantrum About One Meaningless Play: 'When S*** Like That Happens, I Don't Let It Slide'
The Los Angeles Lakers have been hard at work trying to incorporate a slew of newly-acquired veterans, so far with mixed results. LA made several moves this offseason, but the biggest splash was the acquisition of Russell Westbrook, who is expected to complete the team's triumvirate alongside LeBron James and Anthony Davis.
Westbrook just notched his first triple-double in the purple and gold, but it came in a loss as the Lakers blew a 26-point first-half lead to the winless Oklahoma City Thunder. The final nail in the coffin in OKC's 123-115 win came on a breakaway dunk by forward Darius Bazley in the final seconds.
Westbrook made it abundantly clear he wasn't a fan of Bazley's move, and his temper tantrum about it has overshadowed LA's biggest weakness thus far in 2021-22.
Westbrook and the Lakers squandered a 26-point lead
LA blew the doors wide open in the first quarter, scoring 41 points on its way to a 41-19 lead after 12 minutes.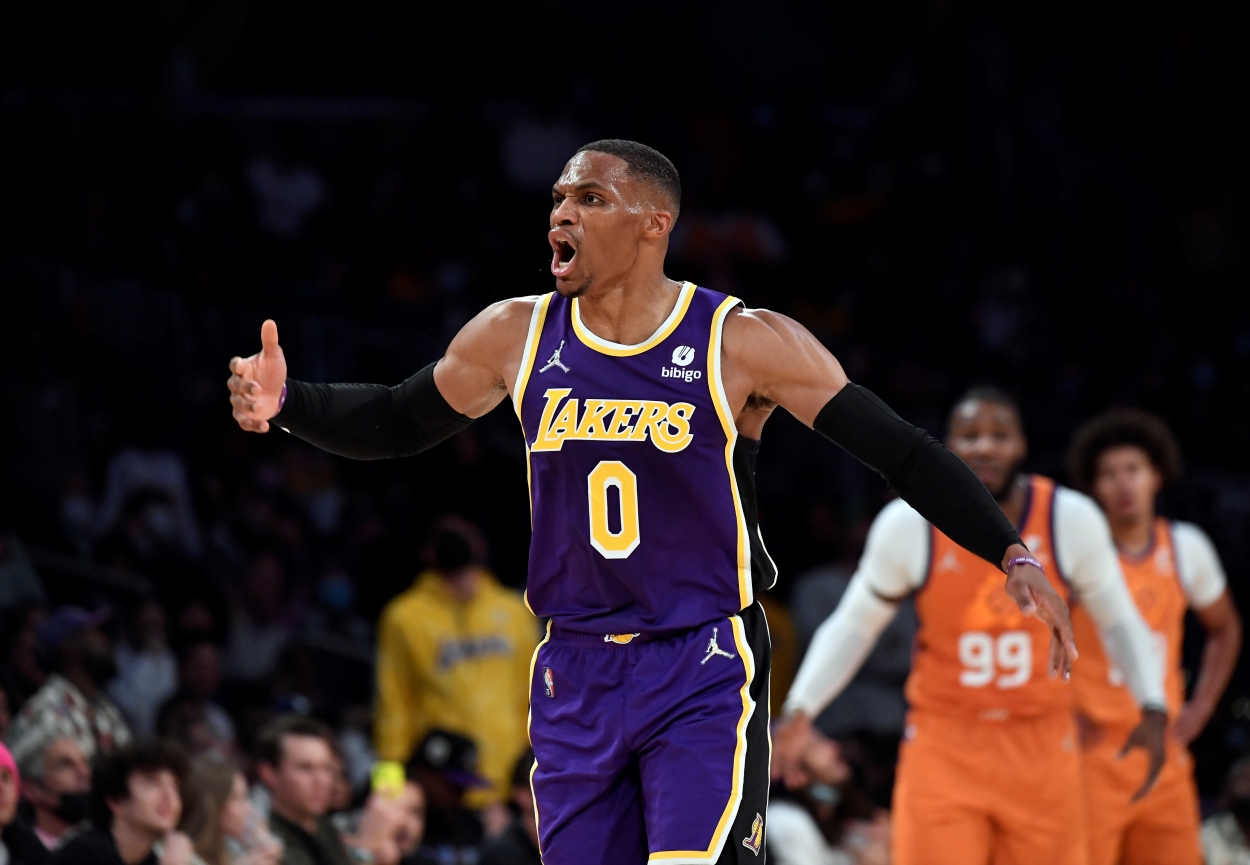 The Lakers' hot shooting eventually put them up by 26 in the second quarter. At that point, Westbrook and Co. were shooting 68% from the floor and 62% from three, according to NBA.com.
But the Thunder stormed back and outscored LA by 18 in the third quarter. A three from Shai Gilgeous-Alexander at the buzzer gave Oklahoma City its first lead of the night, and the Thunder held on in the fourth quarter for their first win of the year.
The exclamation point came when Bazley stole an inbounds pass with four seconds left, and rather than hold onto the ball and run the clock out, he opted to glide down the floor and throw down a two-handed slam.
Needless to say, Westbrook was not a fan of that decision.
LA's star guard took exception to the dunk and was ejected
Immediately after Bazley's slam, Westbrook had words with the fourth-year wing. He then proceeded to get in a shoving match with other members of the Thunder, picked up his second technical foul, and had to hit the showers a few seconds early.
The 2016-17 MVP exited the floor to boos from his former home crowd.
After the game, Westbrook was asked about his exception to Bazley's play and showed no remorse, via ESPN:
"How I play the game, I'm more old-school. And when s*** like that happens, I don't let it slide. … In the game of basketball, there's certain things you just don't do. Like in baseball, you don't flip the bat. There's certain things you don't do in sports when the game's already over. And I didn't like it. Simple as that."

Russell Westbrook on his issues with Darius Bazley's late-game dunk
But The Brodie's ejection buried the lead. Not only did the Lakers blow what appeared to be a sure win, but Westbrook finished the loss with 10 turnovers. He also had nine giveaways in LA's loss to Memphis three nights prior.
The Lakers are struggling to hold onto the ball (top 10 in the league at 16.2 turnovers per game) and defend (25th in the league in defensive rating). But a garbage-time dunk by a young rotation player seemed to be more important to the 14-year veteran.
Russell Westbrook needs to make some changes if the Lakers hope to win a title
The UCLA product has averaged a triple-double in four different seasons during his career. He's also known for his quadruple doubles, though, as those games often come with double-digit turnovers.
James is currently out with an injury. That seriously hinders the Lakers' chances at winning games, but the combination of Westbrook and Davis should be enough to pull out victories — especially against a bottom feeder like OKC.
But the nine-time all-star has 30 turnovers through five games. Rather than throwing a temper tantrum and getting ejected over a final-second dunk in what was already a loss, Westbrook should be concentrating on holding onto the ball if he wants to raise his first Larry O'Brien Trophy at the end of the season.
All statistics courtesy of Basketball Reference unless otherwise noted.
RELATED: Charles Barkley Once Heaped Praise on LeBron James' New Running Mate: 'Even Jordan Didn't Play as Hard'