The Los Angeles Lakers Are a Chaotic Mess, but LeBron James' Former Big 3s Show Exactly Where They're Headed
LeBron James' Los Angeles Lakers squad has looked pretty rough to start this season. Some questioned if they could put things together and actually win, considering they have the oldest roster in the NBA. So far, LA has proved its haters right, starting the season 9-9 with horrible losses to the Oklahoma City Thunder and Minnesota Timberwolves.
However, James has been in an almost identical situation before (twice), and he still prevailed. In fact, The King's previous Big Threes with the Miami Heat and Cleveland Cavaliers potentially show where the Lakers are currently heading.
The Los Angeles Lakers have had a slow start to the 2021-22 NBA season
It has been a tough first month of the season for the Lakers. They came into the 2021-22 campaign with high expectations after adding guys like Russell Westbrook, Carmelo Anthony, Malik Monk, and others to a roster already consisting of James and Anthony Davis.
But things haven't quite come together yet.
LA is 9-9 through its first 18 games and has had some embarrassing performances. It gave up a big lead in not one but two losses to Oklahoma City Thunder. It also fell to the Minnesota Timberwolves by 24 points. You can't forget the chaotic scene against the Pistons, either, in which refs ejected James for striking Isaiah Stewart in the face.
However, the Lakers are a different team when James is healthy. He has missed 10 games so far this year, and they are 5-3 with him but only 4-6 without him.
Whichever way you spin it, though, the Lakers have struggled significantly and don't look like a team ready to compete for a championship.
But that doesn't mean they can't turn things around.
LeBron James' Heat and Cavs Big Threes also struggled in their first seasons together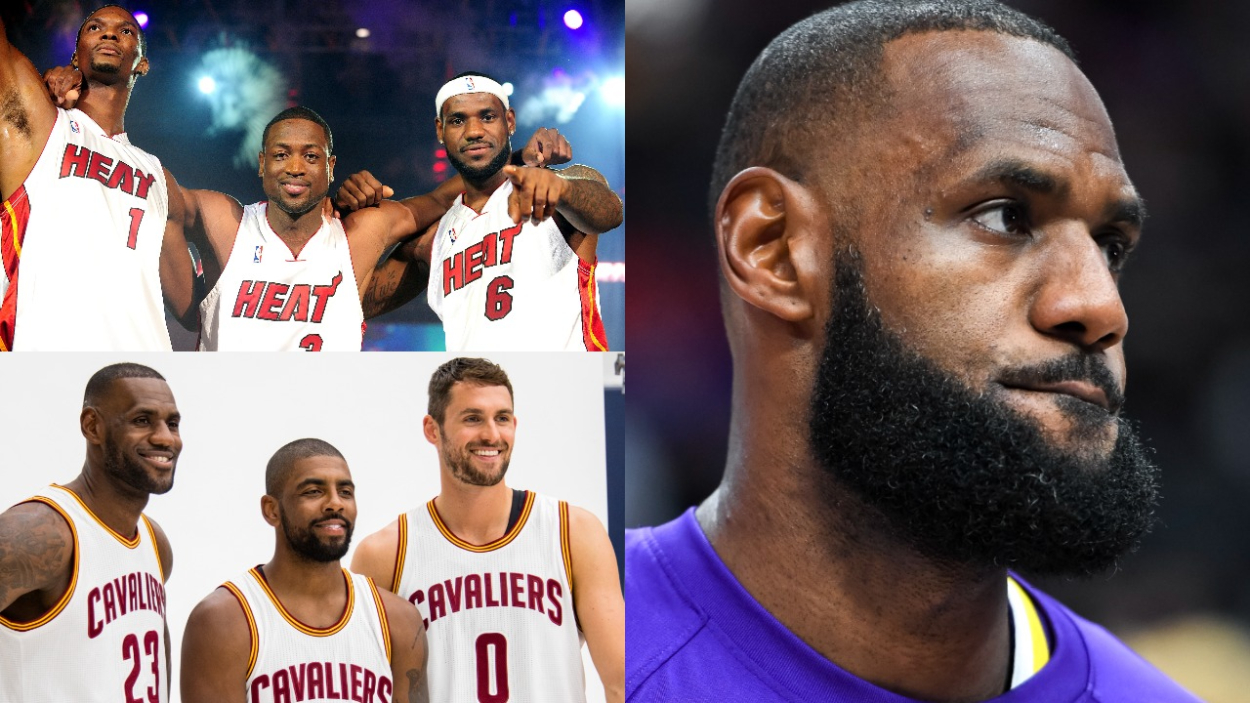 This is the first season the Lakers' new Big Three has even played together. James and Davis won a title with LA in 2020 and played on the same squad again last year, but the third player in their trio, Westbrook, just joined them this past offseason.
That means their struggles aren't that big of a deal, especially considering how James' other Big Threes initially performed.
The future Hall of Famer left the Cavs and joined the Heat in 2010-11 to form a superteam with Dwyane Wade and Chris Bosh. While they eventually lived up to the hype by reaching four consecutive NBA Finals and winning two titles, they initially had an ugly start to their first season together.
The Heat began the year 9-8 in 2010-11, and it was unclear whether they would actually figure out how to play together. But they then won 21 of their next 22 games before finishing 58-24 and, as mentioned above, reaching the NBA Finals.
In 2014-15, James returned to Cleveland to form another Big Three with Kyrie Irving and Kevin Love on the Cavs. Similar to the Heat, they eventually went to three consecutive NBA Finals together and won the championship in 2016. During their first season, though, they got off to an even worse start than Miami. Cleveland began the year 19-20, and their play forced some to wonder whether James made the right decision by returning home. The team, however, went 34-9 in its final 43 games and, like Miami, reached the NBA Finals.
If James has proved anything in his career so far, it's that he will figure things out.
LeBron James — if healthy — will figure things out with the Lakers
Yes, LeBron James has dealt with injury issues so far this season, so if he's hurt — or if Anthony Davis and Russell Westbrook aren't on the court for whatever reason — everything above doesn't matter.
But if the three of them can stay healthy, you can almost guarantee that James will figure things out.
This Lakers squad has immense talent. James and Westbrook are two of the greatest passers to ever play, while Davis is one of the league's top big men. They also have solid players around them like Carmelo Anthony, Talen Horton-Tucker, and others. That's enough talent for James to work with and figure out how to put it all in a position to compete for a championship (and maybe even win one).
He has proven he can pull his teams out of massive holes before; why would this group be any different?
All in all, the the Lakers may look like they're in trouble now, but they're right where LeBron James wants them. Just ask his Heat and Cavs Big Threes.
Stats courtesy of Basketball Reference