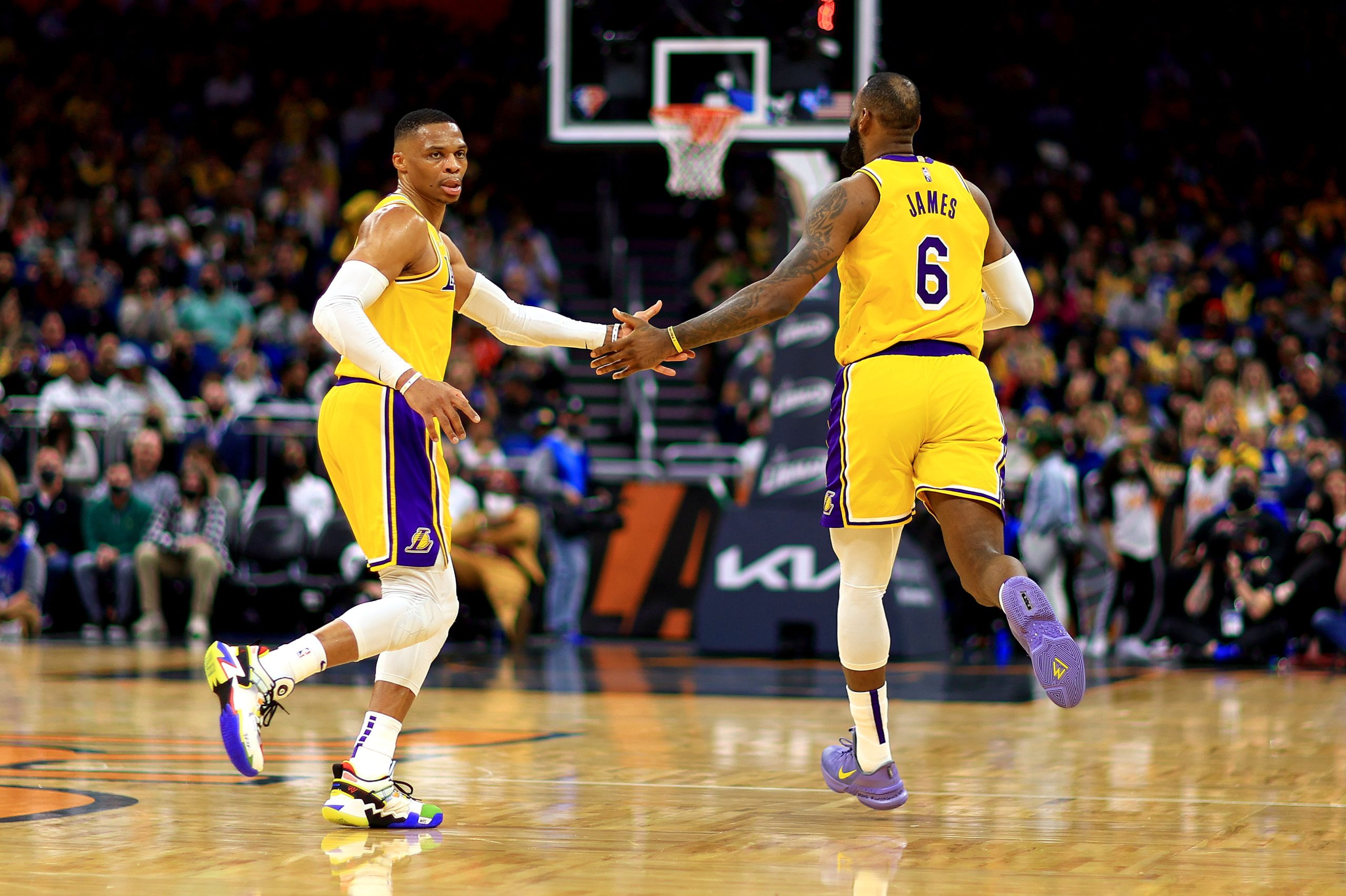 Los Angeles Lakers Coach Frank Vogel on Benching Russell Westbrook: 'I Have Full Autonomy'
Los Angeles Lakers star point guard Russell Westbrook admitted he was "upset" by getting benched last week, but he responded well in Orlando on Friday with some stellar play.
Plenty of doubt persists as to who among the Los Angeles Lakers thought it would be a good idea to add Russell Westbrook and pushed hardest to acquire the magnificent but mercurial point guard. Was it GM Rob Pelinka, who desperately wanted to shake up the roster after last season's disappointment? Or was it the superstar duo of LeBron James and Anthony Davis, who thought they had the cache and influence to control Westbrook's often uncontrollable fury?
Regardless of the answer to that never-ending debate, head coach Frank Vogel made it clear recently he's in charge when it comes to Westbrook's time on the floor when he struggles and invariably sabotages the Lakers' efforts to get their season on track.
Los Angeles Lakers coach Frank Vogel affirms he is in control of in-game decisions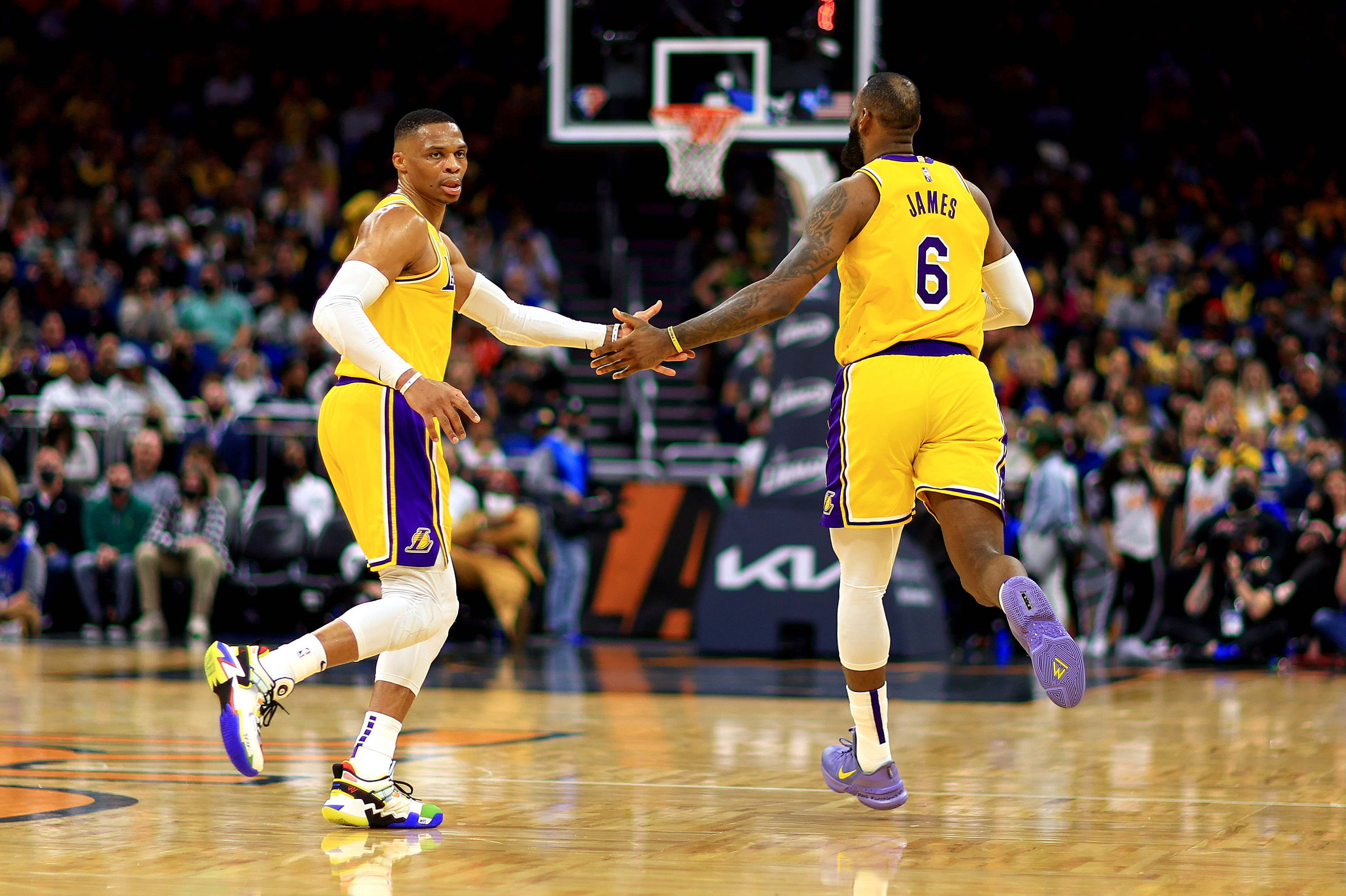 Frank Vogel's job has reportedly been in jeopardy in recent weeks as the Lakers have struggled with bouts of indifference and inconsistency. The Lakers got embarrassed a week ago upon being routed by 37 points in Denver. A few nights later, they staved off the Southern California lynch mob by beating the Utah Jazz. However, doubts returned when the Lakers fell to the undermanned Indiana Pacers a couple of nights later.
One move, in particular, by Vogel late in that Indiana loss proved more significant than the final result. Vogel benched former MVP Russell Westbrook with 3:52 left in that game, and the coach never went back to the point guard down the stretch. Emotional as always, Westbrook left the bench area in the game's final seconds and wasn't around to speak to the media following the game.
On Friday, before the Lakers started a pivotal six-game, 11-night road trip in Orlando, Vogel addressed the benching of the struggling point guard. He talked about "over-communicating" in the circumstances like this to let the player know the reasoning behind the decision. Also, Vogel made another thing clear: It's his call — and no one else's — when it comes to pulling a struggling player and going with someone else in the rotation.
"I've got full autonomy to make any coaching decisions necessary to win games," Vogel said in Friday's pregame news conference. "That is something that has always been (consistent). I do communicate with the front office on everything that I'm considering. There's a strong alignment there. Ultimately, it comes down to us talking about a lot of different things, but I have full autonomy to make final decisions."
In the wake of his benching, Lakers guard Russell Westbrook responds well
Star point guard Russell Westbrook was removed again late in Friday's game — only this time it was after the Lakers had already overrun the laughingstock Orlando Magic. When Westbrook left the game, Vogel was there to greet him with a happy handshake to celebrate the victory.
After his 18-point, 11-rebound, seven-assist night and his one particularly ugly highlight, Westbrook admitted the benching "upset" him. Then, to seemingly deflect away from his dinged pride over the removal, Westbrook made sure to point out he was "most upset that we didn't win the game."   
Tension surrounded Westbrook's removal, and after Friday's game, LeBron James and Carmelo Anthony danced around the topic, saying they would prefer to let the guard address the issue himself. 
"My job as a player, as a professional, is to do my job, continue to find ways to be able to help impact winning. That's all I was thinking about, and I turned the page, and that's what I tried to do (Friday against Orlando)."
The Vogel/Pelinka/Westbrook dynamic bears watching on this pivotal six-game roadtrip
With the Los Angeles Lakers starting a six-game road trip — one that features marquee games in Miami, Brooklyn, and Philadelphia — GM Rob Pelinka sat within earshot of the LA bench on Friday in the first row of the Amway Center bowl. Pelinka recently came under heavy fire from TNT analyst Charles Barkley for his offseason roster construction. Barkley noted that the Lakers' second-best player of late had been Stanley Johnson, who the Lakers plucked "off the street" following their slow start.
Pelinka had to be concerned Friday as the Lakers played terribly in the first half and incredibly trailed the 8-38 Magic by eight points at halftime. Of course, they would reverse that trend as Vogel made the heady move of removing aging center Dwight Howard from the lineup, putting LeBron James at center, and employing a small-ball defense where LA switched all screen-and-roll plays.
Vogel's strategy helped the Lakers get off to a 20-2 start to the second half, and it completely changed the game's temperature. Vogel's in-game adjustment was so heady that it had to have impressed the nearby Pelinka. 
Vogel is just two seasons removed from winning a championship in the Disney World "bubble" environment and has the Xs-and-Os acumen to put the Lakers in a position to be successful. It remains to be seen whether or not Westbrook will play under control, avoid turnovers, and avoid shooting missiles off the top of the backboard Challenging games lie ahead, and Westbrook's temerity will get tested by the likes of the Heat, Nets, 76ers, Hornets, and Hawks in the days ahead.
If the dynamic but often erratic point guard comes off the rails again, Vogel has made it clear that he isn't afraid to do what's necessary in the name of winning. It is his decision — and his decision alone, he reaffirmed — whether Westbrook will be on the floor or the bench late in games.    
All quotes in the article were obtained first hand.