The Los Angeles Lakers Are Finally Doing the Smart Thing by No Longer 'Yielding' All Decisions to LeBron James
LeBron James has always held a certain level of control over each NBA franchise he's been a part of. Right now, it's the Los Angeles Lakers, but he's also been a part of the decision-making process with both the Miami Heat and Cleveland Cavaliers.
He's won four NBA championships, so it's hard to argue with some of the meddling he's done over his 19 years in the league. But all of that seems to have arrived at a tipping point in LA.
Lakers general manager Rob Pelinka made some decisions (or non-decisions) at the trade deadline that LeBron and his agency, Klutch Sports, weren't fans of. That's now apparently created a disconnect with LBJ and part of LA's front office.
The threat of The King leaving at any point comes with the territory, and organizations are well aware of it when they bring him on board. All those teams have allowed James a certain level of leeway when it comes to his inclusion in team-building, but it sure sounds like Pelinka and the Lakers are finally drawing a line in the sand.
LeBron James has had a major hand in the Los Angeles Lakers' NBA roster decisions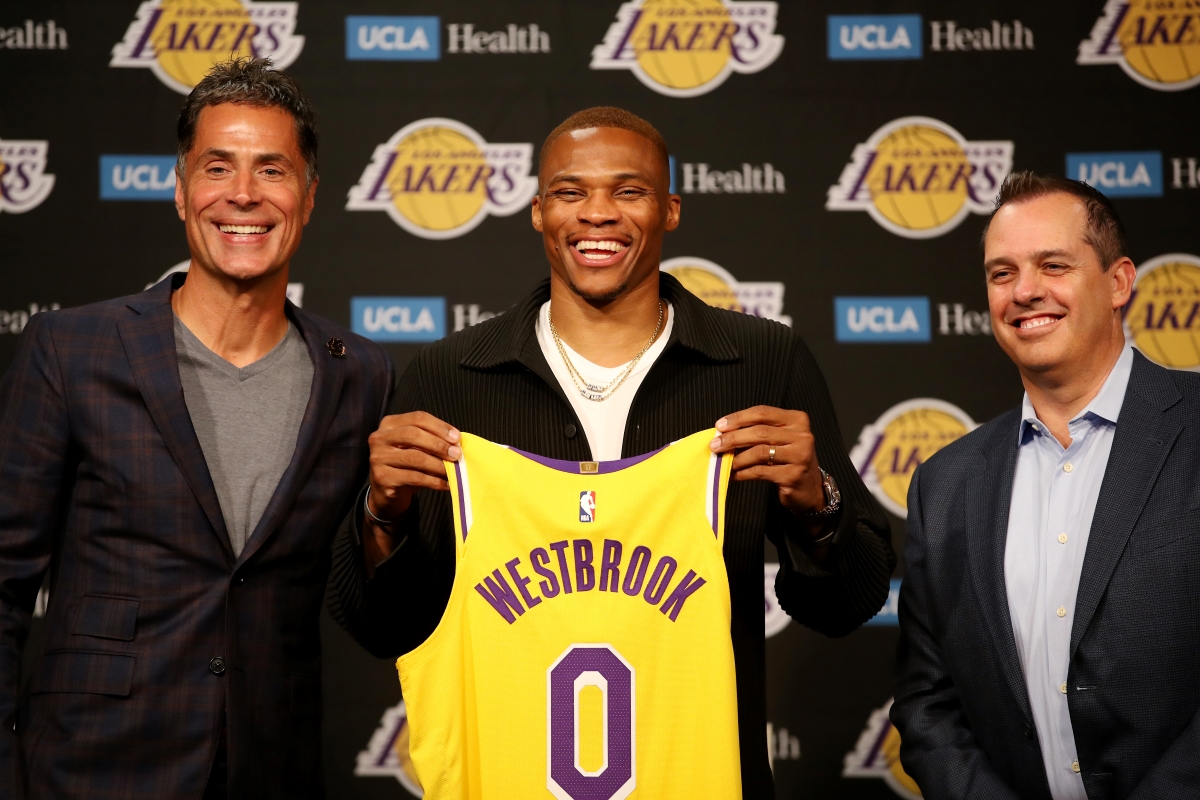 Understandably, LeBron has always sacrificed the long-term future of a franchise in favor of the short-term with the goal of winning titles as quickly as possible.
He sent Andrew Wiggins to the Minnesota Timberwolves in exchange for Kevin Love upon his arrival back in Cleveland, for example. Creating a trio of him, Dwyane Wade, and Chris Bosh in Miami meant filling out the rest of the roster with aging veterans and trading future picks to acquire more of them.
He arrived in LA and traded away not one but two No. 2 overall picks in Lonzo Ball and Brandon Ingram, another first-round pick in Josh Hart, and three more future first-rounders to bring in Anthony Davis. But the biggest mistake to this point in LeGM's front-office interference was the trade to acquire Russell Westbrook.
Three legitimate role players in Kyle Kuzma, Kentavious Caldwell-Pope, and Montrezl Harrell — along with yet another first-rounder — went back to Washington to create another Big Three of LeBron, AD, and Russ. That's been a complete and utter failure this season.
Which brings us to the latest news coming out of LA.
The Lakers are reportedly beginning to push back
Bron and Klutch pressured Pelinka to include the franchise's 2027 first-round pick in a deal to swap Westbrook for John Wall. According to Yahoo Sports, the Houston Rockets would have even accepted a 2027 pick swap, but Pelinka still said no.
His refusal to include the pick was probably twofold — that trade wouldn't make a significant difference in the Lakers' 2021-22 campaign, and it would also rid the franchise of one of its actual future assets — so Pelinka didn't pull the trigger.
According to a story by Bill Oram on The Athletic, that didn't sit well with LeBron and Klutch. As Oram wrote:
"It's obvious that James wanted him to do something. But Pelinka no doubt remembered that the last time he yielded to James' management instincts, he got saddled with Russell Westbrook.
"It is notable that maybe for the first time in James' tenure, he did not get what he wanted out of Pelinka."
At this point in his career, James is likely used to exerting his power where he feels it's required. For example, when he returned to the Cavs, he signed one-year contracts after every season to hang the threat of his departure over the Cleveland franchise.
It appears that now, though, Pelinka is at the point of telling James enough is enough.
LeBron doesn't appear to be long for LA
It can be considered immature and petty, but James not getting his way with the Lakers means a divorce is on the way, whether it's this offseason or when his contract is up after the 2022-23 campaign.
As Oram made clear, "Whichever way this goes, the events of the past week have proven something that has often been overlooked in the first four years of LeBron's Lakers tenure: The gift of his presence is not without an expiration date."
All signs point to James pulling another disappearing act and moving on from the Los Angeles Lakers to another NBA franchise. The only question now is when.
Like Sportscasting on Facebook. Follow us on Twitter @sportscasting19.
RELATED: How Much Did LeBron James' Future in Los Angeles Play a Role In the Lakers' Silent Trade Deadline?