A Bizarre Los Angeles Lakers Lineup Could Become Surprisingly Crucial to Saving What's Been a Disappointing Season
More than a quarter of the way into the 2021-22 NBA season, the Los Angeles Lakers are 11-11 and sit seventh in the Western Conference. For a team with sky-high expectations heading into the year, LA has underwhelmed.
But a recent lineup experiment by head coach Frank Vogel may have unlocked a wrinkle that could potentially save the Lakers' season.
It does remove LeBron James' Robin from the floor in Anthony Davis. And in doing so, it surprisingly creates a much more threatening offensive lineup. LA is looking for any way possible to kickstart a lifeless team, and Vogel may have just found it.
The LA Lakers are perhaps the NBA's biggest disappointment
LeBron and general manager Rob Pelinka rebuilt nearly the team's entire roster during the offseason. Only three players — James, Davis, and Talen Horton-Tucker — returned from the 2020-21 iteration.
To be fair, James has missed more than two weeks with an abdominal strain. His team has struggled mightily without him, though, so he's inserted himself back into the lineup at less than 100%.
But even with its four-time MVP, LA is still dealing with the same issues that have plagued the team all season. The Lakers are still 27th in the NBA in turnovers, 19th in defensive rating (108.5), 25th in defensive rebounding percentage (71.6), are giving up 14.2 second-chance points a night, and are allowing nearly 50 points in the paint per game.
LA can't hang onto the ball and is struggling to rebound or defend. Even The King isn't a savior for those problems.
But a recent lineup Vogel threw at the wall may be something that sticks and could help salvage the Lakers' season.
Benching Davis in favor of a frontcourt of James and Carmelo Anthony has been a success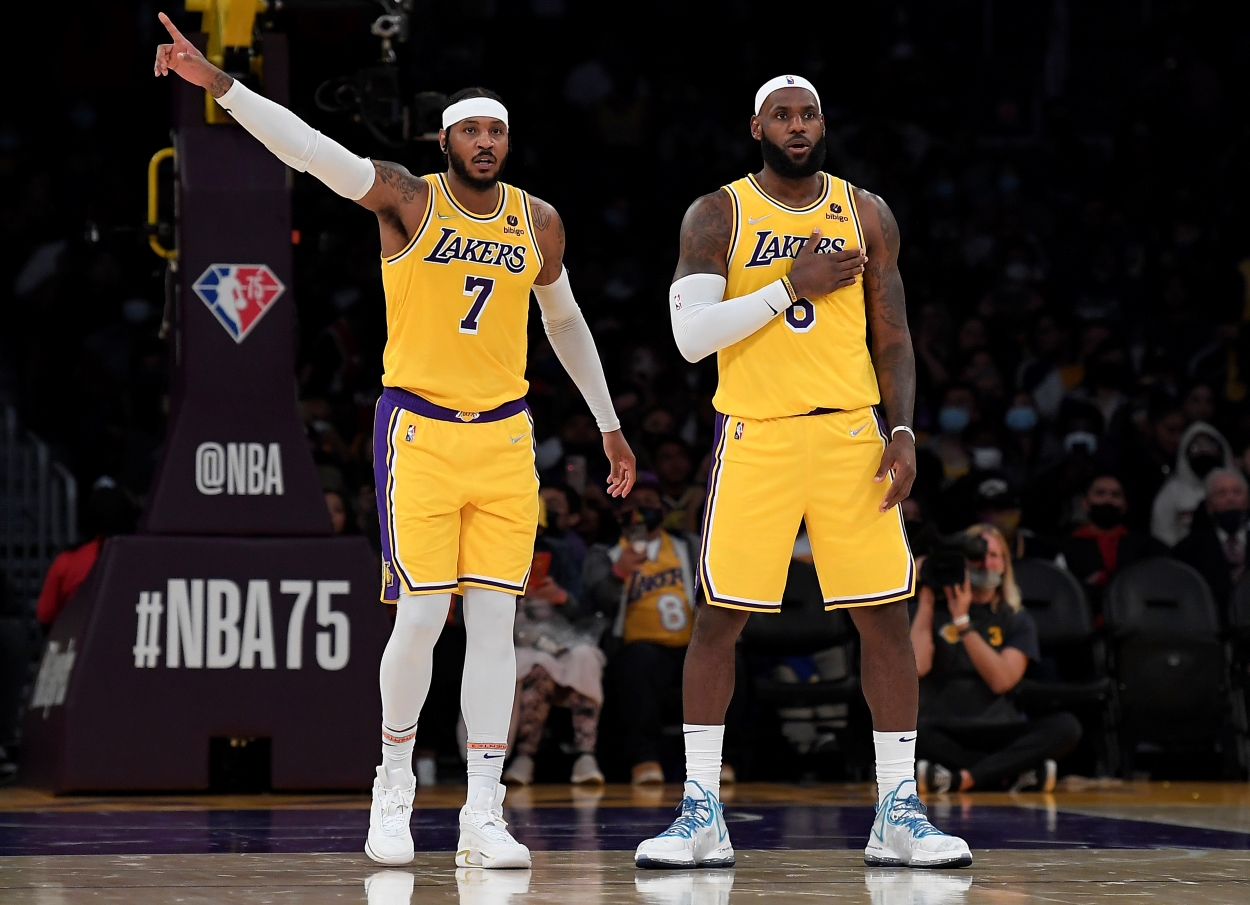 Caveat No. 1: Davis is clearly LA's second-best player. Caveat No. 2: It's a small sample size.
Nonetheless, Vogel seems to have found something over the past few games with Davis on the bench, James at the four, and Anthony at the five.
The "centerless" lineup, as LA's head coach has termed it, allows for more spacing and more quickness on defense. That helps two of the team's most significant issues.
The Lakers are also struggling to integrate the third member of their Big Three in Russell Westbrook. Russ is averaging 4.7 giveaways per game, the second-most in the league. He's a huge part of LA's turnover problem.
And his lack of an outside shot (31.3% from three on more than four attempts per game) severely affects the team's spacing. A lineup with Melo and LeBron up front creates more lanes for Westbrook to do what he does best and get to the rim. This lineup can run a five-out offense with absolutely no one clogging the lane.
Vogel said he's going to continue to tinker with a rotation that allows Russ to play to his strengths and his team to be more fleet of foot on defense, per Silver Screen and Roll (h/t Bleacher Report):
We played the second unit that basically closed the game out in Indiana with LeBron and Melo at the four, five. Call it a centerless lineup. There is a lot more space for Russ. Bron has a lot more space as a roller going to the basket, which was effective and we just have more switchability on the defensive side of the ball. I do think that's something we're going to grow and will be a part of our team going forward.

Lakers' head coach Frank Vogel on experimenting with a new lineup
LA seems to have found something with this new lineup. And at this point, any signs of progress are welcome for the Lakers.
Vogel needs to continue to Frankenstein his rotation
Sending Davis to the bench to close a game is a risky move. Most coaches aren't willing to sub out one of their best players in crunch time, especially when it takes any semblance of actual size off the floor.
But it was a brilliant stroke by Vogel as it helps solve some of the Lakers' most pressing problems. And there are other pieces to play with — Kendrick Nunn and Trevor Ariza are still out with injuries. Even at his advanced age, Rajon Rondo is capable of running a bench unit for stretches. Malik Monk can get hot and drop 25 points on a random night.
James, Anthony, Westbrook, and AD are going to be LA's core. But an experienced bench gives Vogel some options to play around the margins.
Once James returns to 100%, everything will become much more manageable. But a quarter of the regular season has gone by, and the Lakers are barely in a playoff spot.
LA's coach needs to keep experimenting with lineups to find his best rotation so his team is playing its best basketball heading into the postseason.
All statistics courtesy of NBA.com.