Los Angeles Lakers Fans Should Brace for Another Blockbuster NBA Offseason
The Los Angeles Lakers added Russell Westbrook to the roster in the summer of 2021 to join LeBron James and Anthony Davis in a quest for an NBA Championship.
That's not exactly how the 2021-22 season has played out.
The Lakers entered the All-Star break 27-31 and ninth in the Western Conference standings. That's a far, far cry from where LA expected to be when Russ arrived in Hollywood.
But with the way the rest of the team's roster is constructed, general manager Rob Pelinka couldn't make any deals at the NBA trade deadline to alter anything. The Lakers are what they are for the rest of this season.
However, that's all but guaranteed to change before the start of the 2022-23 campaign. And there's a chance it changes drastically.
LA is having a nightmare 2021-22 season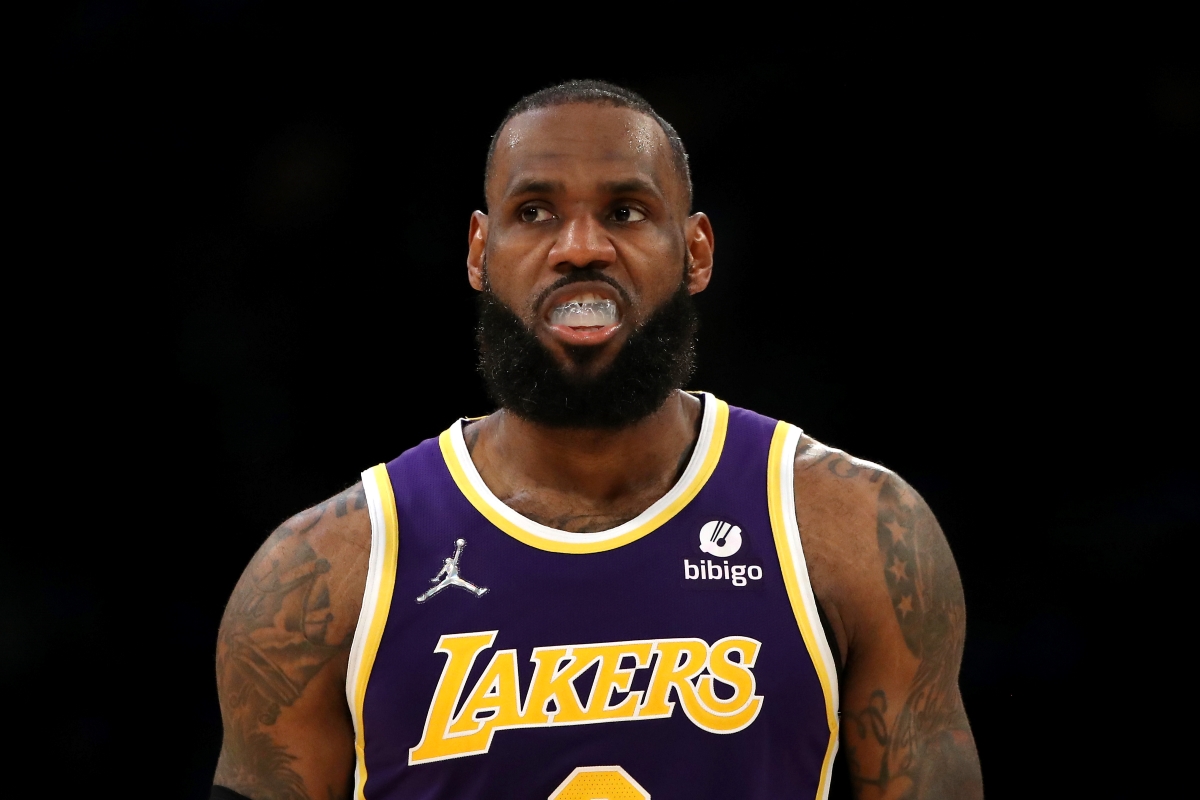 Any team led by King James has dramatically high aspirations. Any team that features LBJ and Anthony Davis surely has even higher dreams.
But a team with LeBron, AD, and Westbrook? It was championship or bust this season for LA.
It's turned out to be bust.
The Phoenix Suns have the NBA's best record at 48-10. The Lakers are 21 games worse than that.
LeBron and Co. are 2.5 games ahead of the Portland Trail Blazers — who embarrassed LA before the All-Star break — for the final spot in the play-in tournament.
The Lakers are 10th in scoring but haven't solved the two issues that have plagued them since October — LA is 26th in points allowed and 17th in rebounding. The team's best lineup, which features James at center, hurts those issues more than it helps them.
Davis has missed 21 games already and is expected to be out at least another three weeks with a foot sprain. LeBron has missed 17, and the 37-year-old, 19-year veteran still leads the Lakers in minutes.
LA can pretty much call it a wrap on the 2021-22 campaign.
How different could the Los Angeles Lakers roster look next year?
The answer is dramatically, drastically, unbelievably, incredibly — whatever superlative you'd like to use — different.
Reportedly, there's now a fracture between LeBron and Pelinka after the latter refused a trade that would have sent Westbrook and a 2027 first-round pick to the Houston Rockets for John Wall.
Upsetting LeGM is never a good idea. But upsetting a LeGM who is clearly aware of his basketball mortality is even worse. Significant changes are likely coming to Hollywood.
An important and potentially ominous note — Only LeBron, Davis, and Talen Horton-Tucker remain from the 2020-21 Lakers — the team made adjustments to the other 12 roster spots in a single offseason.
Westbrook is the easiest scapegoat and the most obvious player to be moved. If Bron wanted him gone at the trade deadline, he's likely to find himself on another roster before next year.
THT is under contract for next season, but he's one of the franchise's best young players, aka best trade assets. Kendrick Nunn has a $5.25 million player option, and the Lakers hold team options on Stanley Johnson and Austin Reaves (another possible trade asset).
Malik Monk is a candidate to return to LA and possibly Carmelo Anthony, but otherwise, a host of unproductive veterans will likely be cleared out.
Westbrook has a player option of $47 million for next season that he's likely to exercise, so if the Lakers want to pull the trigger on a trade, they'd be taking a similar salary back in return. Hence the Wall possibility.
That would give the team around $20 million in cap space with only seven roster spots filled, not including Monk or Melo. Pelinka will have the taxpayer mid-level exception ($6.4 million) to play with, but he and LeBron won't have many options in terms of adding game-changing free agents.
That would make a trade involving Davis the best option if the Los Angeles Lakers want to make a significant roster change around LBJ.
AD would surely fetch a haul, and LA could turn one superstar into two or three solid veterans to put more depth and balance around James. It might sound crazy on the surface, but it's the Lakers' best option if they want to completely re-tool the roster.
It's also important to keep in mind that Bron is only under contract for one more season after next year, and almost all signs point to him dipping from LA after that. So if the franchise wants to take one more serious run at a title with James still on the roster, dramatic, blockbuster changes need to be made.
There are zero guarantees for the Lakers in 2022-23
Westbrook is more likely to get traded than not. A Davis trade would be a shock, but it's definitely not out of the realm of possibility.
LeBron is desperate for another championship as he moves further into the twilight of his career. If the Lakers are equally as desperate, anything is possible.
James is under contract for 2022-23. But if things aren't working out as LeGM wants them, there's no one on the roster who's safe.
All statistics courtesy of NBA.com and salary information courtesy of Spotrac.
RELATED: Stephen A. Smith Criticizes LeBron James for Potential Rob Pelinka Dig