Los Angeles Lakers Have a Big Problem Looming With Training Camp Fast Approaching
The Los Angeles Lakers took a big swing toward returning to title contention by trading for Russell Westbrook. They followed that with a bevy of veteran's minimum additions surrounding the LeBron James-Anthony Davis-Westbrook trio with shooters. LA also brought back big man Dwight Howard for a third go-around. But their frontcourt depth might be shakier than they initially thought. Center Marc Gasol is reportedly having second thoughts about coming back this season.
The former Defensive Player of the Year signed a two-year deal with the Lakers in November 2020. That was a return to the franchise that drafted him in 2007 and to a team for which his older brother Pau starred (and won two titles). While Gasol started 42 games last season, he also missed 20 and averaged only 19.1 minutes a game.
Marc Gasol wasn't a central cog for the Lakers
Marc Gasol was asked to stretch the floor in his limited minutes, a skill he added later in his career. On 2.3 3-point attempts per game, Gasol hit 41.0%, so he was effective. But his minutes declined in the playoffs. He sat out Game 1 of their first-round meeting against the Phoenix Suns before coming off the bench the next four games. His lone start in the series was in Game 6 when he finished with no points, three rebounds, and seven assists in 18 minutes.
Game 6 ended the Lakers' season as they dropped three straight games after taking a 2–1 lead over the eventual Western Conference champions.
Gasol won a ring with the Toronto Raptors in 2019, but his role declined in 2019-20. It got smaller with the move to LA. He teamed up with Pau for a final run with the Spanish national team at the Tokyo Olympics. Gasol averaged 5.8 points, 4.3 rebounds, and 3.5 assists in 18.6 minutes a game as Team USA eliminated Spain in the quarterfinals.
Gasol sounded confident in Tokyo about a return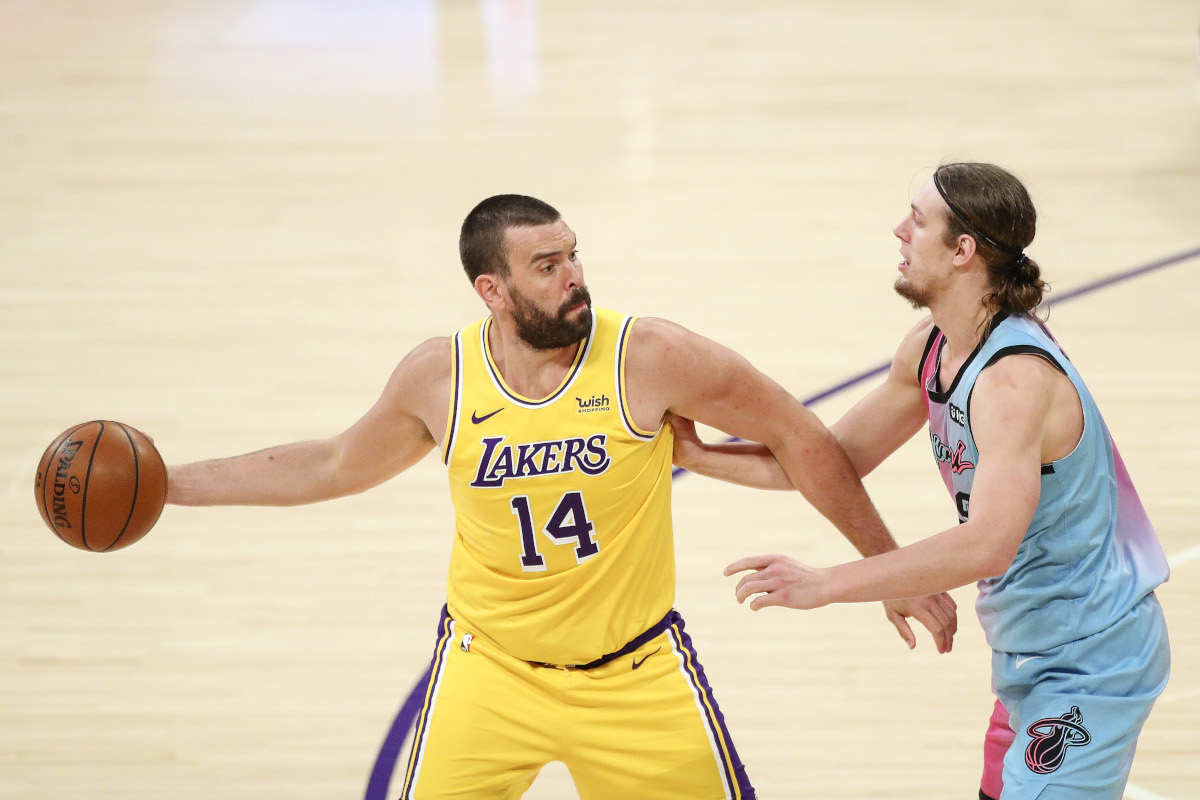 After Spain's exit at the Tokyo Olympics, Pau and Marc Gasol announced they were bowing out of international competition. But ESPN's Brian Windhorst reported that Marc Gasol confirmed he was coming back for the final season of his contract with the Lakers.
However, Marc Stein had a contrary report in his Substack column. Stein reported it's no longer a sure thing Gasol will be in LA for this season.
"I'm hearing that Marc Gasol is not a lock to return to the Lakers, even after Gasol said following Spain's quarterfinal loss to the United States in the Olympics that he intends to play out the final year of the two-year deal he signed with Los Angeles. It's not yet clear if that means Gasol is poised to be set free to play elsewhere in the NBA or if he would ultimately opt to finish his career in his home country like brother Pau."
The 40-year-old Pau Gasol appeared in 16 games in the domestic ACB league and seven Euroleague contests with FC Barcelona last season.
The Lakers could have a size problem without Marc Gasol
If Marc Gasol decides not to return to the Lakers, Howard would be the lone center on the roster. LA does have Davis, who has considerable experience at the 5, but it's not a spot he's fond of playing.
Andre Drummond left as a free agent to sign with the Philadelphia 76ers. Meanwhile, Kostas Antetokounmpo played out his two-way contract with the Lakers and signed a two-year deal to play for Tony Parker's ASVEL Villeurbanne in France.
There are still veteran big men on the market (because the Lakers wouldn't — gasp! — sign a young player). But the pickings are slim. DeMarcus Cousins didn't play for the Lakers while holding a roster spot in 2019–20. Others available include Bismack Biyombo, Meyers Leonard, and former Laker Ed Davis.
Cousins was an afterthought for the Los Angeles Clippers in the playoffs, Biyombo can block shots and not much else, and Davis is both on the wrong side of 30 (or the right side, considering it's the Lakers). He has played only 51 games and a shade more than 600 minutes over the last two seasons.
It seems like the Lakers built to go small a lot this season with combinations of James, Davis, Westbrook, and shooters. But not having Marc Gasol could leave them vulnerable against teams with size.
Statistics courtesy of Basketball Reference, RealGM and FIBA.