The Los Angeles Lakers Just Added Another Former All-Star While Saying Goodbye to Another
A lot of new faces are going to surround LeBron James and Anthony Davis next season. The Los Angeles Lakers are continuing to overhaul their roster, adding former All-Stars Russell Westbrook, Carmelo Anthony, and Dwight Howard to a team that finished 42-30 in 2020-21.
The changes are still ongoing for head coach Frank Vogel's team. LA officially acquired De'Andre Jordan, another former All-Star, after he was waived by the Detroit Pistons. But his addition meant saying goodbye to a player who wore Purple and Gold last season but failed to live up to expectations.
The Los Angeles Lakers traded away a disappointing signing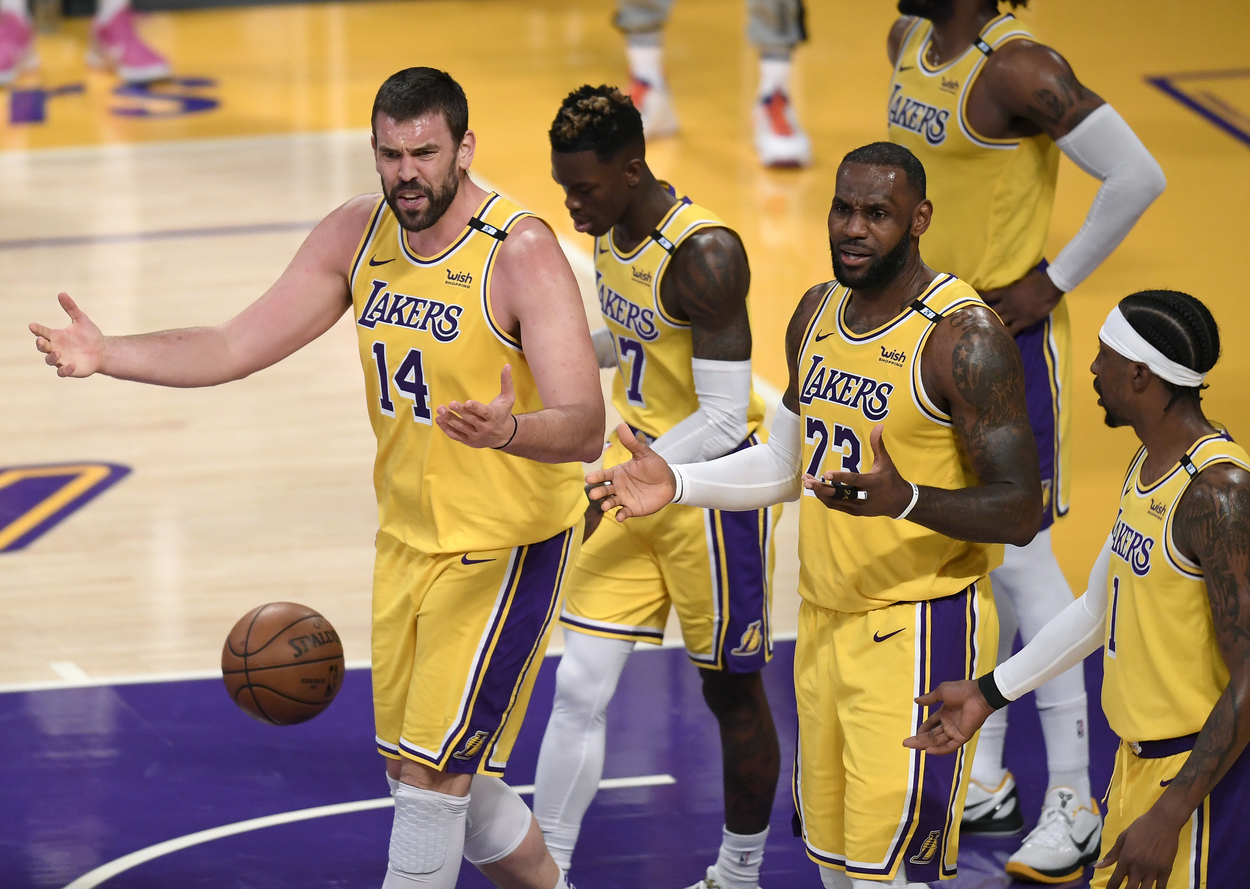 The same day after announcing Jordan's contract, the Lakers traded center Marc Gasol to the Memphis Grizzlies. Gasol was brought in last season to assume the starting center job following the departures of Howard and JaVale McGee. And while he did give LA 42 starts, the two-time All-NBA selection averaged a career-low five 5.0 points and 4.1 rebounds per game.
Eventually, Gasol relinquished his starting role and spent all but one of LA's six postseason games coming off of the bench. With his role on the team in doubt, the Lakers sent the 36-year-old, plus a 2024 second-round pick and cash, to Memphis for the draft rights to 2016 second-round pick Wang Zhelin, who has yet to play in the NBA. The Grizzlies, the team Gasol spent close to 11 seasons with, are reportedly waiving the 6-foot-11 big man.
De'Andre Jordan hopes to turn back the clock
Jordan is banking on a return to glory after inking a one-year deal worth a little over $2.6 million. The 6-foot-11 center from Texas A&M spent the last two seasons with the Brooklyn Nets, starting 49 out of 113 regular-season games he participated in.
Last season saw a dramatic drop in production for the 13-year veteran. Jordan averaged 7.5 points, his lowest since his fourth year in the league. He also brought in 7.5 boards, the first time he hasn't averaged 10 or more since 2012-13. Jordan averaged 8.3 points and 10.0 boards in 22.0 minutes the year prior, but failed to do so last season with 21.9 minutes.
At his best, Jordan is a player who can put down 70 percent of his field-goal attempts, reel in double-digit rebounds, and add two blocks per game. However, the last time he did all three was 2015-16, when the big man was just 27 years old.
The Lakers continue their veteran re-shuffle
Following their disappointing first-round exit at the hands of the Phoenix Suns, the Lakers are only returning four players from last year's team. James and Davis are two, while Talen Horton-Tucker and benchwarmer Devontae Cacok are the other two.
LA's goal is to bring in experienced veterans, and the 33-year-old Jordan is no exception. The Lakers now have 11 players 32 or older, including a now 36-year-old James. One of those veterans, shooting guard Wayne Ellington, doesn't think age will be a problem.
"I think age is just a number," Ellington said at his introductory press conference. "I feel like we got guys that have been pretty healthy, still moving really well, and even some guys that are playing some of their best basketball right now at this age."
Jordan might not be one of those playing his best basketball, but LA will give him every opportunity to make an impact as a rebounder, shot-blocker, and finisher at the rim. With Gasol now gone, he and Howard are the only true centers on the roster, not counting Davis when he shifts to the 5-spot.
"Obviously as a big, when I was in high school, a guy that I watched all the time was Dwight Howard," Jordan said during his introductory press conference. "And obviously we never had a chance to be teammates before, but I competed against him a ton when he was in Orlando and a couple of other teams, and it's been great being able to see him. Now we're teammates, and it's awesome."
Balancing the two older centers with decorated resumes will be fun for Vogel and his staff. For LA's sake, hopefully the production is better than what Gasol gave them.
All statistics courtesy of Basketball Reference.
RELATED: LeBron James and the Los Angeles Lakers Might Have Their Sights Set on Another All-Star After Latest Klutch Signing