The Los Angeles Lakers' Past Mistakes Continue to Haunt Them as Two of Their Most Inexcusable Decisions Just Humiliated Them at Staples Center
The Los Angeles Lakers are off to a difficult start. That's putting it kindly. LeBron James and LA's front office have made some questionable choices, this past offseason in particular. But it goes back further than that. Once LBJ decided to head west, the Lakers rebuilt their team from the ground up. When they got blasted by the Chicago Bulls on Nov. 15, two of those moves, in particular, came back to haunt them.
The Lakers let guard Alex Caruso walk this summer, and he signed a free-agent deal with Chicago. When LA made the blockbuster trade to acquire Anthony Davis from New Orleans, one of the major pieces the team sent out was point guard Lonzo Ball, who also ended up with the Bulls this offseason.
Along with a LA native in DeMar DeRozan, those two were vital in dismantling the Lakers in front of their own fans at Staples Center.
The Chicago Bulls routed the Los Angeles Lakers 121-103
With James still out nursing an abdominal strain, the Lakers' offense continued to run through Anthony Davis. He was the focal point for LA.
He was also, however, the focal point for Chicago.
Davis finished with 20 points but four turnovers and a minus-22. He was hounded and frustrated all night as he saw two — and sometimes more — Bulls crashing into his vicinity.
He attempted just nine shots, and according to ESPN Stats and Information, Davis saw 15 double teams, his most in any game since arriving in LA.
Eventually, he was ejected in the fourth quarter, with LA trailing by more than 20.
"We haven't seen that type of double team this year," Lakers head coach Frank Vogel said postgame via Lakers Nation. "Credit Chicago for being very aggressive. They were trying to take him out of the game with post frontals and immediate double teams."
Defense played a huge part in the win, but two former members of the Lake Show were even more crucial.
Two Chicago Bulls players — and former Lakers — were a significant part of the win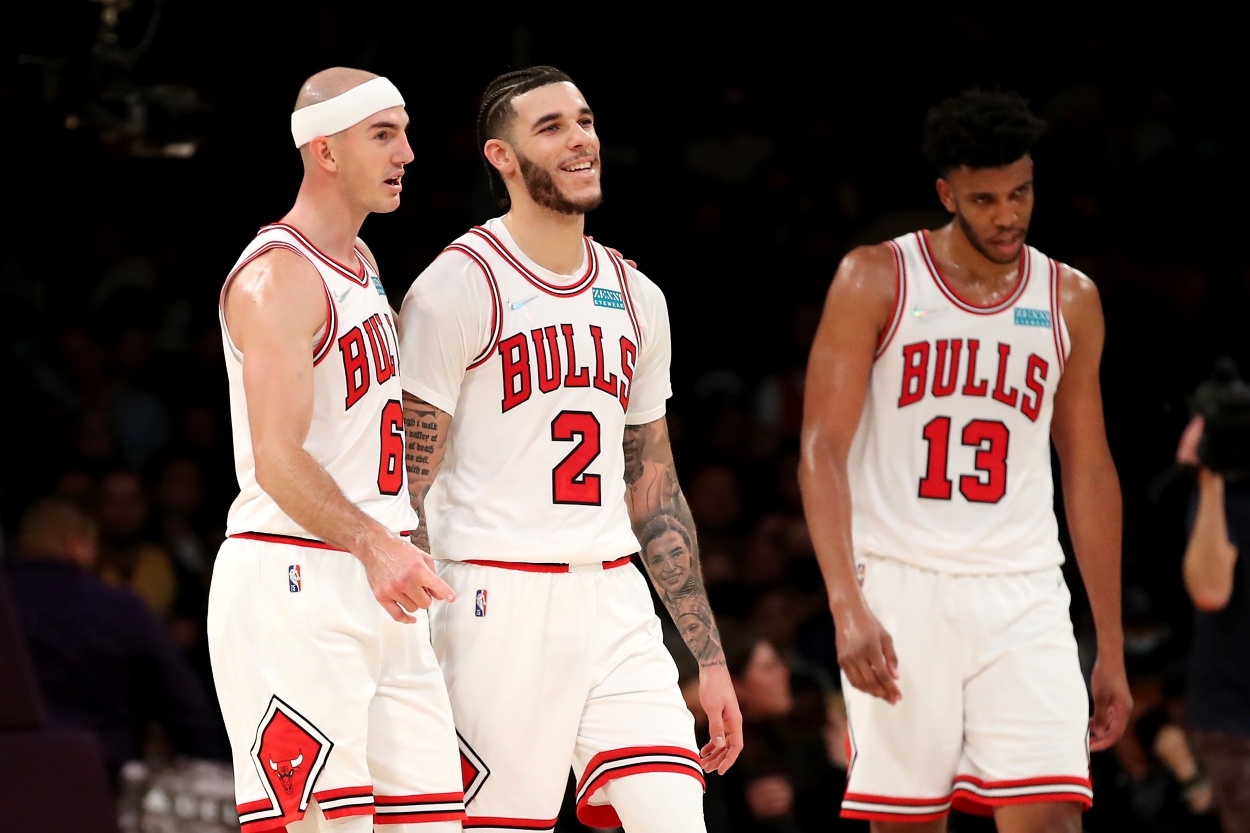 The Bulls shot down LA's biggest offensive threat sans James, but Chicago's offense was the story.
Hometown kid DeMar DeRozan scored a game-high 38 points. Zach LaVine added 26, but it was former Laker Lonzo Ball, whom LA picked at No. 2 in the 2017 draft, who stole the show.
Ball had a season-high 27 points and added eight assists and seven rebounds against his former team. The ex-UCLA star was 7-of-10 from three.
LA made six 3-pointers as a team.
While Ball scored 27, Caruso had zero points. But in typical Bald Mamba fashion, he found other ways to affect the game.
The undrafted rookie out of Texas A&M was LA's best perimeter defender the past two seasons. His effort and hustle endeared him to the Lakers and their fans so much that they held a Caruso Tribute before the game.
A tribute for a player who's averaged 6.0 points during his five career seasons seems indicative of his importance to a franchise.
Who would Lakers head coach Frank Vogel have looked to to defend DeRozan, Ball, or LaVine? That would have been Caruso — who was busy hassling Russell Westbrook into four turnovers and a minus-13 on the night.
Ball was part of the deal that brought Davis to LA. Ninety-nine times out of 100, the Lakers are making that trade; Davis is the obvious superstar.
However, Caruso could have been retained had the organization been willing to dive a little deeper into the luxury tax. Instead, general manager Rob Pelinka and LeBron elected to let Caruso go, keep a younger player in Talen Horton-Tucker, and fill out the rest of the roster with veterans on minimum salaries.
The team could have elected not to go all-in on Westbrook either, another offseason move that has proven zero dividends thus far.
The Bulls and Lakers are currently headed in drastically different directions
Chicago moved to 10-4 with the win. The Bulls are a half-game back of the East-leading Washington Wizards.
LA, on the other hand, dropped to 8-7. The Lakers have missed James, an obvious wrench thrown into the team's early-season plans. But Davis has struggled to put the franchise on his back in The King's stead, and Westbrook is turning the ball over an alarming 5.3 times per game.
The Purple and Gold have made two blockbuster trades and several free-agent moves on the fringes since James arrived in 2018. Ball and Caruso were the two that came back to haunt them in the loss to Chicago, but they haven't been the only ones. (For what it's worth, DeRozan flirted with signing with the Lakers this offseason as well).
Pelinka and LeBron have been thrown under the microscope for this year's roster construction. The plan appears to have been to build a Big Three and surround it with experience. That plan, to this point, has failed.
While Chicago continues to float around the top of the Eastern Conference, the Lakers can't find the right combination to do the same in the West. The front-office decisions that have been made since James' arrival were good enough to win the 2020 NBA Championship.
Since then, however, they simply have not been good enough.
All statistics courtesy of NBA.com.