The Los Angeles Lakers' Romanticized Offseason Has Failed so Spectacularly Even LeBron James Won't Be Able to Fix It
There was — not unexpectedly — a ton of hype surrounding the Los Angeles Lakers heading into this season. LeBron James and general manager Rob Pelinka made wholesale changes to the team's roster. Acquiring Russell Westbrook from the Washington Wizards was the headliner, but it was far from the only move the organization completed.
But it appears that hype was unwarranted. Adding Westbrook to the James-Anthony Davis duo was a controversial decision, and Russ hasn't done much to quell the concerns.
Admittedly, LeBron has been sidelined for more than half of LA's games through the first three-and-a-half weeks. But that's far from the only issue the Lakers have, and the team, as currently constructed, has problems even The King won't be able to fix when he does return.
The Los Angeles Lakers rebuilt almost their entire roster during the offseason
LeBron arrived in LA in 2018. He's the most tenured Laker.
Only three players from last year's team remain.
The most significant move was bringing in Westbrook from Washington. The franchise sent Kyle Kuzma, Montrezl Harrell, Kentavious Caldwell-Pope, and the No. 22 pick in the 2021 draft to the Wizards for the 2016-17 MVP.
On its face, the trade made sense. James creates another Big Three with Westbrook alongside him and Davis. But the fit was questionable, at best. Russ is a ball-dominant guard who can't shoot. He's also in his 13th NBA season with a game predicated on athleticism.
LA's decision not to retain guard Alex Caruso flew under the radar. He now plays for the Chicago Bulls. Dennis Schroder left to sign with the Boston Celtics. Markieff Morris (who's been in the news lately) now plays for the Miami Heat.
Is it any coincidence the Wizards are 8-3 and in first place in the Eastern Conference, the Bulls are 8-4 and a half-game back, and the Lakers are one game over .500?
Perhaps not.
When LeBron James returns, even he won't be able to fix LA's issues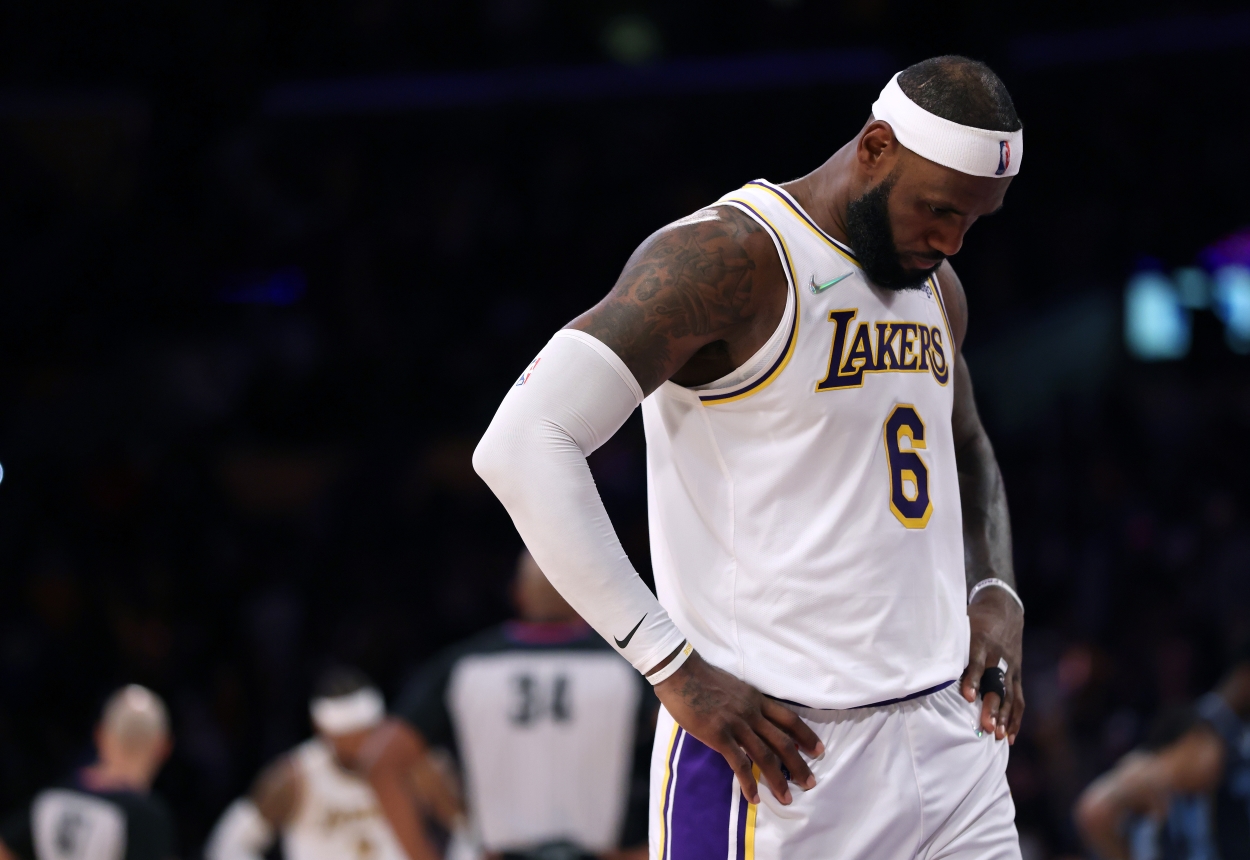 In place of a good chunk of last season's rotation, James and the Lakers brought in a slew of veterans. Rajon Rondo and Dwight Howard returned after helping the team win the 2020 NBA Championship. Carmelo Anthony, Trevor Ariza, Wayne Ellington, and Kent Bazemore all followed them to Hollywood.
The apparent strategy was to build a Big Three and surround it with experience. But things haven't gone according to plan.
James, Davis, Schroder, Caldwell-Pope, and Marc Gasol (not currently in the NBA) played the most minutes as a five-person lineup last year for LA. That group had a plus-minus of 3.2.
Two other lineups played more than five games together and had a higher plus-minus. Those were James, Wes Matthews (also not currently in the NBA), Morris, Harrell, and Caruso (plus-minus 5.2); and James, Davis, Schroder, Caldwell-Pope, and Caruso (3.6).
Only James and Davis remain of LA's three most successful lineups in 2020-21.
The Lakers won the 2020 title, so let's go back and look at the best lineup from that year's playoffs. The most successful grouping was James, JaVale McGee, Danny Green, Davis, and Caldwell-Pope. Again, only LeBron and AD remain.
Meanwhile, Caruso is Chicago's best wing defender, and he's shooting 35.5% from three for one of the best teams in the league. In Washington, Harrell is second behind only Bradley Beal in scoring, Kuzma is fourth, and KCP is fifth as the Wizards sit atop the East.
The Lakers have a long way to go if this team is going to win a title
LA is bleeding points, coughing up turnovers, and struggling to rebound. Not exactly keys to NBA success.
After James, Westbrook, Davis, and Carmelo Anthony, the Lakers' main rotation pieces are Bazemore, Avery Bradley (picked up days before the regular season), Malik Monk, Ellington, and Austin Reaves.
Instead of Russ and that group, LeBron and AD could be surrounded by four younger, healthier, more productive players currently sporting crucial roles on successful teams.
It appears the Lakers' offseason hype, which comes with the territory, was much ado about nothing. And the issues that offseason created — namely an old roster that lacks athleticism, defense, and the ability to rebound — aren't fixable by one player.
Even LeBron isn't coming to the rescue of a team this poorly constructed.
All statistics courtesy of NBA.com.