The Los Angeles Lakers Are Trying to Save Their Season via Trade, but Their Answer Is Already On the Roster
The Los Angeles Lakers' season needs to be rescued. LeBron James and Co. are spinning their wheels in the middle of the Western Conference. But a Russell Westbrook trade or any other blockbuster deal isn't in the cards. Instead, the Lakers need to look inward because their answer is already on the roster.
The Westbrook trade and all the geriatric signings LeBron and general manager Rob Pelinka made got all the offseason headlines. But there's a group of players who are starting to get more run and could spark a Lakers resurgence in the second portion of the year.
The first half of LA's season hasn't gone according to plan
The Lakers head into a matchup with the surging Memphis Grizzlies on Jan. 9, riding a four-game winning streak. LBJ and his band of misfits (it's fair to call them that at this point, right?) have won four of their last five.
That's vaulted LA all the way up to sixth in the Western Conference standings. Usually, the words "vault" and "sixth in the standings" in the same sentence don't mean things have gone great.
However, there does appear to be a light at the end of the tunnel. It could be an oncoming train, or, to think positively, it's a way out of the 2021-22 darkness.
The most significant development in all of this is that James is on a tear. Despite his team managing to go just 5-5 over the last 10 games, the 37-year-old is second in the NBA in scoring during that span.
In all, The King is averaging 34.1 points, 9.6 rebounds, 6.2 assists, and 3.5 stocks (steals plus blocks) on 55.3% shooting.
Without Anthony Davis, head coach Frank Vogel has had to go small with his lineups, often playing James at center. The small-ball has worked.
But in the process, Vogel may have unearthed another piece of light, one that would be more sustainable.
The Los Angeles Lakers have been going young with the roster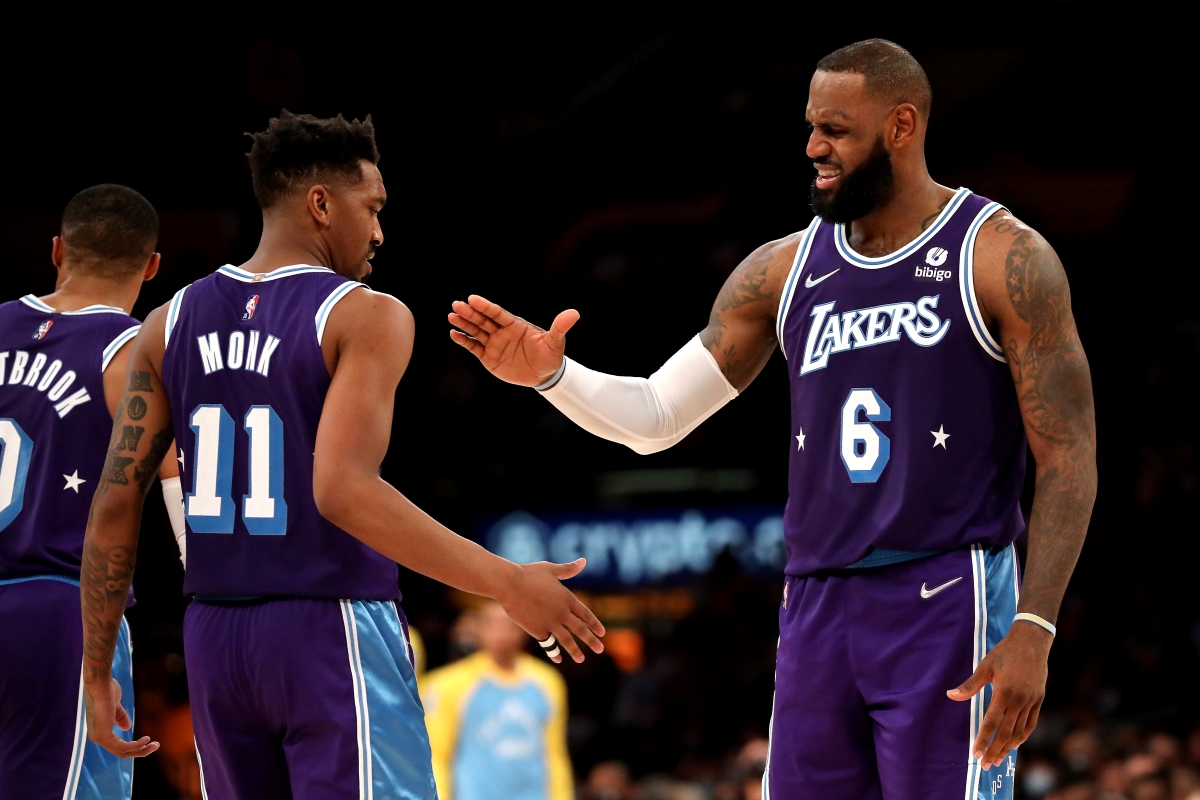 LA traded for Russ and brought in players like Rajon Rondo, Trevor Ariza, Kent Bazemore, Dwight Howard, and Carmelo Anthony to surround its Big Three.
Rondo has already been traded. Howard is a part-time player, Ariza was out with injury for most of the first part of the season, and Bazemore has moved his play from bad to average.
Anthony has been the team's saving grace.
But, recently, the Lakers have seen an uptick in production from Malik Monk. Talen Horton-Tucker has been solid after an early-season injury. Austin Reaves may be the find of the season, for any team.
Kendrick Nunn, who may have been the wisest free-agent signing of all, is set to return soon. Even Stanley Johnson, who joined the team on a 10-day contract, has been important.
Over that same 10-game span, Monk is playing nearly 35 minutes a night and averaging 21.9 points. THT is playing 27.5 and is scoring 10.2. Johnson has played 24.2 minutes over his six games. Reaves is averaging more than 20 minutes a night.
In ascending order, the ages of said players:
Horton-Tucker, 21 years old
Monk, 23 years old
Reaves, 23 years old
Johnson, 25 years old
Nunn, 26 years old
(Even Davis, if you count him, is only 28).
The youth movement has been on, even if it was accidental. But it's helping the Lakers win games, which is a relatively new development for them this year.
Vogel needs to stick with the young guns to turn the season around
Players like Wayne Ellington, Bazemore, and even Ariza are more established. They are proven veteran role players.
The young guys are not.
But they do have what LeBron needs surrounding him — athletic players to get out and run in transition, defend, and follow his lead.
The original goal may have been to surround James, Westbrook, and Davis with age and experience. But Vogel seems to have stumbled upon the thing that might end up saving his team's season.
All statistics courtesy of NBA.com.