Should the Los Angeles Rams Re-Sign Odell Beckham Jr.?
The Los Angeles Rams already had one of the NFL's most talented rosters when the franchise took a risk and signed oft-criticized wide receiver Odell Beckham Jr. midway through the 2021 season.
What did it cost? Only Beckham himself can answer that question.
The good news is Beckham, who turned 29 in November, proved instrumental in the Rams' championship run. However, he suffered a non-contact knee injury midway through Super Bowl 56 and watched teammate Matthew Stafford lead a game-winning, fourth-quarter drive from the sidelines. It is believed the veteran receiver tore his left ACL for the second time in less than two years.
The Rams likely already knew ahead of time they'd need to make a difficult decision ahead of time regarding Beckham's future in Los Angeles. However, the three-time Pro Bowler's latest knee injury only raises questions about what lies ahead.
Odell Beckham Jr. exceeded every expectation on and off the field after joining the Rams
Before getting too deep into Beckham's free agency case, the backstory is essential here because of all the narratives and accusations surrounding the talented receiver. It was only in November when the Browns, having had enough of the off-field drama involving Beckham, his father, and frustration over a lack of targets, waived the 2014 Offensive Rookie of the Year. No team claimed him, and he hit the market as a free agent.
At the time, there were two schools of thought about Beckham's NFL future. The receiver's defenders felt Browns quarterback Baker Mayfield was the issue, and he'd benefit from a new home, whether it was with Bill Belichick's New England Patriots or Aaron Rodgers' Green Bay Packers. His detractors felt they'd seen enough in recent years to write him off and suggest his best days were over.
In hindsight, both of those beliefs could still come to fruition. Beckham hauled in 27 passes for 305 yards and five touchdowns in eight games and seven starts with the Rams; that's a 58-catch, 648-yard, 11-touchdown pace in a 17-game season, well short of what he accomplished in his best years with the New York Giants.
However, there is no denying the LSU product thrived in his new home, especially when the playoffs began. Beckham totaled 21 catches, 288 yards, and two touchdowns in four postseason games. Suddenly, there were no more reported issues, valid or not, about a lack of targets or him not meshing with teammates.
Whether or not Beckham did enough to earn a substantial contract, at least before his injury, would have been one conversation. However, he rehabilitated his image and, in large part because of his play, changed the narrative.
Beckham's knee injury could significantly impact his next potential contract
Leading up to Super Bowl 56, it appeared Beckham had positioned himself for a multi-year contract. Even if he didn't break the bank ahead of his age-30 season, he'd likely attract suitors and have the Rams interested in bringing him back for another playoff run.
Everything changed when Beckham likely tore his left ACL for the second time in 16 months; he went down with the same injury in October 2020. Even if he has an incredible recovery during the offseason, he almost certainly won't be cleared to play in the 2022 preseason. In fact, his status for Opening Day — less than seven months away — is extremely uncertain.
What does that mean for Beckham's market? Well, it depends on how risky teams want to get this offseason. In theory, a contender could sign Beckham hoping he'll be ready to play in October or November. The team could then slowly build him up with the expectation he'd be at full strength, or somewhere close to it, when the postseason begins.
However, teams may not want to sign him until either this summer or even after the start of next season. Why would any team guarantee significant money to a player coming off two ACL surgeries?
Should the Rams re-sign Beckham?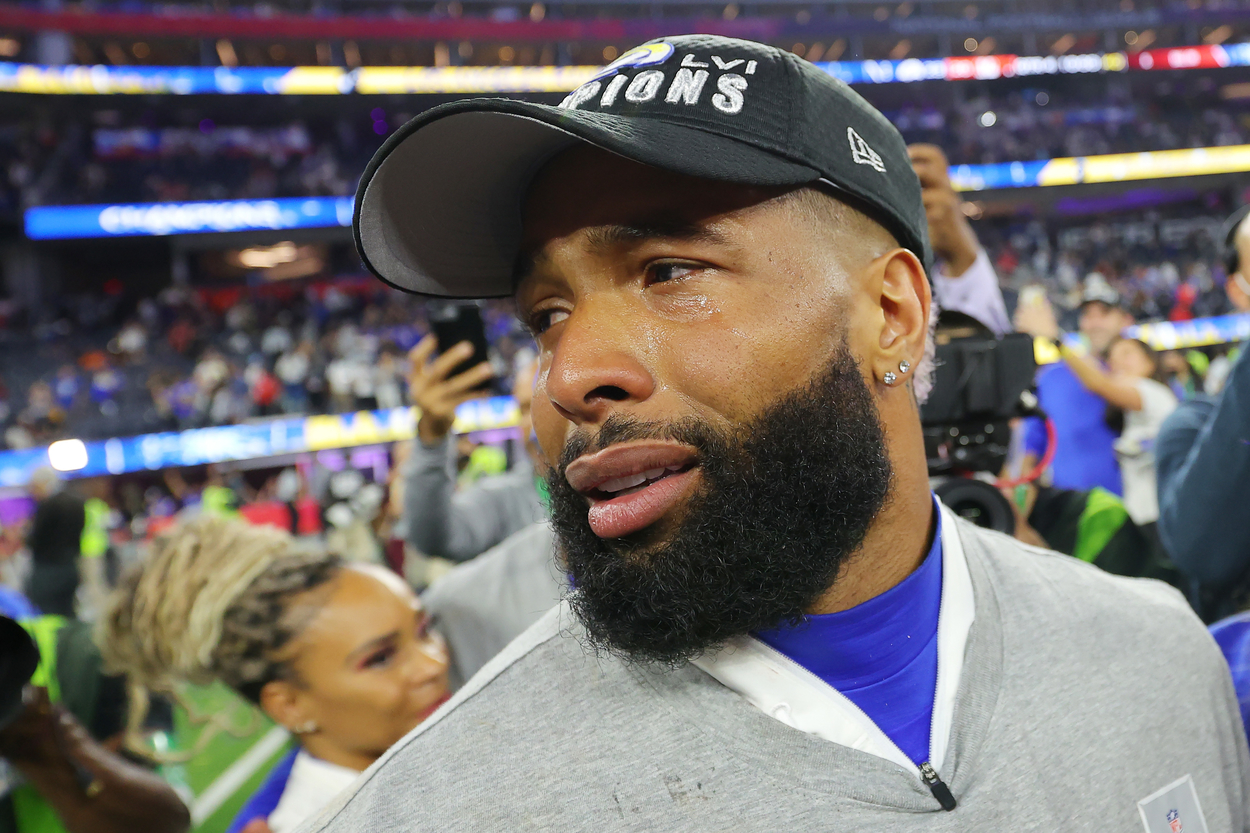 Beckham's entire NFL future changed the second his knee buckled, and he fell to the SoFi Stadium turf. Any dreams he had of signing a massive contract likely ended on Sunday night.
With that said, the Rams shouldn't give up on Beckham just yet. In fact, his knee injury might actually make a reunion more appealing. The Rams could theoretically sign Beckham to an incentive-laden contract with several financial-related milestones, including those related to playoff wins, as they did this past season.
If Beckham is willing to sign such a contract and return to the Rams, the team should absolutely consider re-signing him. However, the organization should not bother waiting for his figures to come down if he's still hoping to sign a lucrative deal.
Only time will tell if Beckham earns another big-money contract. However, after all of the drama in New York and Cleveland, he at least can call himself a champion. Take that, Twitter.
Like Sportscasting on Facebook. Follow us on Twitter @sportscasting19.
RELATED: What the Los Angeles Rams' Plan of Attack Must Be for the 2022 NFL Offseason