Lou Holtz Has a Massive Net Worth Despite All of His Controversial Comments
Lou Holtz was one of the greatest college football coaches of all-time. His success at Notre Dame is untouchable. He then had a career at ESPN following his coaching career that was also pretty successful. However, Holtz has made some controversial comments over the years that have maybe turned some fans away from him. Despite all of his remarks, though, Holtz still has a massive net worth.
Lou Holtz was a great college football coach and then worked at ESPN
Holtz coached college football for 33 years and was ultimately one of the greatest coaches of all-time. Over those seasons, he went 249-132-7 overall and 12-8-2 in bowl games.
After a few seasons at William & Mary, Holtz coached at North Carolina State from 1972 through 1975. They went to a bowl game in each of those seasons, winning the Peach Bowl in 1972, and the Liberty Bowl in 1973.
After coaching the New York Jets to a 3-10 record in 1976, Holtz then coached at Arkansas from 1977 through 1983 and did really well. In his first three seasons there, Holtz's teams went 11-1, 9-2-1, and 10-2. They won an Orange Bowl and then played in a Fiesta Bowl and Sugar Bowl in those years.
Then, after going to Minnesota and coaching there for two seasons, Holtz became a Notre Dame legend. In 11 seasons at Notre Dame, Holtz went 100-30-2. In 1988, Notre Dame went 12-0 and won the Fiesta Bowl. They then went 12-1 and won the Orange Bowl in 1989, and 11-1 and won the Cotton Bowl in 1993.
After his tenure at Notre Dame, which ended after the 1996 season, Holtz coached at South Carolina from 1999 through 2004. He did not have as much success there, though, going 33-37 and just winning two Outback Bowls.
Following his coaching career, Holtz began working at ESPN in 2005 and ultimately worked there until 2015. He was known on ESPN for his college football coverage with Rece Davis and Mark May.
He has made controversial comments over the years
Holtz has made plenty of controversial comments over the years. In 2008, while discussing former Michigan head coach Rich Rodriguez on ESPN, Holtz said, "Ya know, Hitler was a great leader too," according to NBC Sports. Davis, however, asked if he meant to say that Hitler was a bad leader, and Holtz said yes.
Then, in 2020, while discussing college football being played during the COVID-19 pandemic on Fox News, he compared the situation to Normandy.
"When they stormed Normandy, they knew that there were going to be casualties, there was gonna be risk," Holtz said in an Aug. 11 appearance, according to Yahoo Sports. "Two percent of the people that go to the emergency room go for COVID-19. But young people, Bill, they think it's like cancer. They think they're gonna die."
Additionally, while speaking at the 2020 Republican National Convention, Holtz made a controversial comment about Joe Biden.
"One of the important reasons [President Donald Trump] has my trust is because nobody is a stronger advocate for the unborn than President Trump," Holtz said, per Yahoo Sports. "The Biden-Harris ticket is the most radically pro-abortion campaign in history. They and other politicians are Catholics in name only and abandon innocent lives. President Trump protects those lives. I trust President Trump."
Prior to his statement about his trust in Trump, Holtz discussed his time at Notre Dame. This led to Notre Dame president, Fr. John Jenkins, issuing a statement.
"While coach Lou Holtz is a former coach at Notre Dame, his use of the University's name at the Republican National Convention must not be taken to imply that the University endorses his views, any candidate, or any political party," Jenkins said in part of his statement, according to Yahoo Sports. 
He went on to say this: "Moreover, we Catholics should remind ourselves that while we may judge the objective moral quality of another's actions, we must never question the sincerity of another's faith, which is due to the mysterious working of grace in that person's heart. In this fractious time, let us remember that our highest calling is to love."
Lou Holtz still has a massive net worth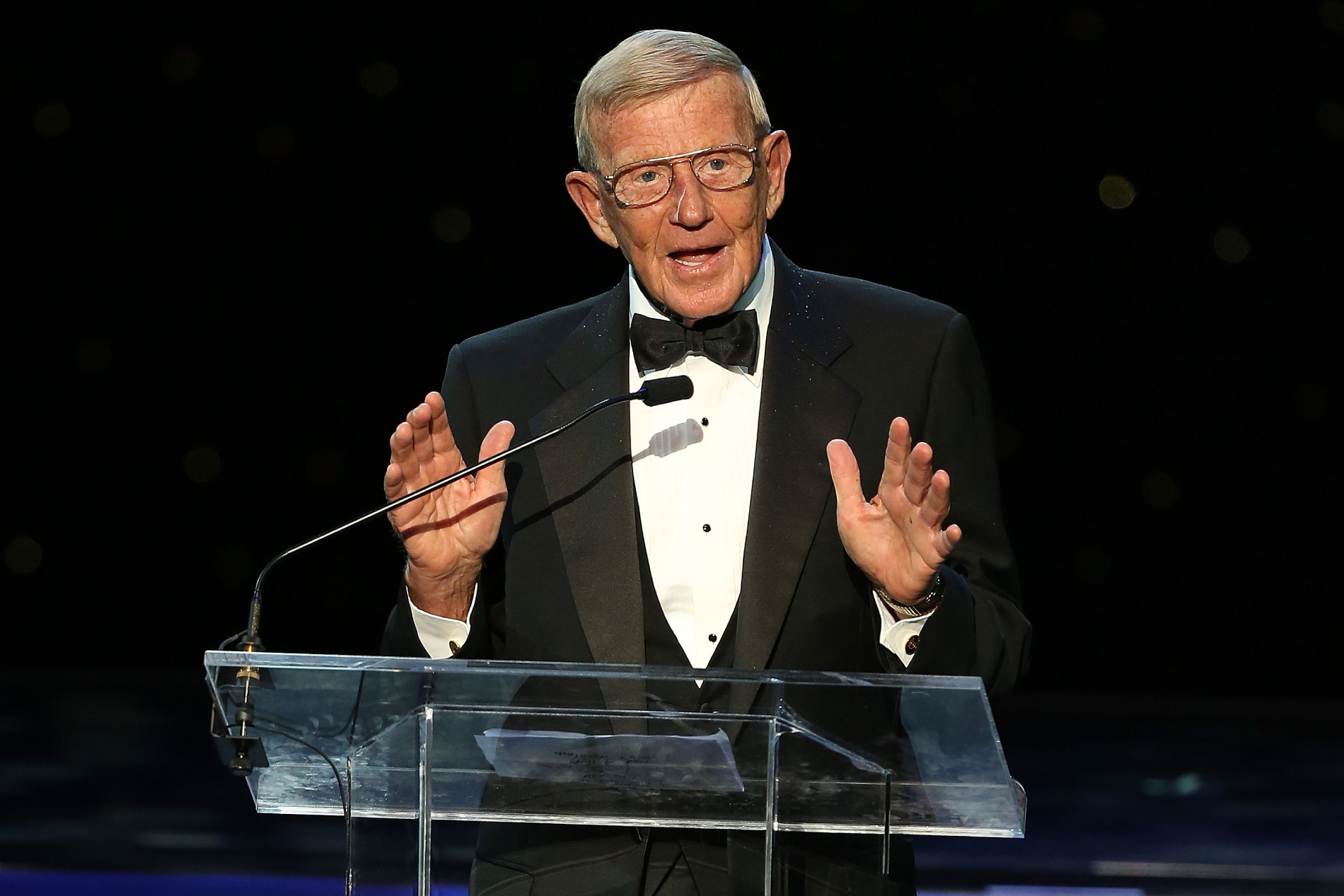 Despite the controversial comments he has made over the years, Holtz had two long and successful careers, one as a coach and one as an analyst on ESPN. The success he had in both jobs have led to Holtz having a nice net worth.
Celebrity Net Worth reports that Holtz is worth $20 million.
Holtz's careers have certainly paid off for him.
Stats courtesy of Sports Reference