Monday Night Football's Louis Riddick Obliterates Urban Meyer: 'This Is the Biggest Failure of Leadership on the Part of a Coach Probably in the History in the NFL'
Monday Night Football commentator Louis Riddick isn't the first person in NFL circles to criticize now-fired Jacksonville Jaguars head coach Urban Meyer, and he won't be the last. Riddick is one of the more respected names in the NFL, though. He's not just a commentator. He played multiple years in the league and then worked his way high up on the front office side of the game.
When Riddick speaks, there's a ton of knowledge and experience behind it, making his take on the Jaguars firing Meyer quite notable.
Louis Riddick doesn't hold back, calls Urban Meyer a failure
Meyer was fired despite the fact that the Jaguars still have four games left to play this season. In-season firings happen in the NFL, but it's not like Meyer was in the third year of an unsuccessful rebuild. Meyer was fired midway through his first season ever as an NFL head coach, which goes to show you just how incompetent he really was.
Riddick believes that it was not just straight-up incompetence that doomed Meyer, though. He doesn't think he should have gotten the opportunity in the first place.
"This is the biggest failure of leadership on the part of a coach probably in the history of the NFL, at least in my time anyways," he said "[This is] someone who was handed, gifted, didn't earn, an opportunity where he had free reign over an organization. Shad Khan [Jacksonville's owner] gave Urban Meyer everything he possibly could want to restructure and rebuild his organization as he saw fit. He trusted him to do that, although as it relates to the NFL, he did not earn squat."
To Riddick's point, Meyer had no experience as a coach at the NFL level, let alone as a head coach. He basically got the gig as a result of his name recognization alone.
"He didn't earn this opportunity," Riddick said.
Meyer failed the Jacksonville Jaguars by making it all about him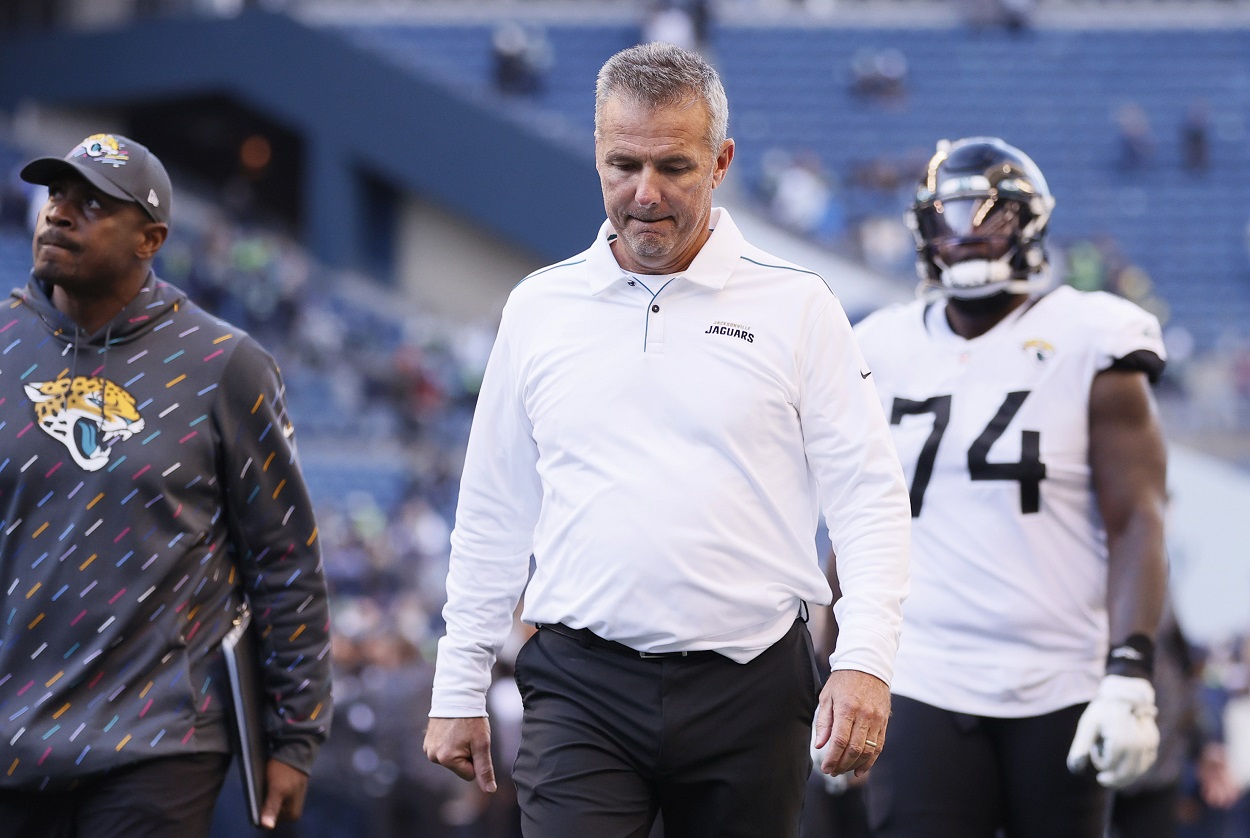 Jacksonville was able to snag the best quarterback prospect in years in this past draft, Trevor Lawrence, and the hope around the Jaguars was that this would signal the beginning of a new, prosperous era of football. Hiring Meyer was also meant to signal the start of something new and exciting for Jacksonville.
His embarrassingly short tenure as a head coach was anything but, though.
He proved to be incompetent, if not arrogant about it, at every turn. Tim Tebow as a sideshow distraction in training camp looks like small potatoes compared to not flying back with his team after a game and getting himself into some off-field hot water. Or how about the fact that he admitted Jacksonville's wideouts were struggling to run the proper routes midway through the season? He knew about that but for some reason, that didn't signal a massive alarm in his head?
More recently, there was an alleged screaming match with wideout Marvin Jones or the fact that he reportedly called his assistant coaches losers.
Meyer had embarrassed the Jaguars, seemingly at every turn. According to Riddick, the problem was that Meyer was selfish as the leader of Jacksonville's organization.
'He made it about him and didn't make it about the team. [He] didn't make it about establishing his credibility. Didn't make it about showing how competent he could be at the NFL level. Didn't make it about having a positive impact on the No. 1 draft pick, one of the best quarterbacks to come out of the draft by all accounts for the past 20-30 years. He didn't make it about any of those people. He turned it into being about him," Riddick said
Meyer couldn't regain the trust of Jacksonville owner Shad Khan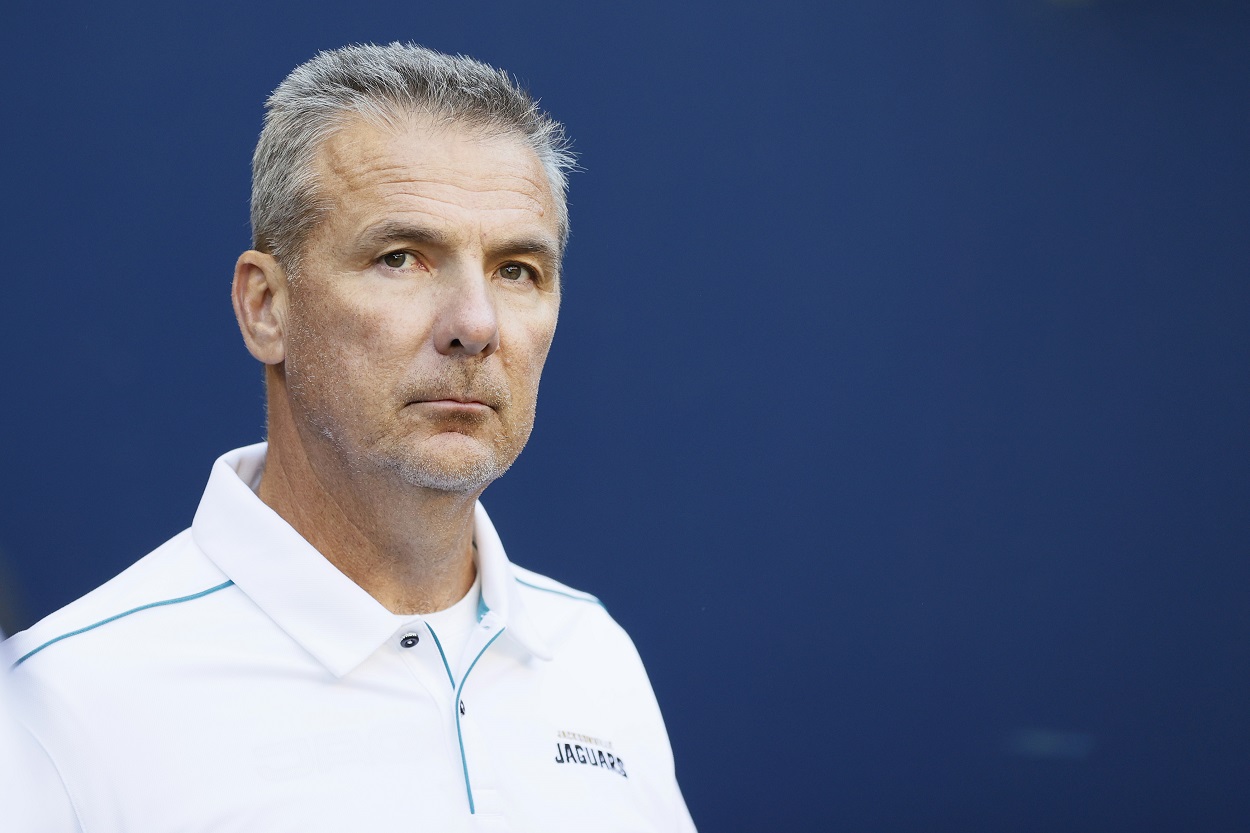 Riddick is in a unique position to comment on Jacksonville's rebuild efforts because he actually interviewed for the Jaguars' general manager position last season. That job ended up going to Trent Baalke, who was the interim general manager in Jacksonville in place of David Caldwell. Still, Riddick apparently had some illuminating conversations with Jacksonville's ownership.
The Jaguars put their hope and trust in Meyer, and he failed them.
"He was trying to do something to shake up that organization and put it on a path that he couldn't seem to quite get it on. He was swinging for the fences with an outside-the-box hire," Riddick said of Jags' owner Shad Khan. "Unfortunately, just like in scouting, the fatal mistake you can make is to misdiagnose or misevaluate someone's character. That's what he did. He misdiagnosed Urban's character."
After the off-field embarrassment in October, Khan stated that Meyer was going to have to regain the trust of the organization. In his statement upon Meyer's firing, the owner admitted that it never happened.
"After deliberation over many weeks and a thorough analysis of the entirety of Urban's tenure with our team, I am bitterly disappointed to arrive at the conclusion that an immediate change is imperative for everyone," Khan wrote. "I informed Urban of the change this evening. As I stated in October, regaining our trust and respect was essential. Regrettably, it did not happen."
As Jacksonville looks to move on from this regrettable era, one has to wonder where Meyer will eventually end up. There's a good chance he slinks back to the college ranks if he still wants to pursue coaching. In terms of coaching in the NFL, though, Riddick doesn't see it happening again.
"As far as his career in the NFL, it's over. It's done as far as I'm concerned," Riddick said. "I couldn't imagine him getting another sniff at a coaching job at the NFL level."
Stats courtesy of ESPN and Pro Football Reference.