Lovie Smith Gave Texans QB Davis Mills a Glowing Endorsement Ahead of the 2022 NFL Offseason: 'He Played About as Well as Any of the Rookie Quarterbacks Did Last Year'
Houston Texans quarterback Davis Mills finds himself in an unenviable situation entering the 2022 NFL offseason. Depending on what happens with Deshaun Watson, the Stanford product could enter next season as the starter, the backup, the third-stringer, or even on another team entirely.
Well, if new Texans head coach Lovie Smith has his say, Mills will be in Houston next season. In fact, the 6-foot-4, 225-pound quarterback may have done enough, at least in Smith's eyes, to have a legitimate opportunity of becoming the team's next franchise quarterback.
Lovie Smith sounds like a huge fan of young Texans quarterback Davis Mills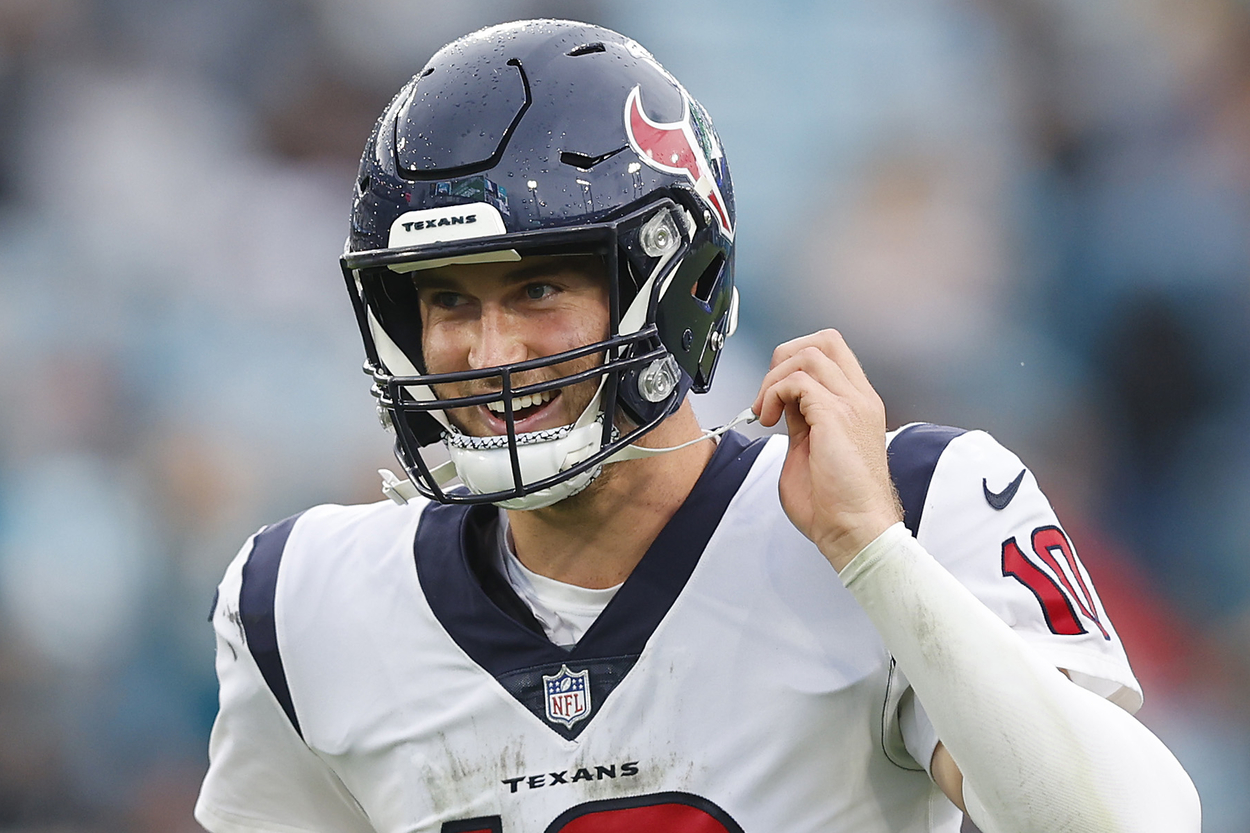 When the 2020 NFL season ended, few if any football fans would have projected the Texans would use a Day 2 draft pick on a quarterback. However, things changed when Watson's future in Houston became uncertain following a trade request and multiple allegations of sexual misconduct. As of February 2022, 22 women have filed civil lawsuits in Texas accusing Watson of coercive and lewd sexual behavior.
Enter Tyrod Taylor, a veteran quarterback who once earned Pro Bowl honors with the Buffalo Bills, and Mills, who the Texans selected 67th overall in last year's draft. After opening the season as the backup, Mills replaced an injured Taylor in Week 2 and completed 66.8% of his passes in 13 games (11 starts) for 2,664 yards, 16 touchdowns, and 10 interceptions.
Smith, who served as Houston's defensive coordinator in 2021, watched Mills' progression throughout the season. During a Feb. 9 appearance on NFL Network's Good Morning Football, the veteran head coach said the Stanford product "did some good things" as a rookie.
"You know, when you're not the starter, you get a chance to go against the [starting] defense each week, so I got a chance to see him in a lot of different situations. He played about as well as any of the rookie quarterbacks did last year. So [I'm] excited about some of the things that he can bring."

Lovie Smith
For as many problems as the Texans might have next season, at least Smith doesn't have to worry about starting Rex Grossman.
Too soon, Bears fans?
Smith isn't exactly wrong about Mills ranking among the best of the 2021 rookie quarterbacks
Ten quarterbacks were selected in the 2021 NFL Draft, and only two — the New Orleans Saints' Ian Book (133rd overall) and the Indianapolis Colts' Sam Ehlinger (No. 218) — went after Mills, a two-year starter at Stanford.
Mills finished his first NFL season ranked third in passing yards and second in touchdowns among all rookie quarterbacks. New England Patriots standout Mac Jones, the 15th overall pick, led all rookies with 3,801 yards and 22 touchdowns. Trevor Lawrence, the No. 1 overall selection, overcame the Jacksonville Jaguars' constant drama to throw for 3,641 yards.
However, Lawrence threw 12 touchdowns against a league-high 17 interceptions. In fact, of the six quarterbacks who played in at least 10 games, Mills and Jones are the only ones who threw more touchdowns than interceptions.
Suddenly, Smith's comments about Mills playing "about as well" as the other rookie quarterbacks don't sound so ridiculous.
Mills certainly impressed in spurts during the 2021 season, but the Texans shouldn't commit to him as the long-term starter just yet
When Smith spoke with GMFB, he sounded non-committal about Watson's future with the Texans. The 2005 NFL Coach of the Year said things would work themselves out, and he had no further update.
For now, the Texans can only control certain aspects of the quarterback room, including what to do with Mills. He certainly showed enough as a rookie to potentially dissuade Houston from reaching on a quarterback in the upcoming draft. The Stanford product totaled a 68.4 completion percentage, 1,258 yards, nine touchdowns, and only threw two interceptions in Houston's final five games.
There is no need for the Texans to use the third overall pick on Pittsburgh's Kenny Pickett or Liberty's Malik Willis, neither of whom are projected to go that high. With that said, the Texans shouldn't latch their long-term hopes onto Mills just yet. Houston should give him an entire season as the starter and have a proven backup, whether it's Taylor or a pending free agent like the New York Jets' Joe Flacco, sit behind him.
Will Mills wind up becoming the 2021 NFL Draft's best quarterback? Probably not, especially if Lawrence lives up to his potential. Is Smith willing to give Mills the opportunity to try finding out? It certainly sounds that way.
Like Sportscasting on Facebook. Follow us on Twitter @sportscasting19.
RELATED: Giants Owner Slams Door On Deshaun Watson Trade: 'So Many Reasons Why We Wouldn't Do That'