Luis Severino Looks Ready to Lead the New York Yankees into the Postseason
Luis Severino almost missed the entire 2019 season dealing with inflammation in his rotator cuff. The 25-year-old suffered multiple setbacks through the recovery process, and it appeared as though the New York Yankees might not get their ace back at all this season. But fortunately for Severino and the Yankees, the young right-hander was able to return to action last week.
Given the circumstances, any contribution that Luis Severino could give this postseason would have to be considered a positive as it was no sure thing that he was even going to be able to participate in the playoffs at all. But if his last two starts are any indication, Severino could be doing a lot more than just chipping in this October.
Two excellent warm-up performances
After 344 days without making a major league appearance, Luis Severino stepped on to the mound to face the Los Angeles Angels on September 17. By design, the outing was a short one. Severino threw only 67 pitches against the Angels, but that was all he needed to record 12 outs for four complete innings. The 25-year-old allowed only two hits and two walks in his four-inning outing, striking out four and not allowing any runs.
The Yankees stretched Severino out a bit more in his second outing of 2019 on September 22. Squaring off against the Toronto Blue Jays, Luis Severino was even more masterful, scattering three hits across five innings with no walks, no runs, and nine strikeouts.
Severino will enter his next start with a 0.00 ERA, a 0.78 WHIP, and 13 strikeouts through nine innings pitched.
Before his injury, Luis Severino was one of the game's best young pitchers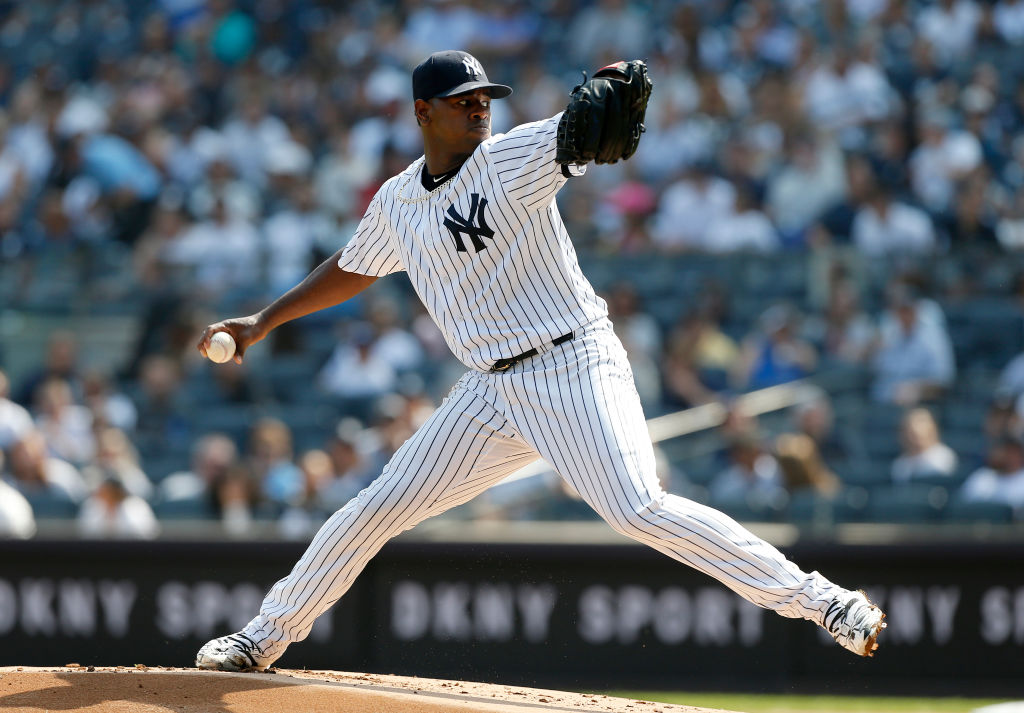 Luis Severino had a breakout year in 2017, making the MLB All-Star Game and going 14-6 with a 2.98 ERA and a 1.04 WHIP. He also recorded 230 strikeouts in 193.1 innings pitched.
He followed that season up with another strong one in 2018, making the All-Star Game again and boasting a 3.39 ERA and a 1.14 WHIP with 220 strikeouts in 191.1 innings pitched. There were reports that Severino was pitching through an injury last season; Severino denied these reports, but seeing as he entered the 2019 season with arm issues and saw his ERA jump from 1.98 to 3.52 after a rough patch in the second half, those reports may have been true.
Either way, there is no denying what Luis Severino is capable of when healthy, and he appears to be heading into the 2019 postseason.
Severino is needed now more than ever
Domingo German, who emerged as the Yankees staff ace this season, is expected to miss the rest of the year as he is suspended due to a domestic violence incident. German was 18-4 with a 4.03 ERA and a 1.15 WHIP before being put on administrative leave.
The Yankees have the best offense in baseball by a considerable margin; they lead the league in runs scored with 923 and in home runs with a historic 298. New York is going to do its damage on the scoreboard this postseason.
But with a team ERA of 4.52 among starters, the Yankees are far behind teams like the Houston Astros when it comes to pitching. If Luis Severino can pitch to his potential this offseason, it could be the difference between falling short and a 28th World Series Championship for the Yankees.