Luka Doncic Could Break 1 Of Michael Jordan's Records This Weekend
Luka Doncic is tearing up the NBA in 2019-20. He has led the Dallas Mavericks to a 15-6 record, which is currently good for the fourth seed in the Western Conference. Doncic ranks third in the NBA in scoring with 30.3 points per game, second in the NBA in assists with 9.2 per game, and 13th in the NBA in rebounds with 10.1 per game. All of this dominance at the ripe old age of 20 years old.
Doncic has been shattering age-related records all season long, especially when it comes to triple-doubles by players under 21. But this weekend, he's got his sights set on an NBA record held by Michael Jordan that has nothing to do with age.
Luka Doncic has gone 17 straight games with this stat line
Luka Doncic had a respectable stat line through the first four games of the season in the month of October averaging 25 points, 8.8 rebounds, and 6.8 assists per game. But as the calendar turned to November, Doncic's game ticked up to another level. The 20-year-old averaged 32.4 points, 10.4 assists, and 10.3 rebounds across 14 games played in December.
And the most impressive part of that stretch was his consistency; Luka Doncic never really had an off-night. He recorded at least 20 points, five assists, and five rebounds. That consistency has carried into December as Doncic is averaging 27.3 points, 11.3 rebounds, and seven assists this month while recording at least 20 points, five assists, and five rebounds.
Going 17 straight games with this 20-5-5 stat line has only been accomplished twice before in NBA history; by Russell Westbrook in 2014-15 and by Michael Jordan in 1988-89. Jordan's stretch of 18 straight games with 20 points, five rebounds, and five assists is the longest in NBA history.
Doncic has the chance to surpass Jordan this weekend
The Dallas Mavericks play back-to-back games this weekend at home against the New Orleans Pelicans on Saturday, December 7, and the Sacramento Kings on Sunday, December 8. Doncic will have the opportunity to tie Jordan's 20-5-5 streak on Saturday against the Pelicans, and if he does so, he will have the chance to break it on Sunday against the Kings.
Luka Doncic has played against the Pelicans twice this season. He recorded 25 points, 10 rebounds, and 10 assists against New Orleans on October 25, and on December 3, he racked up 33 points, 18 rebounds, and five assists before sitting out the first quarter in a blowout win.
Doncic hasn't played against the Kings yet in 2019-20. In his last game against them as a rookie on March 26, Doncic scored 28 points and collected 12 rebounds and 12 assists.
The records will keep coming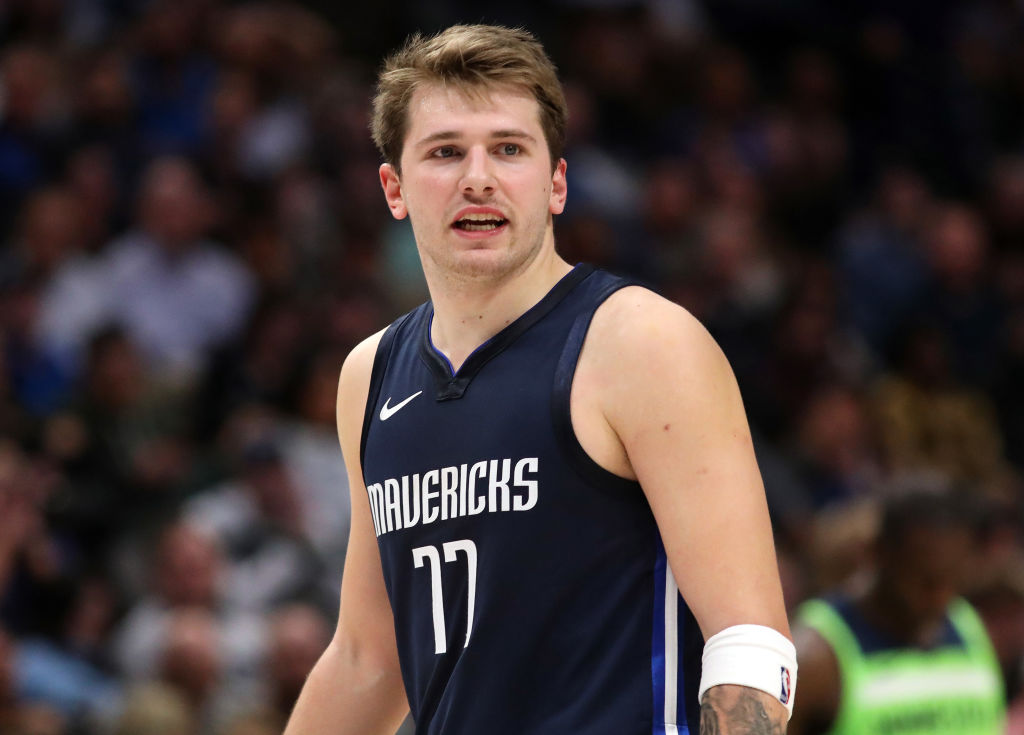 If Luka Doncic doesn't improve on his game at all for the next 15-20 seasons, he will still be a future Hall-of-Famer barring any injuries. He's that good, as he's already proven so far this season and as a rookie last year.
But Doncic is only 20 years old. His game took a significant leap forward from last season to this season. Would you really bet against him continuing to improve as he spends more and more time on his craft at the NBA level?
Opposing teams need to watch out for this kid. And so do the record books.