Luka Doncic Just Discovered His NBA Cheat Code With the Dallas Mavericks
Luka Doncic has had one of the most incredible starts to a career in NBA history. He arrived stateside from Real Madrid after being involved in a dramatic what-if draft-day trade that swapped him and Atlanta Hawks' star Trae Young.
Doncic has been great — but there have still been questions for him to answer. Is he in peak physical condition? Is he willing to get his teammates involved? Is he ready to play defense?
Those are queries a lot of young NBA superstars have to answer. Some figure it out, some don't. That can mean the difference between a great career and a Hall of Fame career.
It appears Luka is beginning to answer those questions. If he continues to figure it all out, the NBA should be on high alert.
Luka Doncic has had an all-time start to his Dallas Mavericks career
Doncic was the 2018-19 Rookie of the Year. He's made three All-Star teams and two All-NBA teams in his first four seasons.
He averaged 21.2 points, 7.8 rebounds, and 6.0 assists in his debut as a 19-year-old. Then he bumped his scoring average up to 28.8 points in his second season, which was sixth-best in the league.
He was also top 20 in the NBA in rebounding, assists (both total and per game), field goals, free throws made and attempted, and ended his second year third in PER behind Giannis Antetokounmpo (that season's MVP) and James Harden.
Last year, Luka moved into the top 10 in scoring, assists, field goals made, three-pointers made, and finished ninth in PER.
He also has career playoff averages of 33.5 points, 8.8 rebounds, 9.5 assists, and 1.2 steals in 38.2 minutes during two epic series' against the Los Angeles Clippers.
He averaged more than 35 points and 10 assists in last year's seven-game battle with Kawhi Leonard and Paul George.
But that, apparently, was only the beginning.
Luka is starting to learn the ultimate NBA cheat code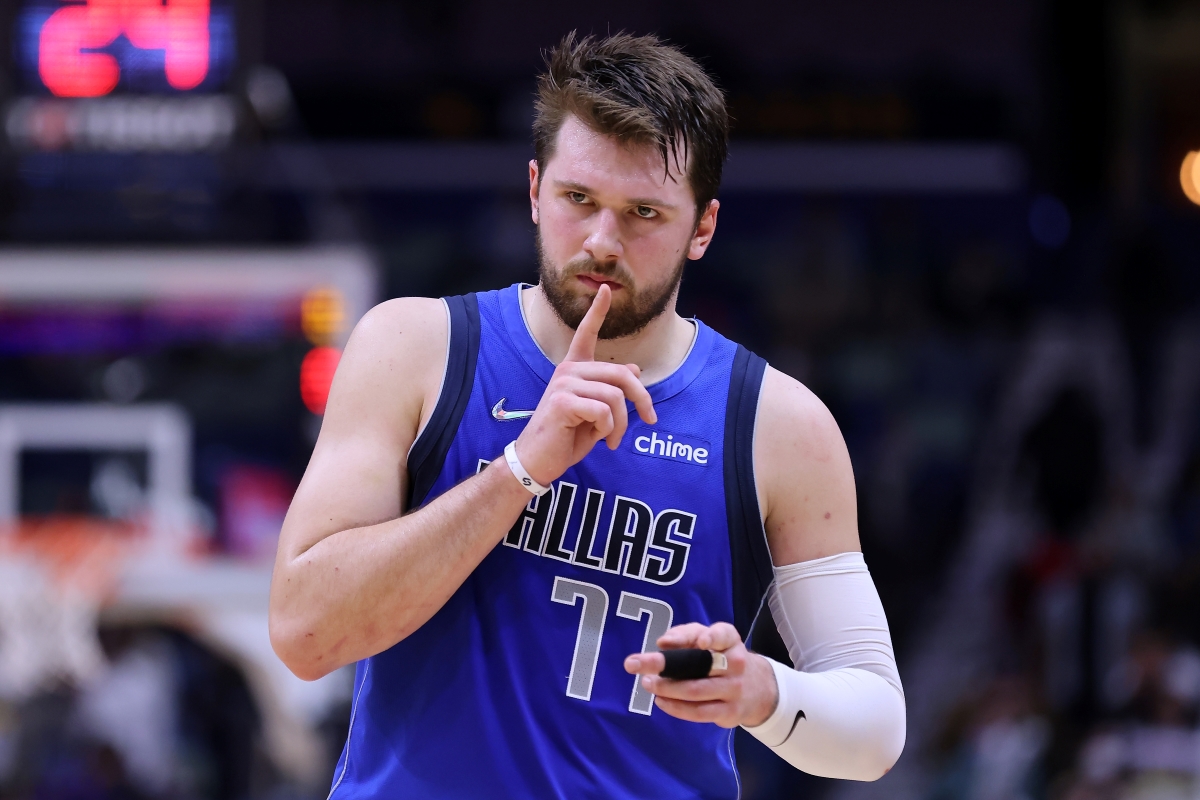 Doncic has been this spectacular and just turned 23.
But look out, NBA, because the question marks that have held Luka back so far are being answered.
Via SI.com, the Slovenian admitted, "I know I have to do better" after coming into this season overweight. Those comments followed a 28-point, six-rebound, nine-assist performance.
It was the first time Doncic admitted he could be in better physical condition.
As Tim Cato of The Athletic wrote, Luka has also begun to trust his teammates and defer in certain situations, like during a dramatic comeback win over the Golden State Warriors.
"He took one dribble and then passed to Spencer Dinwiddie in the backcourt," Cato wrote. "And then, for the rest of the possession, his four teammates worked to create what turned into an open corner 3-pointer: Dinwiddie and Davis Bertans running a pick-and-roll that recycled the ball to Jalen Brunson, who assisted Dorian Finney-Smith on a shot that cut the deficit to just one point."
The Mavs have the league's second-best defense and are 25th in scoring. Neither stat would be expected of a Doncic-led squad. Luka will never be the leader of an elite defense, but he's shown a willingness and improvement on that end.
In better shape? Check. Beginning to play off the ball on offense? Check. An improved effort on defense? Check. Luka is starting to work on his flaws (the few he does have).
The 23-year-old has unlimited, untapped potential
These fixes are beginning to converge as Doncic, and the Mavericks, by proxy, play their best basketball of the season.
Luka averaged 40 points over the final four games before the All-Star break — a career first. He dropped 51 just hours after the franchise traded Kristaps Porzingis to the Washington Wizards.
Since Jan. 1, Doncic is averaging 29.2 points (sixth in the NBA), 10.2 rebounds (first among guards), and 9.2 assists (seventh in the league). Uncoincidentally, his team is 19-7 during that span, which is third-best in the NBA.
Luka just turned 23. All these changes aren't going to come overnight. But the fact that he's making an effort to improve his weaknesses when he's already a top 5-10 player in the league is only cheating.
All statistics courtesy of Basketball Reference.
RELATED: Luka Doncic's Response to Body Criticism Should Be a Serious Wake-up Call for Zion Williamson