Luka Dončić Is the Favorite for NBA MVP but He Won't Have the Team to Get Him There
The more things change when it comes to handicapping NBA awards, the more they stay the same. At least regarding the coveted NBA MVP honor. Entering last season, Dallas Mavericks star Luka Dončić was the betting favorite. According to one major sportsbook, he enters 2021–22 in the same position. But will his bid be undone the same way it was a season ago?
Nikola Jokić of the Denver Nuggets was the overwhelming winner in 2020–21. He captured 91 of the 101 first-place votes. Dončić was the highest finisher among players not getting a first-place nod, placing sixth in the voting. A strong showing at the Tokyo Olympics could serve as a springboard into the next season. He averaged 23.8 points, 9.7 assists, and 9.5 rebounds per game. Slovenia lost the bronze-medal match to Australia in its first-ever Olympics bid.
But the Mavericks haven't made any substantial changes to the roster it had a year ago. Dallas won the three-way tiebreaker for fifth place last season at 42–30. That sort of finish is not ordinarily enough to make an impression on MVP voters.
The outlier gives Luka Dončić some hope
Traditionally, it's the best player on the best team. That's the most likely formula for winning an NBA MVP award. In five of the last seven seasons, the MVP has come from a team that entered the playoffs with a No. 1 seed.
Jokić was one of those exceptions last season, playing for the third-seeded Nuggets. But the real outlier came in 2016–17 when Russell Westbrook (about eight teams ago) averaged a triple-double for the first time in his career. That was enough to get him the MVP trophy despite the Oklahoma City Thunder only mustering a No. 6 seed.
Luka Dončić comes with stat-sheet-stuffing abilities almost on Westbrook's level. Last season for the Dallas Mavericks, he checked in with 27.7 points, 8.6 assists, and 8.0 rebounds in 34.3 minutes a game. His shooting percentages overall and from 3-point land trended up last season, meaning more efficiency as a scorer.
According to BetMGM, Dončić is a plus-400 favorite for MVP. Joel Embiid and Kevin Durant are plus-700, Giannis Antetokounmpo gets you plus-800 odds, and Stephen Curry sits at plus-900.
But as good as Dončić is, it's not likely even a triple-double average will move the MVP needle without finishing at or near the top of the Western Conference.
The Dallas Mavericks may not be much better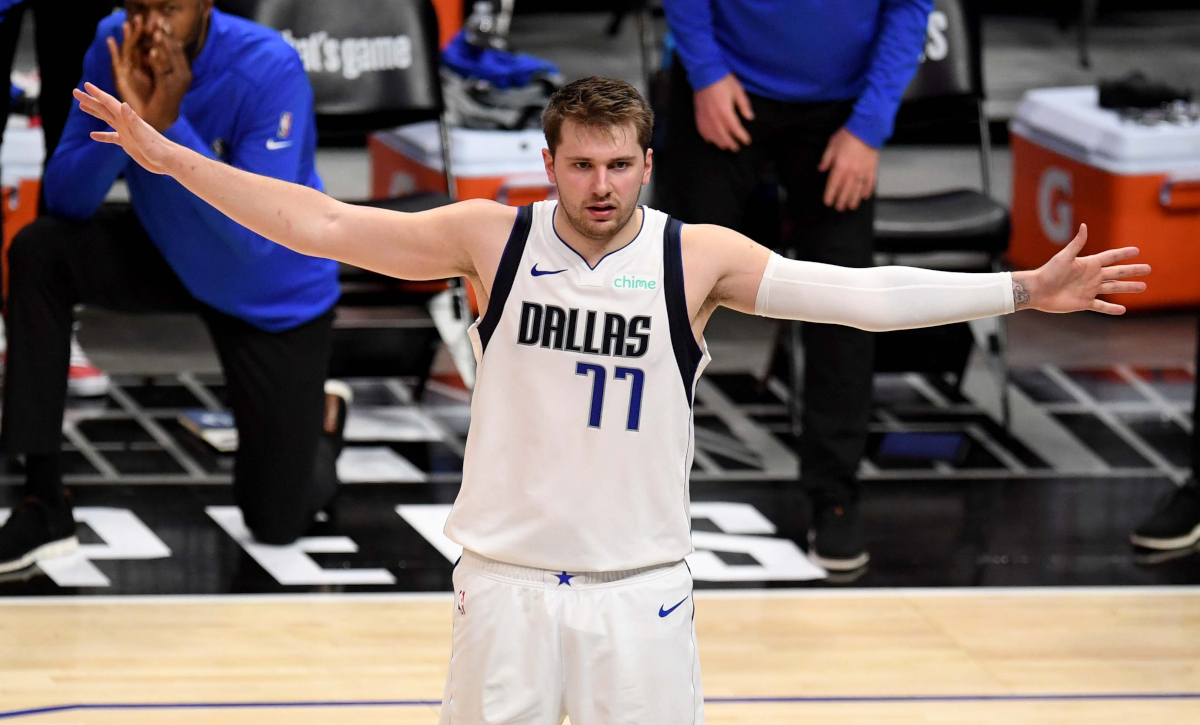 Last season, the Dallas Mavericks made history. It just wasn't the type they wanted to make. Dallas became the first team in NBA history to win three road games in one series and still lose it. Their seven-game loss to the Los Angeles Clippers was marked by the Mavs winning three of four in LA. It was the 0–3 mark at home that did them in.
So far this offseason, the Mavericks parted ways (is that like a high-school breakup that both sides want to blame on the other?) with longtime coach Rick Carlisle. In his stead is Jason Kidd. Donnie Nelson is out as the personnel guy. In his place is Nico Harrison. He was at a shoe company, which seems like a perfectly natural fit.
On the court, Dallas traded Josh Richardson and got young center Moses Brown from the Philadelphia 76ers. They kept big man Willie Cauley-Stein on a $4.1 million option. And they re-signed Dončić to a supermax extension.
Otherwise, they added (checks notes) wings Reggie Bullock and Sterling Brown. Oh, and they kept Boban Marjanović for his eight minutes per game. So, there's that.
Luka Dončić won't have the Westbrook wow factor
When Russell Westbrook averaged a triple-double for the 2016–17 season, it was historic. It hadn't happened in more than 50 years. Hall of Famer Oscar Robertson pulled off the feat in 1961–62. That was the list.
But Westbrook has made averaging a triple-double seem about as exciting as a trip to the dentist. Including his breakthrough season, he's averaged double figures in scoring, rebounding, and assists four times in five seasons.
So, even if Luka Dončić becomes the third person to turn the trick, the voters likely won't be moved much. After all, everyone known Neil Armstrong was the first man on the moon. But who was third? Anyone? Buehler?
Westbrook at least had the shock value of being the first in most fans' lifetimes to do it.
Maybe Harrison and the rest of the Dallas Mavericks' brain trust have something unexpectedly significant in mind. Barring that, though, Luka Dončić's situation doesn't seem significantly different from last season. That makes an MVP run unlikely at best.
Statistics courtesy of Basketball Reference.