Luka Doncic Has Himself in Position to Steal the NBA Scoring Title and MVP
The Dallas Mavericks and Luka Doncic got their season off to a slow start. They began to crawl back up the Western Conference standings, though, and since the calendar turned to 2022, have been one of the best teams in the NBA.
Dallas dealt Kristaps Porzingis to the Washington Wizards at the trade deadline, and the subpar return of Spencer Dinwiddie and Davis Bertans has only opened up more opportunities for Luka.
And the 22-year-old is taking serious advantage.
Doncic's pre-All-Star break run, which included a career-high 51-point game against the Los Angeles Clippers, vaulted him straight into contention for the NBA MVP Award, and he's not far behind Giannis Antetokounmpo and Joel Embiid for the league's scoring title either.
If Luka continues to scorch his way toward the playoffs and keep the Mavs winning, there's no reason he can't steal both awards by the end of the regular season.
Doncic went on a pre-All-Star break tear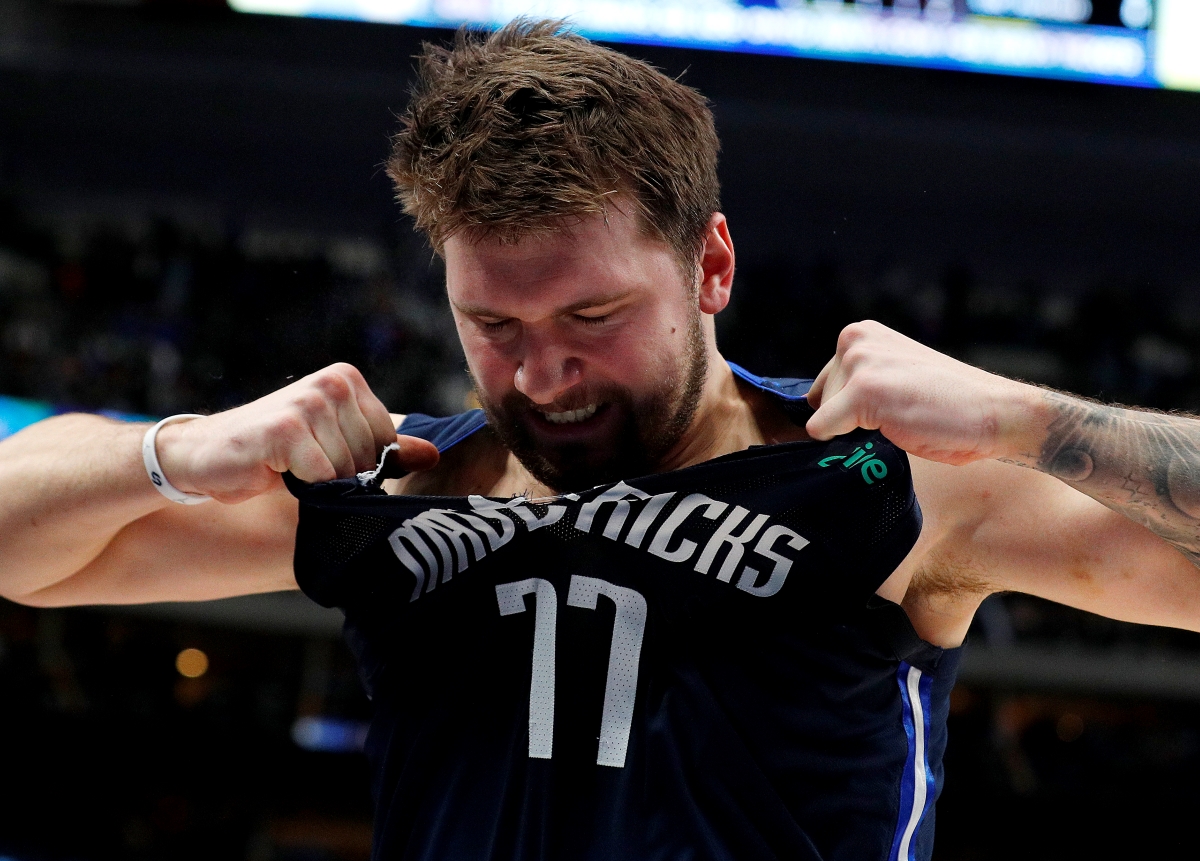 Luka played the best basketball of his career heading into the NBA All-Star break. He averaged 40 points over a four-game span, something he had never accomplished in his already stellar career.
Coincidentally or not, those were the four games after Dallas traded Porzingis.
Just hours after the deal, Doncic scored his 51 in a win over the Clips. He dropped 45 in a rematch with LA two nights later, then scored 49 against the New Orleans Pelicans after a 21-point outing against the Eastern Conference-leading Miami Heat.
Luka is fifth in the NBA in scoring since Jan. 1 at 29.3 points per game.
"Luka's that type of player that can carry the load, for not just four games but for most of the season," said Dallas head coach Jason Kidd via NBA.com. "He's playing not just at an All-Star but at an MVP level right now, and that's what we need going into the second half."
It's not just his scoring, though, that could wind up landing him a surprise MVP.
Luka Doncic and the Dallas Mavericks have been one of the NBA's best teams since Jan. 1
Luka is also averaging 10.3 rebounds and 9.4 assists during those 23 games. Among the league's leaders in scoring, his rebounding total is third only to Giannis and Embiid, and his assists total leads the NBA.
But it's not just traditional stats that win MVPs — team success and narrative also play a role.
Since the turn of the year, the Mavs are 18-6, which is the second-best record in the league behind only the Phoenix Suns over that span. Oddly enough, even with Luka's offensive heroics, Dallas is 23rd in the league in scoring. However, the Mavericks are second in points allowed as their defense continues to carry the load.
That also plays into Doncic's MVP case, however. His team relies on his scoring and offensive prowess more than any other team in the NBA. With Porzingis now gone, Jalen Brunson is second on the team at 16.3 points per game.
If the Mavs continue to climb up the West standings, it will be because of Luka. And if that happens, the NBA world is going to be forced to take notice of Doncic's ability to carry an entire team (again).
The 6-foot-7 point guard is seventh in the league in scoring heading into a game against the Utah Jazz on Feb. 25. He's behind Embiid, Antetokounmpo, Kevin Durant, LeBron James, DeMar DeRozan, and Trae Young.
Is it a long shot for Luka to win the scoring title? Yes. Is it impossible? No.
If this trend continues, the Slovenian superstar could steal the MVP and scoring title
Embiid now has James Harden to share shots with. Durant is still injured and will likely be reintegrated into the Brooklyn Nets' lineup slowly with a championship push in mind. DeRozan isn't even a full point-per-game ahead of Luka, who's a better offensive player, even as good as the Chicago Bulls star has been.
Doncic's main threats in this department are Giannis (29.4 ppg) and LeBron (29.1). But Luka just averaged 40 points a game over the course of five days, and Dallas isn't going anywhere without his production. He needs to score for his team to win.
It's not out of the realm of possibility the league's second-highest usage player (Embiid is first, for now) averages 30-plus over the final six weeks of the season. He did average 35.7 points in the playoffs last year.
Probably more important to Luka, though, is winning in the playoffs — he has yet to get out of the first round despite lighting the NBA on fire. But the Mavericks aren't built to do that without Doncic. If he can get Dallas where it needs to go, he could steal a few awards in the process.
All statistics courtesy of NBA.com.
RELATED: Luka Doncic Simply Cannot Believe DeMar DeRozan's Mid-Range Brilliance