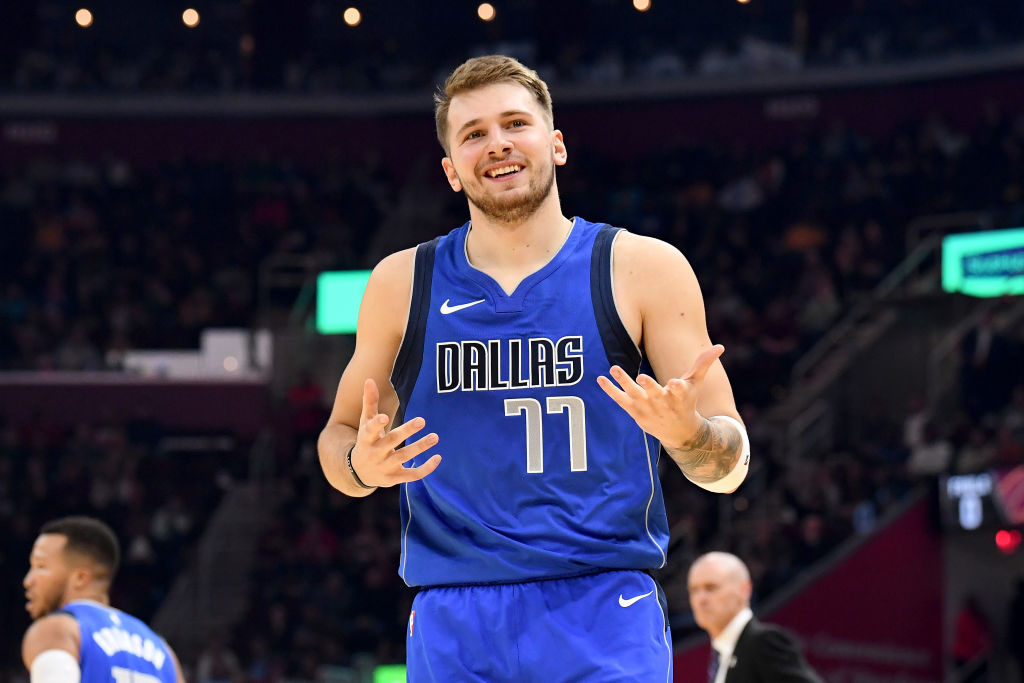 Luka Doncic Issues Immediate Apology for Sharing Racist Tweet
Dallas Mavericks young phenom Luka Doncic immediately apologizes for sharing a video involving racist remarks.
Social media can be tough. Whether it's Instagram, Twitter, or Facebook, social media sites can be dangerous, especially to those in the public eye. A sudden outburst or a quickly deleted controversial post can live forever with a simple screenshot. Sports figures with millions of followers are most susceptible, and Dallas Mavericks young phenom Luka Doncic found that out the hard way this week with a post that involved a racist video.
Luka Doncic joins Mavericks in draft-day trade with Hawks
Luka Doncic was selected third overall by the Atlanta Hawks in the 2018 NBA Draft. Taken before Doncic were Deandre Ayton (Suns) and Marvin Bagley (Sacramento), Doncic was scooped up by the Hawks at No. 3 and then immediately dealt to the Dallas Mavericks.
Doncic played professionally overseas, making his debut at the age of 16 years old. A 6-foot-7 guard, the Slovenian Doncic quickly caught the eyes of NBA scouts and especially drew the attention of the Mavericks prior to the 2018 draft. The Mavericks were picking fifth and wanted Doncic all along, but didn't want to risk losing him so they swung a trade with the Hawks, who took Doncic and traded him for the fifth pick (Trae Young) and a future first-round draft pick.
"Luka Doncic was the guy we targeted to get in this draft if there was any way possible to do it," said Dallas Mavericks coach Rick Carlisle. "At one point, we thought there might be a slight chance he could fall to us, but a couple of days ago it was pretty clear that there was no way that was going to happen. He's just too good. We get a guy we think is franchise foundation piece."
Doncic makes an immediate impact as a rookie in the NBA
It didn't take long for Luka Doncic to make a name for himself in the NBA. Doncic looked comfortable in his new home in Dallas from the get-go, earning Rookie of the Year honors in a very impressive first season. Doncic received 98 out of 100 first-place votes, while the other two votes went to Trae Young.
In 72 games a year ago, Doncic averaged 21.2 points per game and his confidence grew as the season progressed. He also chipped in with 7.8 rebounds and 6.0 assists per game. "I knew I could play over here," Doncic told Marc Stein of the New York Times in February, "but it's better than I expected, for sure."
"It's nice to have a "W' in the Rookie of the Year category," Mavericks owner Mark Cuban said. "I'm happy for Luka, I'm excited for him and I know it's important to him. Now that it's behind him now, it's all about what he does next."
Doncic apologizes for sharing racist video toward Albanians
Recently, Luka Doncic shared a video that had racist remarks about Albanians. Doncic was immediately called out for the post, but the Mavericks star quickly apologized for his actions, saying he didn't completely comprehend what was taking place in the video. He quickly took down the video and stressed that in no way was he implying racism when he shared the video.
Doncic also reached out to renowned Albanian personality Deni Hoxha, who was one of the individuals calling out Doncic for the video.  Hoxha accepted Doncic's apology.
"Thank you Luka for your apology," Hoxha wrote. "I believe you. Reconciliation between our nations is the only way forward."