Luka Doncic Is a Legitimate Star, but He Can't Win a Championship Unless the Dallas Mavericks Give Him Some Help
After only three seasons in the NBA, Luka Doncic has put himself on a path to becoming an all-time great. The Slovenian has just about singlehandedly carried the Dallas Mavericks to the playoffs the past two years and has been the only reason his team has been competitive during those postseason runs (albeit short ones). The roster around Doncic is not great, and the Mavs haven't done much to improve it since he joined the league from Real Madrid. Doncic is an NBA superstar and the franchise cornerstone, but he needs more help — or, really, any help at all — if he's going to bring Dallas another NBA championship.
The pieces the franchise does have around the former Euroleague MVP don't mesh well enough with his game, but bluntly, the Mavericks don't have enough talent to support him.
The Dallas Mavericks' roster is simply not good enough to help Doncic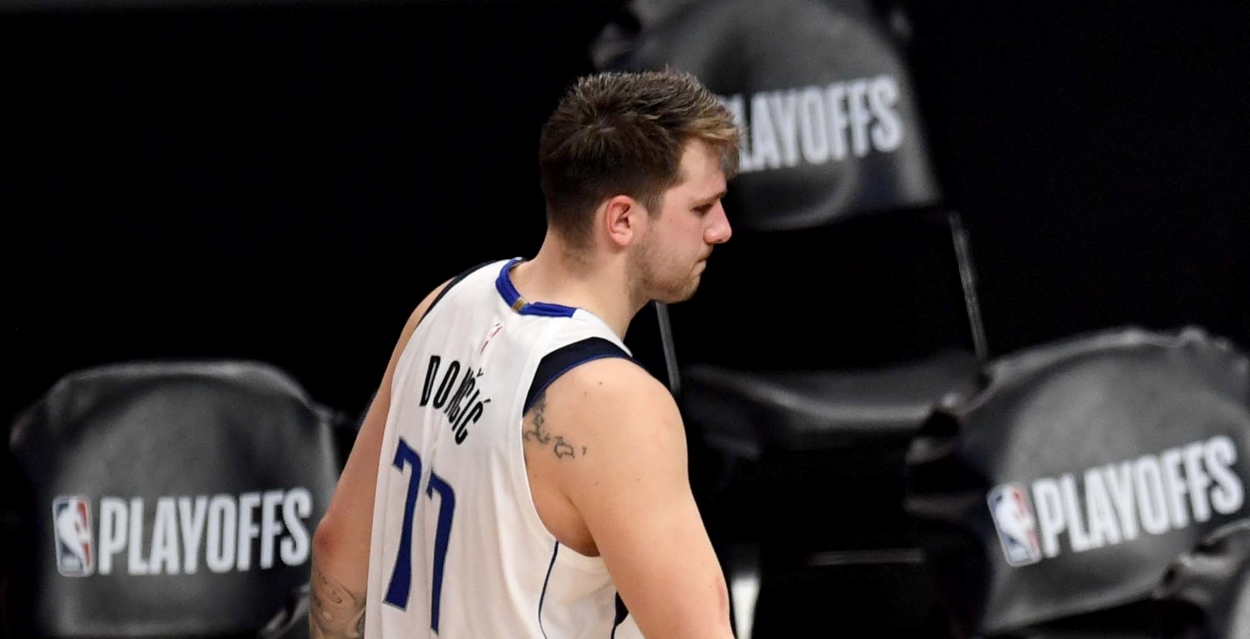 The best players around Doncic are Tim Hardaway Jr. and Kristaps Porzingis. Porzingis is rarely healthy, and 7-foot-3 big men with histories of foot injuries don't age well. Hardaway is a decent scorer but isn't good enough to be a second option on a title-contending team. The Mavs also have Dwight Powell, Jalen Brunson, Maxi Kleber, and Dorian Finney-Smith playing significant minutes. Those four are role players at best.
Dallas added Sterling Brown and Reggie Bullock to help on the wing in 2021-22. Both are decent defenders and solid three-point shooters, but neither will help the team move from above average to great.
Last season, Doncic averaged 27.7 points per game to go along with 8.0 rebounds and 8.6 assists. Porzingis scored 20.1 points per game but only played in 43 contests. Hardaway Jr. was Dallas's third-leading scorer at 16.6 points per game, and Brunson was fourth at 12.6. No one other than Porzingis (who again missed almost half the season) averaged more than 5.4 rebounds, and no one averaged more than 3.5 assists. Doncic was the Mavericks.
Things became even more unbalanced in the playoffs. Doncic averaged 35.7 points in the team's opening-round series loss to the Los Angeles Clippers. Hardaway was nearly 20 points behind him, Finney-Smith was more than 8 assists behind the 22-year-old, and the only player who averaged more rebounds was Boban Marjonovic. The Serbian played 20.8 minutes per game compared to Doncic's 40.1.
Luka Doncic needs more talent around him and better players who mesh with his skill set
Clearly, Doncic needs better talent around him, really in any form. But if Dallas is going to give Luka the kind of players he needs, the franchise needs to plan strategically to play to the former rookie of the year's strengths.
Doncic has proven he can be a go-to scorer, but that wasn't what he was entering the draft. First and foremost, he was an excellent passer and a fantastic playmaker. He was expected to play that role when he entered the league, but the Mavericks haven't given him anyone to help him use those skills. Doncic has been forced to score even if that's not necessarily the play he wants to make.
Other than his passing, Doncic's best strength — literally — is getting to the rim. At 6-foot-7 and 230 pounds, he can overpower other point guards or use his change-of-pace and floor awareness to get past and finish over bigger defenders. His three-point shot has improved since he entered the NBA, but last year was his best season from deep, and he shot 35%.
A roster built around Doncic should consist of three-point shooters, playmakers, and rim-running, defending bigs. Shooters would space the floor, giving the guard room to operate and theoretically open players to pass to. A secondary ball-handler would help tremendously so Doncic doesn't have to carry an entire offense on a nightly basis, especially when teams gameplan for him in the postseason. Rim protection behind him and athletic bigs to toss lobs to would be helpful as well. Oddly enough, Porzingis is actually the ideal fit next to a player with Doncic's skillset. But he can't be an ideal fit sitting on the bench.
Dallas needs to find a way to install more talent around Luka Doncic or he, and the Mavericks, are headed for disaster
Doncic's stats have not suffered to any extent. It took a year, maybe two, for him to cement his place near the top of the NBA; last year just secured it. But as good as the EuroLeague champion has been, the team assembled around him hasn't done enough to help him even get out of the first round of the playoffs.
Doncic recently signed a record $207 million rookie supermax extension to tie himself to Dallas through at least the 2024-25 season. But as we've seen repeatedly, signing a player to an extension doesn't mean he's going to stay with a franchise forever. Doncic has won at every European level, and he's been doing so since he was a teenager. At some point, he's going to want to win in the NBA too. But the Mavericks are struggling to build a roster capable of helping their franchise player reach that point, and it's already becoming a dangerous game for Dallas.
All statistics courtesy of Basketball-Reference and salary information courtesy of Spotrac.