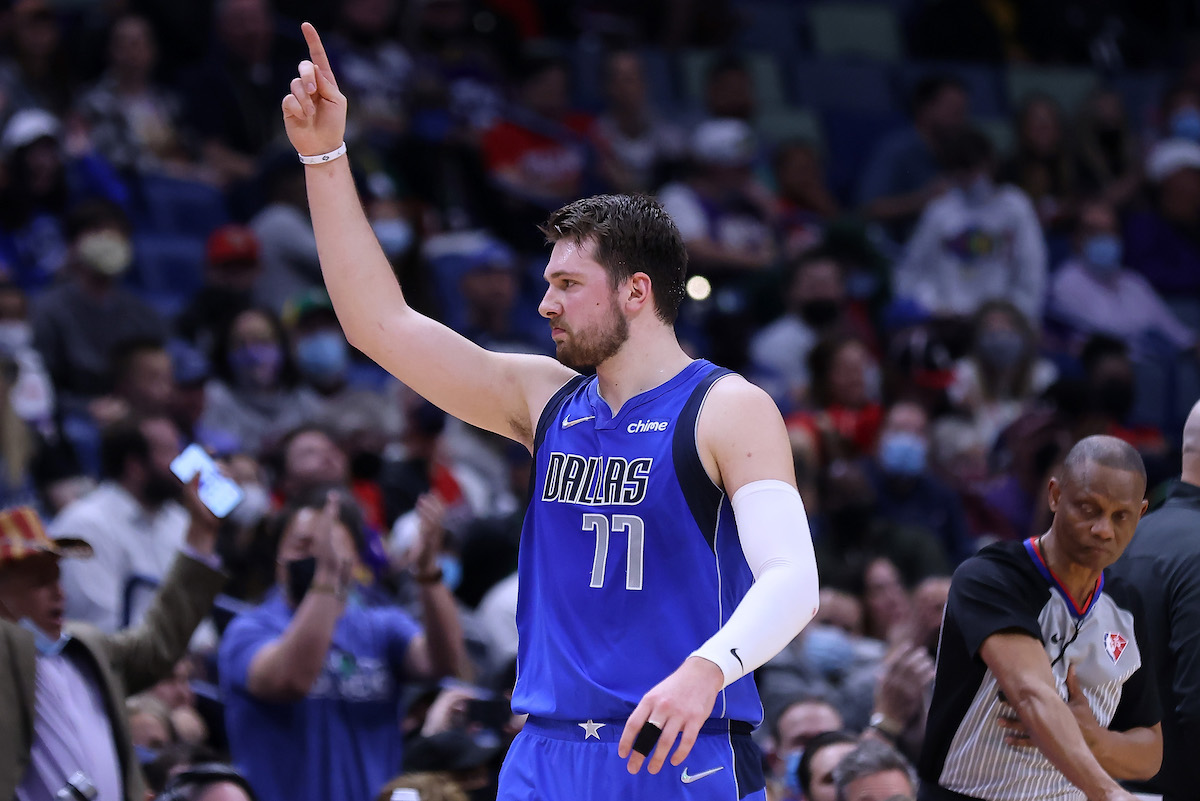 Luka Doncic Making Dallas Mavericks 1st Quarters His Personal Playthings
The Dallas Mavericks and Luka Doncic keep dominating first quarters and moving up the Western Conference standings.
By the time the first-quarter buzzer sounded in Smoothie King Center on Feb. 17, 2022, the Dallas Mavericks had jetted out to a 45-27 lead, one they wouldn't relinquish en route to a 125-118 victory. It wasn't quite a one-man show (see: 45 points), but 22-year-old superstar Luka Doncic still almost outproduced the New Orleans Pelicans all on his lonesome with 19 points, five rebounds, and four assists.
For context, only 16 qualified players are averaging 19, five, and four per game during the 2021-22 NBA campaign.
Doncic isn't quite maintaining those numbers in the first quarter alone for the entirety of the season, but he's been knocking on the door in recent weeks. As he rises up MVP pecking orders across the interwebs and carries the Mavericks into a loftier spot in the Western Conference standings, he's taken it upon himself to get off to quick starts, burying the opposition before it even knows the Slovenian sensation has delivered a knockout blow.
Doncic is on a 1st-quarter tear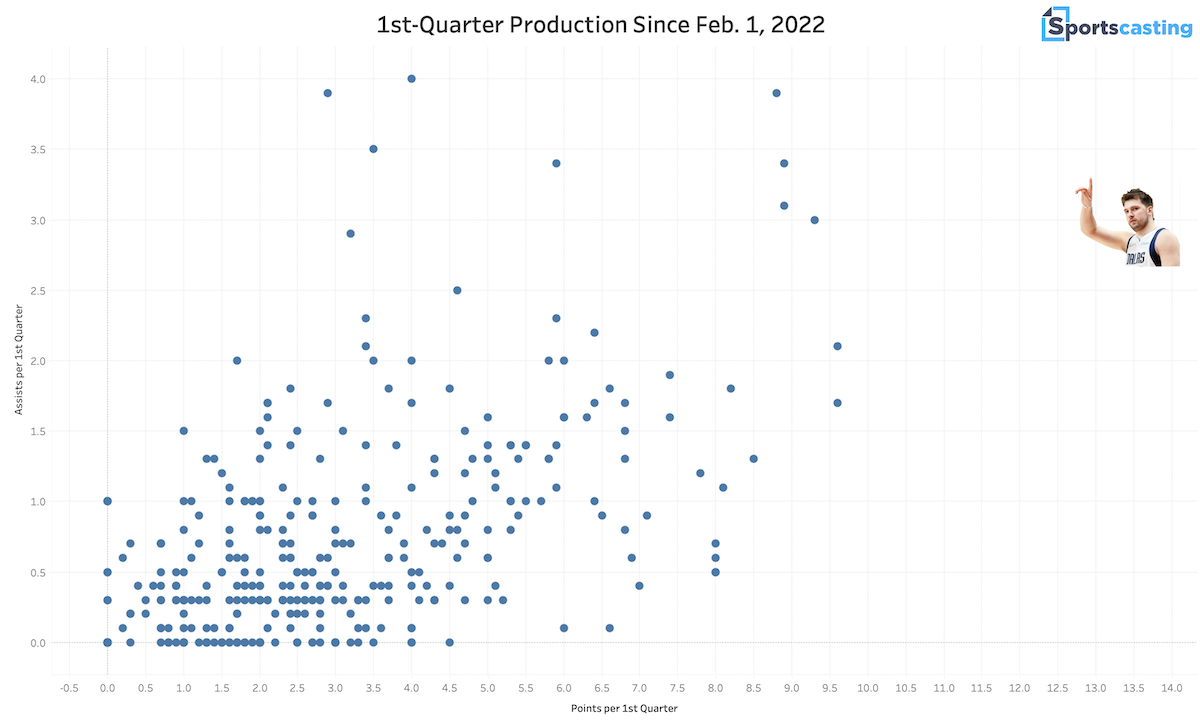 That mid-February destruction of the overmatched Pelicans was far from an aberration even if it resulted in yet another signature performance when the clock hit zeroes: 49 points, 15 rebounds, and eight assists on 17-of-35 shooting from the field.
Doncic leads the league in first-quarter points on the year, outpacing every other marquee player in the Association:
Luka Doncic: 9.1
Kevin Durant: 9.0
Devin Booker: 8.9
Joel Embiid: 8.2
Efficiency hasn't eluded him, either. The do-everything guard(?) is slashing 46.8/41.0/75.0 and still finding time to average 2.8 rebounds and 2.5 assists (the No. 7 mark in the league) while coughing the ball up just 1.3 times per opening period.
But something clicked recently, and Doncic has taken it upon himself to dominate the early stages of a game even more thoroughly:
Feb. 2 against the Oklahoma City Thunder: 14 points, 1 rebound, 2 assists
Feb. 4 against the Philadelphia 76ers: 9 points, 3 rebounds, 2 assists
Feb. 6 against the Atlanta Hawks: 11 points, 5 rebounds, 5 assists
Feb. 8 against the Detroit Pistons: 15 points, 3 rebounds, 5 assists
Feb. 10 against the Los Angeles Clippers: 28 points, 3 rebounds, 1 assist
Feb. 12 against the Los Angeles Clippers: 9 points, 7 rebounds, 3 assists
Feb. 15 against the Miami Heat: 4 points, 2 rebounds, 1 assist
Feb. 17 against the New Orleans Pelicans: 19 points, 5 rebounds, 4 assists
That's an average of 13.6 points, 3.6 rebounds, and 2.9 assists over a 12-minute stretch, and that puts him head and shoulders above his peers.
The next-highest first-quarter scoring averages over the same stretch belong to Embiid (9.6), Booker (9.6), and Ja Morant (9.3). Only seven players are tallying more rebounds. Just eight have more assists in a typical February first-quarter showing.
Pair that with 47.4% shooting from the floor, a jaw-dropping 55.9% clip from beyond the arc, and just a single turnover per first quarter, and Doncic has left little doubt he's painting masterpiece after masterpiece and using first quarters as his canvas of choice.
Mavericks are clearly benefiting from the Doncic heroics
Sometimes, one-man shows can backfire. They can fail to involve teammates, see corresponding dips in defensive discipline, and feature a superstar trying to shoot himself into the record books instead of adding another "W" to the team's tally.
That hasn't been the case for Doncic and the Mavericks.
Dallas is outscoring opponents by an average of 3.3 points per first quarter with Doncic on the floor in February, and that's helped key a 6-2 stretch that includes five games against squads that will likely populate the playoff picture.
Perhaps even more impressively, Dallas has a 9.7 first-quarter net rating over the same time frame despite operating with a roster that no longer features Kristaps Porzingis (injured and then traded) or Tim Hardaway Jr. (injured). Only the Miami Heat, Milwaukee Bucks, and Phoenix Suns have been better, and there's no shame in trailing that trio in 2021-22.
"Luka set the tone early and often," Dallas head coach Jason Kidd said after the victory over the Pelicans, per the Associated Press (h/t ESPN). "We can sit here and talk about him all day. The things that he does on the court for himself and his teammates is incredible."
When you're setting a tone, you better be sure you're setting the right tone.
Doncic is, and the Mavericks, entering All-Star Weekend at No. 5 in the Western Conference, have likely loved every second of it. All 720 of them during each 12-minute opening quarter, in fact.
All stats, unless otherwise indicated, courtesy of Basketball Reference and NBA.com and accurate heading into the All-Star break.