Luka Doncic Needs to Team up With Collin Sexton to Reach His Full Potential
The Dallas Mavericks are in a good spot heading into the All-Star break. Thanks to some stunning play from Luka Doncic, the Mavs are a respectable 35-24 with a playoff berth all but inevitable.
While no one would say the Mavericks aren't a playoff team, few would view them as a legitimate title contender. Especially after moving Kristaps Porzingis at the trade deadline, leaving Doncic as the lone star on Dallas' deep-yet-flawed roster.
Assuming the Mavs fall short of their goal in 2021-22, they'll have another opportunity to provide Luka with a strong companion for the foreseeable future. While their experiment with Porzingis ultimately failed, the team should try again with a strong pursuit of Cleveland Cavaliers guard Collin Sexton.
The Dallas Mavericks need another star next to Luka Doncic, even if Jason Kidd says otherwise
You can make a solid case that no player is having a better month than Doncic.
Through eight games in February, Luka is averaging 36.3 points, 10.6 rebounds, and 9.4 assists while shooting a sizzling 43.0% from three. After dropping 49 points against the New Orleans Pelicans on Thursday, he became the fourth player in NBA history with multiple 45-point, 15-rebound, five-assist games in a calendar month according to ESPN Stats and Info, joining Wilt Chamberlain, Elgin Baylor, and Walt Bellamy.
Yet despite Doncic's greatness and their 6-2 record in that stretch, the Mavs will eventually need to pair Luka with another high-caliber player.
Without disrespecting Jalen Brunson and Tim Hardaway Jr., Dallas can only get so far with those two players serving as the team's second and third scoring options. Entering the break, the Mavericks boast the 17th-highest offensive rating, which offsets their elite defense.
At the rate he's going, Doncic will have nothing left come playoff time. However, head coach Jason Kidd still believes they can survive with one superstar.
"It could be a team where there is no real second star, you've just got guys who play roles at a very high level," Kidd told Callie Caplan of Dallas Morning News. When Caplan asked if he was drawing comparisons to Dallas' 2010-11 title team, the coach responded, "Yeah, you had one superstar and the rest were burgers."
Collin Sexton would be the perfect player to pair with Doncic
Even if Kidd believes the Mavericks don't need a second star, their placement in the standings says otherwise. Plus, with offseason speculation about Doncic's long-term happiness in Dallas, the franchise needs to explore a legitimate avenue toward acquiring a second star.
After weighing several options, the Mavericks should take a long look at Sexton.
The 23-year-old was taken eighth overall, five spots after Doncic, in the 2018 NBA Draft. Since entering the league, the 6-foot-1 guard has become an efficient scorer with an accurate three-point shot. Last year, he scored a career-high 24.3 points on 47.5% shooting but a season-ending torn meniscus last November prevented him from further improvement in year four.
Sexton, who's expected to make a full recovery ahead of next season, failed to come to terms with Cleveland on a contract extension, thus making him a restricted free agent this summer. While the Cavs can match any contract offer he receives, they'd likely want to use the money toward a new contract for All-Star Darius Garland instead.
In other words, the Mavericks can swoop in and make a move for the talented guard.
With Sexton on the team, the Mavericks would finally have a star capable of drawing attention away from Doncic. The Georgia native has a balanced offensive game that will draw the defense's attention on multiple levels. Whether it's attacking the rim, putting up floaters, or hitting deep jumpers off of a pass, Sexton has a deep offensive bag.
The fourth-year guard does have some shortcomings, namely passing and defense. But those can be improved after spending some time with Kidd, the Hall of Fame point guard and nine-time All-Defense selection. As long as his offensive game continues to grow, he'll be the perfect number two behind Luka.
Sexton would be a better option for Luka and the Mavericks than re-signing Jalen Brunson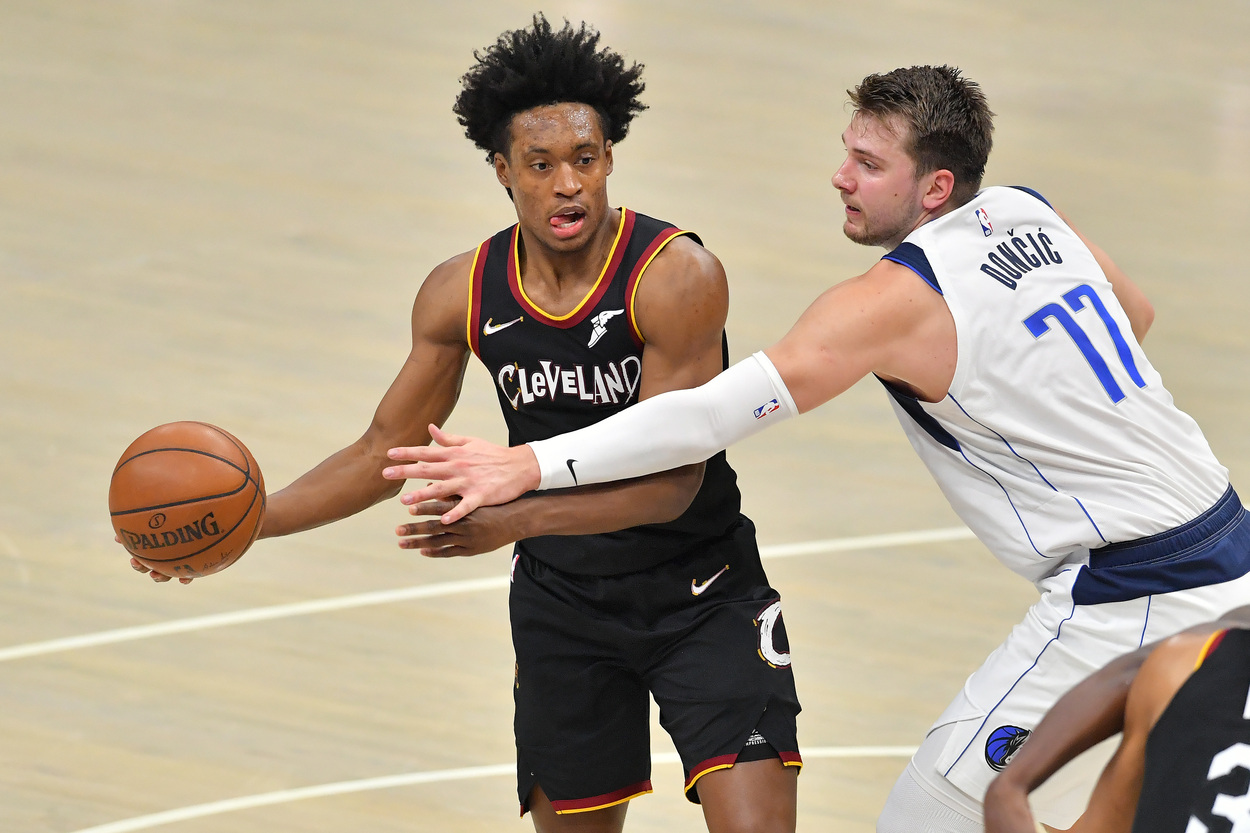 Adding a player of Sexton's caliber won't come cheap, both from a salary standpoint and a sign-and-trade situation. Though it may be worth it given the market for Brunson.
Brunson, like Sexton, is in his fourth season. The former Villanova star has become a highly-serviceable player for Dallas, averaging a career-high 16.3 points on 50.3% shooting in 2021-22. However, the 25-year-old will be an unrestricted free agent at the end of the year.
According to Eric Pincus of Bleacher Report, many around the league believe Brunson is looking for a four-year deal worth around $80 million. Even if Brunson already knows the system, $20 million a year might be too steep for a guard who primarily came off of the bench until this season.
Brunson is a fine player, but his limited offensive ceiling prevents him from being a championship-caliber sidekick to Doncic. For Dallas to really take the next step, paying a few million more for Sexton would be the way to go. The Cavs star would also be an upgrade over Spencer Dinwiddie, a veteran Dallas could look to move on from in the summer.
Although losing Brunson would hurt, a backcourt of Doncic and Sexton makes the Mavericks a much-greater threat to compete in the West.
All statistics courtesy of Basketball Reference and contract figures courtesy of Spotrac.
RELATED: Luka Doncic Making Dallas Mavericks 1st Quarters His Personal Playthings